If you are looking for the YouTube inbox but can't seem to find it as YouTube keeps changing up the interface and moving things around do not worry as you are not alone with this issue, due to the mere fact that even if you once knew were the YouTube Message inbox was it has now been moved to a new location were you wont find it so easily, even if you know your way around YouTube.
New Location of the YouTube inbox
To find the location of the YouTube inbox simply follow the direction below to easily find it:
1. Log into your YouTube account and click on your picture in the upper right of the screen.
2. Next go to : Creator studio.
3. In the left panel go : community and by default you should be on comments.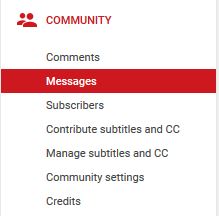 4. A new sub-menu should appear beneath comments now with : Messages
5. Click on Messages and wallah you are in your YouTube inbox.
I know a strange place to put the YouTube messages as you could easily have known the location of comments and not have seen the inbox or messages.
I hope the above tips were able to help you in locating your YouTube messages as it really hard to find in the new interface if you don't know were to look. Please also check out some more articles and leave a comment below it would be greatly appreciated.