Have you ever wondered about the YouTube copyright strikes that may be on your account? Well in case you are worried that your YouTube channel may be in danger of being taken down or banned for multiple copyright strikes then you may want to keep an eye on the copyright status to make sure you are in Good standing with YouTube at all times so as not to get banned.
How to check your YouTube copyright strikes?
To check your YouTube copyright strikes on the latest version of the YouTube interface simply :
1. Go to YouTube and log into your account.
2. Click on your picture in the upper right of the screen and go to: Creator studio.
3. Next in the left panel go to : channel and you should be able to see your status: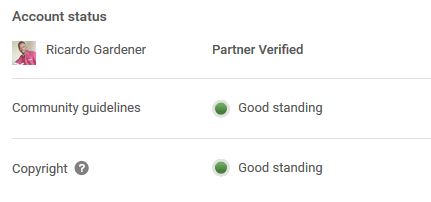 4. In case you are not in Good standing or to see all details to make sure all your videos are compliant click on the "?" sign beside Copyright.

5. Finally click on the line that says here at the end of the message.
You will then be taken to a page of copyright notices. If you see any video here simply go about rectifying the claims per video as there will be a note beside each video identifying whats wrong such as: Includes copyrighted content. You can simply click on the notice of whats wrong and then fix the issue by editing or taking down the video. Issues may include stuff like Audio tracks matching third party content that you do not have the rights to or Images or video footage included in your video that you do not own.
You will have to either edit the video changing out or swapping out the audio or find a way to fix the issues and the strikes will be removed from your account making you once again in good standing and not risking your channel being taken down with all your hard work.
I do hope this quick tutorial was helpful, it can be very hard finding this setting within the new interface of YouTube and I hope this was helpful to you. Please leave a comment or consider joining this website and as always take care until next time.