I just encountered an issue with my Samsung Android phone that I thought I would record as I see where it could potentially happen to others and they might not know what to do where they can't see video files on phone when connected to PC. This happened to me after recording a video on my phone and tried to remove the video from the phone as I normally do.
When I connected it to the PC and browse to the video file in the DCIM Folder and then Camera Folder I found that all that was showing in the folder on my computer was picture files and no video files at all. This was confusing as soon as I checked the phone there were several video files but here on the device while connected to the computer it was showing only picture files and no video files in sight.
Devices Affected
This can affect any Samsung or Android phone, so if you have one of these devices then this should work for you in fixing your problem.
How to fix this Issue?
In order to fix this issue and start seeing your video files as normal when connected to your PC:
1.First look at your Android phone that's connected by USB and look in the slide down notification drawer by swiping down from the top of the screen.
2. Now if you are seeing something like this: Connected as a Camera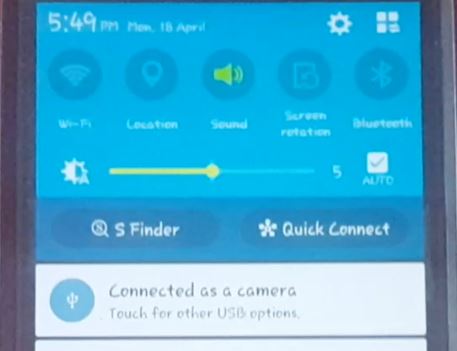 3. If you are seeing the above message then that's whats causing you not to see your Video files when connected to your computer.
Simply click on the notification for other USB options and you should see the options:
Media device (MTP)
Camera (PTP)
The camera option will be ticked, simply check media device.
4. Your USB will automatically disconnect and reconnect and look at the Camera folder within the DCM folder on your phone or SD card and you should now see your Video files now.
5. You can go ahead and copy your video files and do what you were doing as your device will work as normal when connected by USB.
I hope this was enough to fix your issue and in case not check out this similar issue here and the fix.
If all is great then leave a comment below and do share this article and consider joining the website we would love to have you as a part of the family.
Continue Reading we have even more Tips for you: