Today I would like to look at the issue of a Samsung Tablet Battery Icon with a red X and how to fix it. So if your Samsung tablet is not charging.Plus displays the Red X cross on Battery Icon when plugged in this fix should work for you. Especially if you are using a generic charger or wall brick that you got from somewhere.You know the ones that fit on the end of the USB cable and fits into the wall. It normally works so you simply use it but now you have this issue.

What does the Battery Icon with Red X mean?
The battery icon with red x indicates that the device is not charging or is a not charging icon.
Why am I seeing the Battery icon with Red X ?
This icon only appears on Samsung Tablets or other devices when the wrong charger is connected. Samsung based tablets detect if the charger is a original Charger and if not limits the chargers power and displays the not charging icon or the battery icon with the Red X. The device then does not charge because of the low power or amperage of the charger.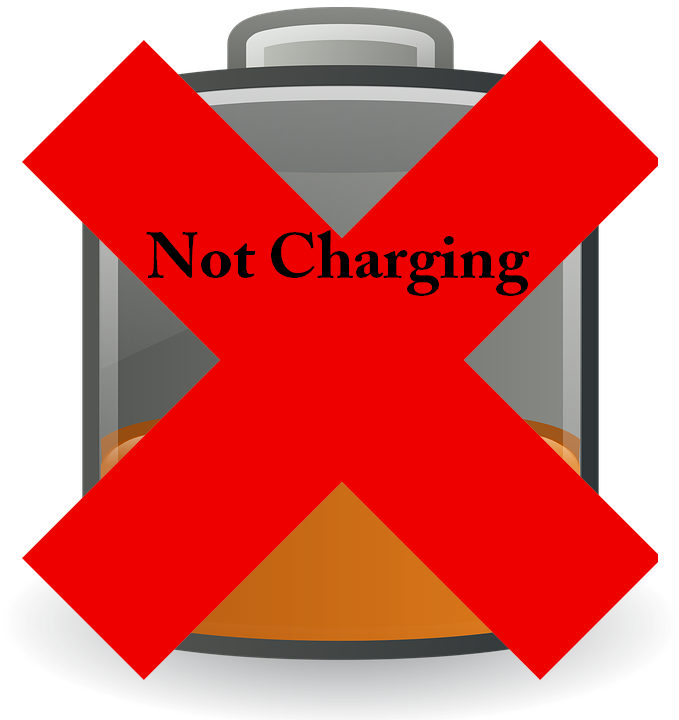 Whats Happening Exactly?
When Samsung detects and limits a non original charger the charger only is allowed to deliver about 0.4 or 0.5 Amps of power. The normal charger supplies about 1.35 Amps of power and will charge the tablet fine. For comparison your computer regular USB 2.0 ports supplies about 0.5 Amps of power.
How to fix Samsung tablet not charging?
To fix Samsung tablet not charging Issue with Red X you simply need to in most cases is to get a Original OEM Samsung tablet charger  that works with your model tablet. If you were using a generic charger brick that's not from Samsung as was mentioned above Samsung tends to limit the power most likely for your own safety.
Other things you can try:
You may also try any of the following in an attempt to fix your problem although getting a new charger tends to fix this issues:
1. Reboot the tablet, do this by long pressing the power button and power off and then on again.
2. If you are using the original charger make sure its functioning correctly and the USB cable has no shorts or breaks in the wires in the cable that may affect charging.
3. If you have a friend with a similar device you can confirm its the charger or cable by simply borrowing their charger.
4. If you have a battery bank you can use the USB end and try charging from that and see if that also works as a workaround.
Now you are much clearer on what the Samsung Tablet Battery Icon with a red x means and how to deal with it on your device. Please share your experience below and tell me how things turned out for you. Also please remember to share this post and consider subscribing and checking out more articles on this website.