I have long looked at the regular Battery Bank and though it lacked something before I would actually take the plunge and I found that missing link with the X-DRAGON 10000mah Power bank which is my opinion one of the most feature rich battery banks on the market today. Why do I say this? well for one other than its ability to be charged and store energy like a regular battery bank to a capacity of 10000 mah, it has a built-in light, the ability to be charged by the sun (Solar Powered) and is inside a rugged casing that's water-resistant and can take a solid drop without being damaged.
What do you get in the Package?
Inside the box you will get:
A user manual
X-Dragon 10000 Battery Bank
USB charging Cable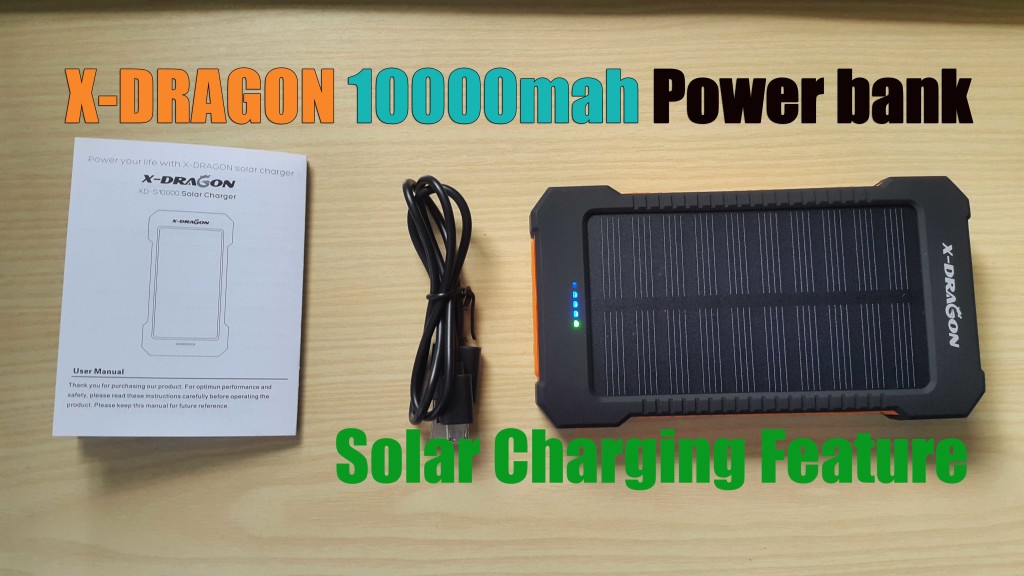 10000mah Power bank
At 10,000 mah this power bank can charge the Galaxy S5 with a total of 2800 mah for example approximately three(3) times with power to spear on a single full charge of the Power bank which is great if you own any Samsung, Apple or other branded phones and tablets. I really like these high-capacity battery banks as they allows you within a busy day to be away from a wall outlet and be on the go and never miss a beat as you are able to do way more than your measly built-in battery would allow.
I really love the X-DRAGON 10000mAh Dual USB Solar Power Bank from the first day it was delivered as I was able to use my phone without fear the battery would go dead. As soon as I was running low on power or driving between two points I was able to top up on power by plugging my phone in and allowing it to charge. Plus with the model seen here you can charge up to two devices at once. The first port has a lower amperage and can charge stuff like your phone and smaller devices, the second port is about 2 Amps or more and can be used to charge lager devices such as your tablets which is really nice.
Another thing I like is how the USB cable that's included can double as both a charger for the Battery bank and for my tablets and phones, you will not get a wall brick to add to the end of the USB cable but ultimately you should have that already with your charger for your tablet or phone which will work fine with it.
Solar Charging with the Battery Bank
I really love the ability to charge the battery bank with sunlight and I realize that this feature is more meant for emergency purposes and according to other Users it should charge the battery bank in about 3.5 hours, but from my personal testing the minute sunlight hits the solar panels it begins to charge and I can see where you should be able to with some time build up a reliable charge to even keep your phone alive in cases where you go camping, or if there is a storm or other natural disaster this could make for something you would definitely want to keep your phone alive while others don't have any power at all.
Charge Time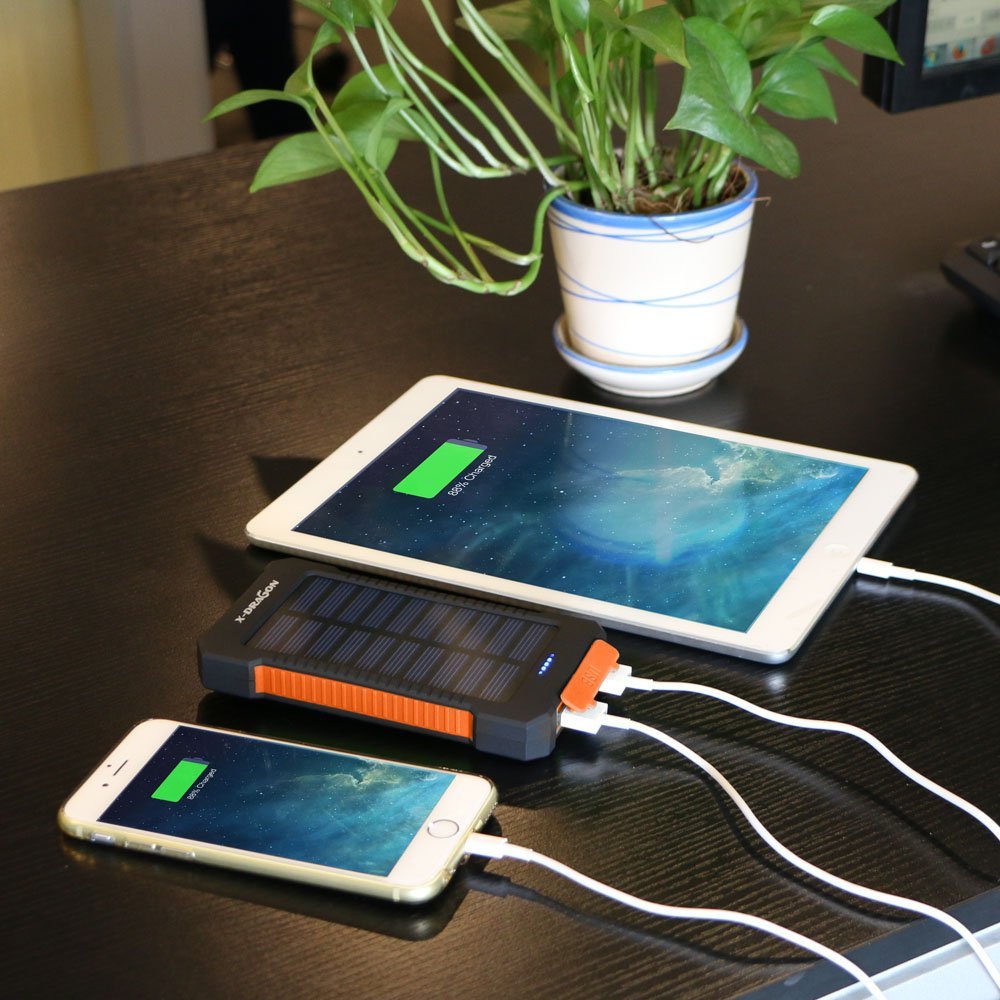 I was able to charge My Samsung Galaxy in less than 1 hour which was comparable to charging my phone at the wall outlet while using the battery bank which was really great. Plus you have the freedom to move about as you like as it being charged which is greatly convenient. Plus you can hang this on a bag by the clip and allow it to gather solar power or do both while the phone charges in your bag which is really neat.
The LED Flash Light
The LED flash light that's built into the X-DRAGON 10000mah Power bank is a God send and one of the reasons I got this unit as the light really comes in handy in cases where I really need a light source and it lights really well especially under dark conditions it projects a directional beam of light that illuminates the area immediately in front of you easily by press the power button once for a bit, if you press it again while the light is lit the Flash light will flash is a SOS pattern or strobe like effect for emergency situations.
Again this light is great for camping or emergencies in which you will need a reliable light source for keeping things well-lit. The light is also bright enough to operate quite comfortably and see what you are doing.
Rugged construction and Water resistant Features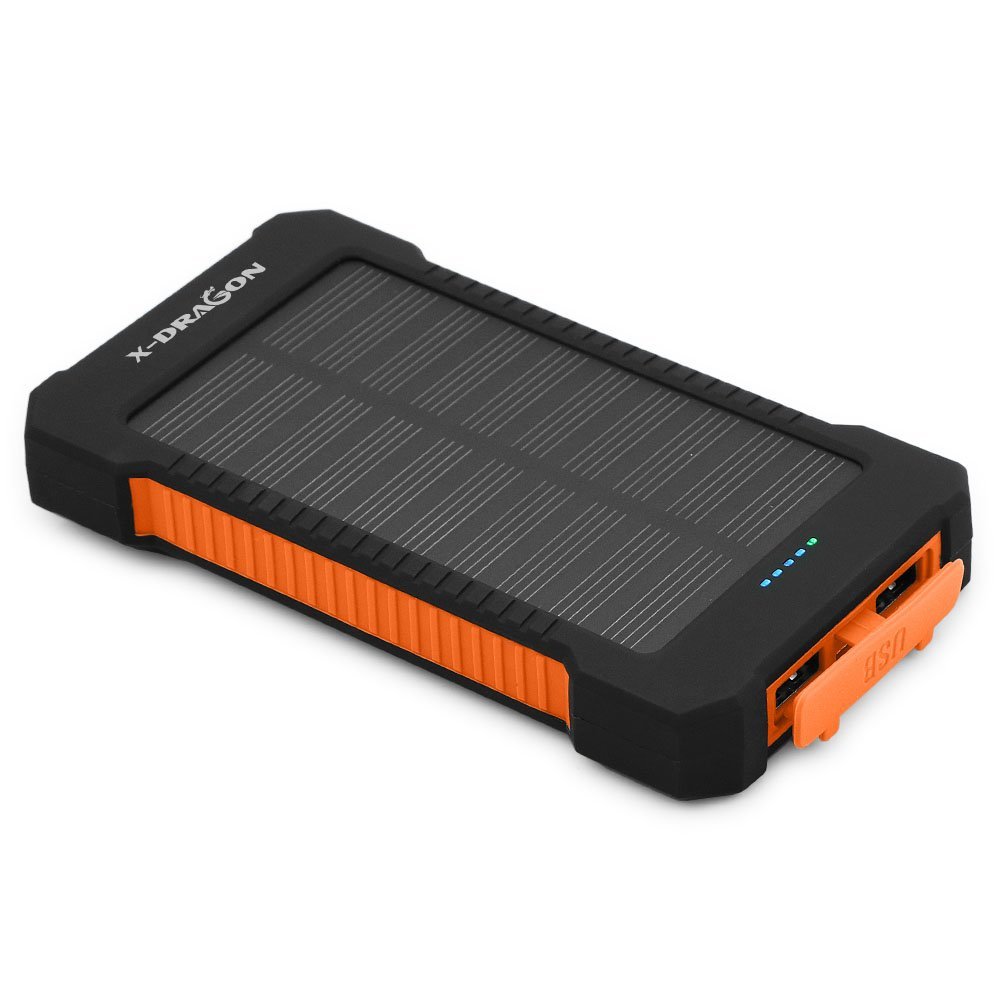 The battery bank which comes in two colors of green and orange is well padded to resist drops and shocks in case it were to be dropped by accident which is nice. The sides are a hard plastic material with some softer rubber in the colored parts and the entire battery is enclosed in a solid casing. The USB and charging ports are covered with a seal that when closed can prevent water from entering the Battery bank so if things get wet it will be OK, just don't submerge it in water though. This is nice as if you get wet or fall into water the unit will still work without a problem which is really great for those who are super active and about in all sorts of environments.
Conclusion
Overall I am more than impressed by new X-DRAGON 10000mah Power bank thats showing great performance from the first time I used it until now and I really don't leave the house without it as I use my smartphone allot and one of my greatest complaints was that my battery never lasted that long during the day with solid usage, I can safely say that's no longer an issue and I can really do whatever I want within a day without fear,such as take as much pictures as I want before my battery always seemed to die just as I started to have fun taking pictures which was always a bummer.
I highly recommend this product and do share your views of what you think of it below in the comments its always great to have readers views on products and recommendations.
Why you should buy this Battery Bank?
Rugged design and construction.
Built in solar charger for emergencies.
High capacity of 10,000 mah capacity
Water resistant and shock proof.
Great price and worth the every penny.
Works well in emergency and camping.