For today I am really excited to show you guys how to perform a Samsung Galaxy Tab 2 hard reset which should help those users who own this device and have issues where there device is displaying: too many pattern attempts after entering the unlock pattern incorrectly too many times or by accident, or you have forgotten your password, or maybe you are stuck in a boot loop or your device is very slow and in need of a wipe to return it to factory settings.
Please be warned that this procedure will erase all data that you have stored on your tablet, but the stuff on the MicroSD card should be fine. It's a simple procedure that will take a few minutes and you will have access to your device once more after the Samsung galaxy tab 2 hard reset is complete.
What devices will this unlock or Fix?
This procedure will help out any one that is having the above mentioned problems and owning a Samsung Galaxy Tab 2, First generation Galaxy Tab, Galaxy Tab 3, Galaxy Tab 4 or any other version of the Galaxy Tab regardless of the size. This method should also work for other brand tablets so watch the video or follow the instruction to getting your device back to normal.
Under what conditions should I use this method?
You should definitely use this procedure in cases where you are unintentionally locked out of your device such as the kids or someone played with your tablet and caused you to be locked out and you need access once again or your device is not operating as normal then go ahead and give this method a try.
How to Perform a Samsung Galaxy Tab 2 hard reset?
To perform a factory reset or hard reset on your Samsung Galaxy Tab or other branded tablet simply:
1. Make sure the device has enough charge, about 50% battery or greater is good.
2. Power off the tablet.
3. Now hold down the volume up (+) button and press the Power button. (If you have a home button on your device press it and hold as well)
4. As soon as you see the Galaxy Tab logo or the first logo let go of power and keep holding up. You should boot into Android recovery mode screen.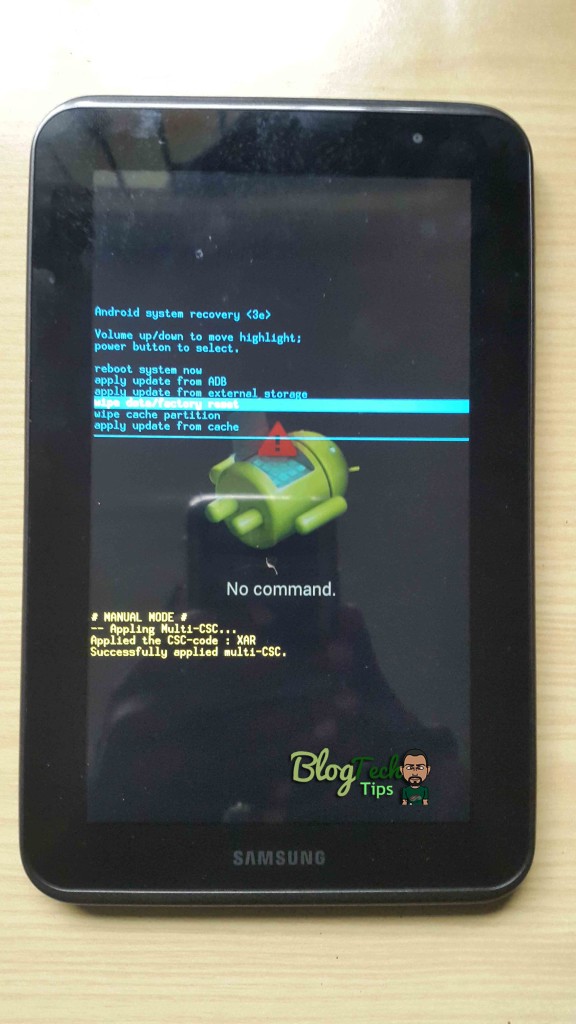 Please note that some device have variations, such as in some device you will have to do the same as above but instead hold Volume down (-) instead.
5. You will have to use the volume up and down key to navigate the recovery console and use power button to select.
6. Navigate down to : Wipe data/factory reset and use power button to select and then on the next screen navigate down and select yes to wipe the device.
7. This is optional but it's always smart to do, navigate to: wipe cache partition and select that option.
8. After everything completes be sure to reboot.
Other Related Articles
Fix Tablets that are stuck on the Android Screen
Fix Android Phone with Too many Pattern Attempt
Unlock Android Tablet or Phone Lock Screen with Android Multi tool
Your device should run you through basic setup again and when complete you will have total access to your tablet once more, cool right? That concludes this Samsung Galaxy Tab 2 factory reset or hard reset basically you can go back to using your tablet as you like now.
Please do use the comments they are at your disposal and if you have even a small problem never hesitate to ask in the comments, I am here to help you in any way that I can Technology and Gadgets is what I do best day and night my friend and also be sure to check out our other articles and tutorials on this website.