The last thing you ever want to hear or find out is that your Instagram has been hacked. Especially after putting so much work into your posts and gaining new followers but it does happen. Today I will be showing you How to get back a Hacked Instagram Account. Do note that if your account has been taken over and the password and email has been changed then this will still work as hackers tend to change those first which is a clear Indication your account has been compromised.
How do you know if your Instagram been hacked?
A clear indication that you have been hacked is that the hacker will change your password and the email associated with the account which makes resetting the password by email which is normally done impossible. You may think that in such a case that all hope is lost but it's not as there is still a clear way to get back your account as shown below.
Who is this tutorial for?
This tutorial will work for those on Android or iPhone, so regardless of which device you own this will still work for you. There are slight differences in the procedure between devices but the process is pretty much the same.Once finished though you should be able to recover your hacked Instagram Account.
How to get back a Hacked Instagram Account?
The Process is the same for Android and iPhone (iOS) with slight design differences in the screens and the wording:
1.At the Instagram login screen where it says: Forgot your login details? go ahead and select: Get help signing in.
2.On the screen where it says Find your account enter your: User name, Email or Phone number linked to your account and hit next.
3.On the screen that says access your account select at the bottom: Need more help?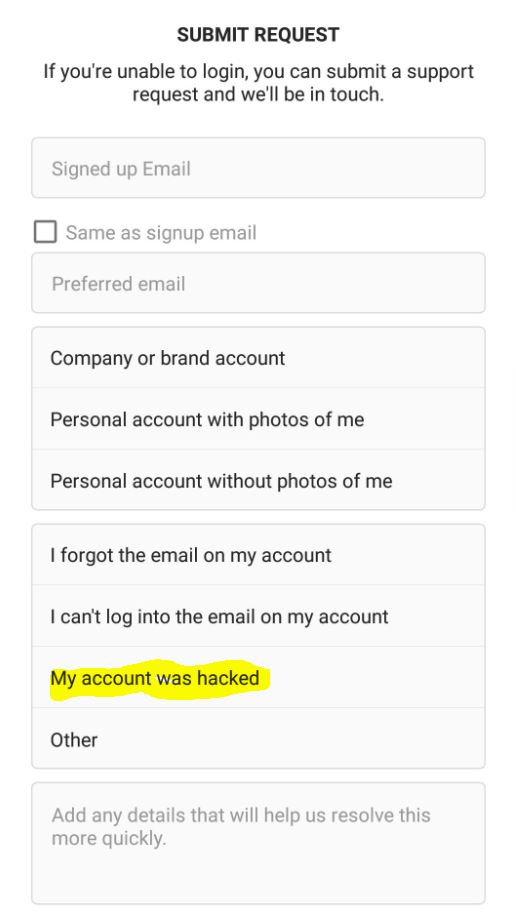 4.You should now be on the Submit Request form.Now fill in Email, Choose account type, select: My Account was hacked and put in as much detail as possible about what happened to you.
5.Follow up: Instagram will follow up and ask that you provide: Photo ID, Evidence of what happened and photo with a code they will give with User name and email address.
If everything goes well and you are confirmed you will be allowed to reset the password on whoever compromised your account.
Video Tutorial:
Watch the video below to see exactly what to do to get back your account step by step.
Important Note
Please be patent and input only correct information as it will take a little time for Instagram to actually verify and grant you access to your account once more.Its troubling to think your account has been compromised but the key is to remain calm and do as indicated here in this tutorial and you should be fine.
Final Thoughts
That's it on How to get back a Hacked Instagram Account, I am sure if you got back your Instagram account you are really happy right now. If so then please share this article with friends who are on Instagram and leave your comments below. I would also appreciate it if you could also check out more content here on the blog.