Today we will be having the review of the Choetech Fast Wireless Charging Stand. I want to thank the guys over at ChoeTech for sending this product in for review.The model of the Fast Wireless charger that we got was the Choetech T524-S which is a great looking device and desk accessory to have.
What Inside the Box?
The Choetech Fast Wireless Charging Stand comes in a white box with the company name and slogan and a drawing of the device.Inside the box is the charging stand with a User manual and a thoughtful Panda Bookmark from ChoeTech that so cute that you will definitely find a use for it somewhere. The Box also includes a USB cable but no adapter brick.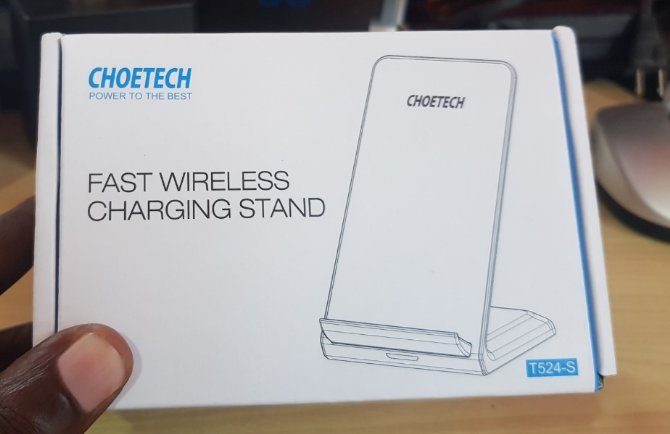 The Product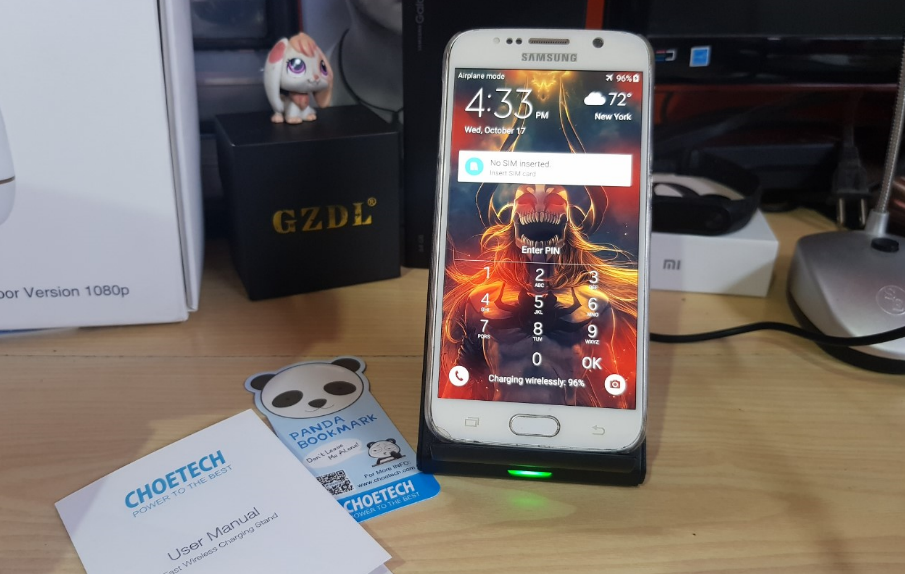 The Choetech Fast Wireless Charging Stand is in a black finish and thank god it was not a glossy finish as those tend to be fingerprint magnets. You will defiantly not smudge this thing easily and that in my book is a plus.  I also recommend that whatever charger you use with your phone that you connect it to this device.
Setup was very easy all you had to do is remove from the box, connect included USB and connect to your charger brick and then to the wall outlet. After this place your phone on the stand facing up or to the side and it would charge wirelessly. As soon as you place a phone the Green led on the front of the charger will come on.For fast charging the Adapter brick will need to have the fast charge feature.
Charge Time tests
This can work with almost any wireless charging enabled device such as iPhone's and Androids. I tested out a Galaxy S6 and a Galaxy S8 respectively. The Galaxy S8 supported Fast Wireless charging and from a low battery percentage indicated it would take about 2 hours to change up.The S6 charged only on normal wireless charging and from 93% said it should take about 14 minutes to full charge.
Heat Production
I was really surprised that the Choetech Fast Wireless Charging Stand did not heat up my phone significantly while charging. In fact it produced as mush heat as when being charged through the cable. I highlight this fact because in the past I have used other Wireless charges which would heat up the phone significantly so much so that I would not use over the long term.
That issue is none existent with this device and I think that's a major selling point. Overall I love the design and that this charger doubles as a stand to allow you to use your phone while it charges. I personally intend to use it as a stand that can be used in my tutorials that more than cool and effective.
Purchase yours right now:
You can pick up yours in the link provided.
Why buy this product?
1.Its has great design and well made.
2.Does not heat up your phone too much like other wireless chargers.
3. Easy to setup and use as you simply place and it charges no need to find the sweet spot.
4.Works on Android and iPhone's.
5. Comes with cool extras in the box and doubles as a stand.
6.Great price.
Why you should skip this?
1.Not really a con but it does not come with adapter brick. You can easily use your phones adapter as you will be using this for charging anyway.
Conclusion
I highly recommend this product and consider it one of the best all rounder Wireless chargers that you can pick up at an affordable price. It comes highly rated and is well build and you an charger your device with peace of mind and without fear that it will damage your smartphone.