Here is how to get the Fortnite for Android APK Download from the official source. With the .APK file you will be able to install Fortnite on any Compatible Android device. The process is quite easy as shown below and once finished you will have Fortnite on your Android device. Alternatively on our last article we showed you how to install Fortnite directly from Epic Games as it was not available in the Google Play store. So this article is for those that want to install the Fortnite Game manually using a APK file.
What is a .APK File?
The .APK file format is the extension for games on Android, normally you don't see these files as most people install their Android Apps from the Google Play Store or Galaxy Apps which is the safest and convenient method. Your other option is usually to download a .APK file from the internet which is not a good idea as third parties may change the original file and add extra stuff such as viruses. With that being said its a good idea to always do smart thing to get your .APK files from a reliable or trusted source.
Also note that the method shown here to get the Fortnite.APK is from a official source which makes the file 100% safe.
Why Cant I download Fortnite from Google Play or Galaxy Apps Directly?
Fortnite was not made available for direct download from either of the main App Stores on Android. Especially for Google Play which was a direct choice of Epic Games. The Game is really popular and as such Epic Games decided to deal with distribution themselves and cut out the middle man so to speak. The popularity of the Game has therefore still driven users to go about figuring out how to install the Games as shown in this article or this one here.
Fortnite for Android APK Download
To officially get the Fortnite.apk file then do the following:
1.Go to Google on your Android phone and type into search Fortnite apk and search, after this click on the first result which is from Epic Games.
Or visit this link by clicking here to go to the official Fortnite APK download Page.Do note I did all this on a Samsung Galaxy Smartphone.
2.Now you will see a screen with two options of Samsung and Epic Games. Go ahead and choose Epic Games and download the Fortnite.apk file.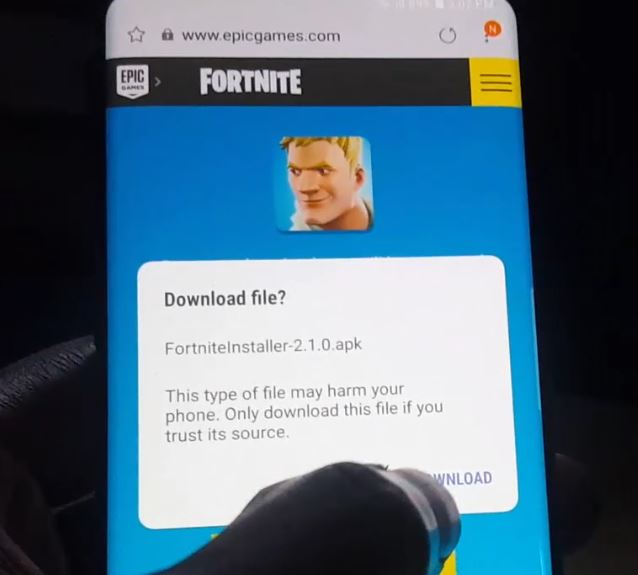 3.After this install the file and if it asks you to allow install from unknown sources then read this article on enabling install of apps from Unknown sources here.If you have a newer Samsung such as the Galaxy S9 then read this updated article.
4.Once install is complete you can launch and Play the Game no problem on Android.
Message about Being Placed on a Waiting List:
Note that not all Android device are compatible with the Fortnite Game on Android. The App is being constantly updated and new devices are being added to the compatibility list. You can check the compatibility list for Fortnite here.If your device is not yet fully supported you may be placed on the waiting list and you will not be able to download the app right away. Newer Samsung Galaxy devices and Android phones work just fine. So if you cant get the app because of this you will have to check back at a later date when the app is updated.
Final Thoughts
That's it for Fortnite for Android APK Download. Please use the comments to share your views below and also do share your device model and whether this worked for you or not as it would be great for other readers. Do also share and check out even more content here on the website.