I am a bit of a Picture and food Junkie if you guys don't already know. I take lots of pictures when I am on vacation or when I go out and one of my favorite subjects to shoot is food. I post regularly on Instagram as a hobby and I mix in Tech too. Today I would like to show you how to take better pictures of food for Instagram using your existing Samsung Galaxy Phone. So all you need is a Samsung Galaxy and you can take really awesome and beautiful pictures.
The Pictures can look really good you only need to know how to take the best picture possible and then use Instagram filters to improve things even more. If you are not already using this tip it will take your picture taking skills to the next level.I am sure you will be impressed by how your pictures turn out from now on.Especially now that you can take control of what you see before you snap the picture.
If you don't believe me check out these shots or samples of my work:
You can follow me here on Instagram if you like or check out all my pictures. So today I will be showing you how to get better pictures of Food.
How to Take perfect pictures of food for Instagram using Samsung Galaxy?
The first thing you will need to do is launch your Samsung Galaxy camera on what ever Samsung Galaxy phone you have.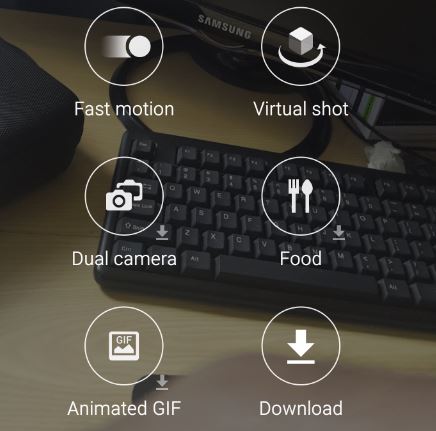 Click on the Mode button.Bottom left.
Now look for a Mode named: Food.
If its not there then choose Download and search for the free Food camera add-on and install it. You will need to sign into your Samsung account.
Once the add-on is installed go ahead and choose it in mode.
Now whenever you are taking pictures of food use this mode.Tap the color palette icon in the upper right,with this you can increase or decrease the color intensity of food. This will make the natural colors pop. when satisfied click the picture button to take the shot.
Now your Pictures will look really nice and you can upload them to Instagram as is. You can choose to use Instagram filters to enhance them even more or leave them as is.
See how its done with this Video Demonstration:
See how to do it with this video demonstration below by playing the video.
Extra Tips to Take perfect Pictures of Food.
Make sure you have good lighting when taking pictures of food.
Center and balance your pictures.
Try taking a areal shot if possible.
Take multiple shots in one go and choose the best one later.
Make sure nothing is out of place and everything is set neatly and the environment is clean.
If you do all of these you will take really nice shots. Once you put some real though into a picture and apply these tips your pictures will come out perfect every time. So what do you think of these tips. Do you have any of your own that you want to share? Please do so in the comments section below and do share this article.
Continue Reading we have even more Tips for you: