In today's article I am going to show you how to disable Fast charging on any Samsung Galaxy. Best of all if you want to you will be also able to enable it in case its off. Now on Samsung Galaxy devices such as the Galaxy S6 and S7 and so on have fast charging enabled by default. While this is fine for some users others may want to disable it and charge their devices normally. One of the main complaints is that when using fast charging your device tends to heat up and by actually disabling the feature your device will remain at a normal temperature.
Whats Fast Charging/Fast cable charging?
Fast charging is used to charge your battery more quickly than normal when compared to standard charging.Your device may become hot while using fast cable charging.When fast charging is turned off, standard cable charging will be used instead which is much slower.
What devices does this Apply to?
I will be showing you how to enable and disable fast charging for the Samsung Galaxy S6, Galaxy S7 and other devices new or old that have the feature that used to charge your battery at very fast rates.
Enable and Disable Fast charging on Any Samsung Galaxy
On the Galaxy S7 or Newer devices
On the Galaxy S7 or other devices to disable the fast charging feature you will need to:
1. Go into setting on your device.
2. Now find: battery.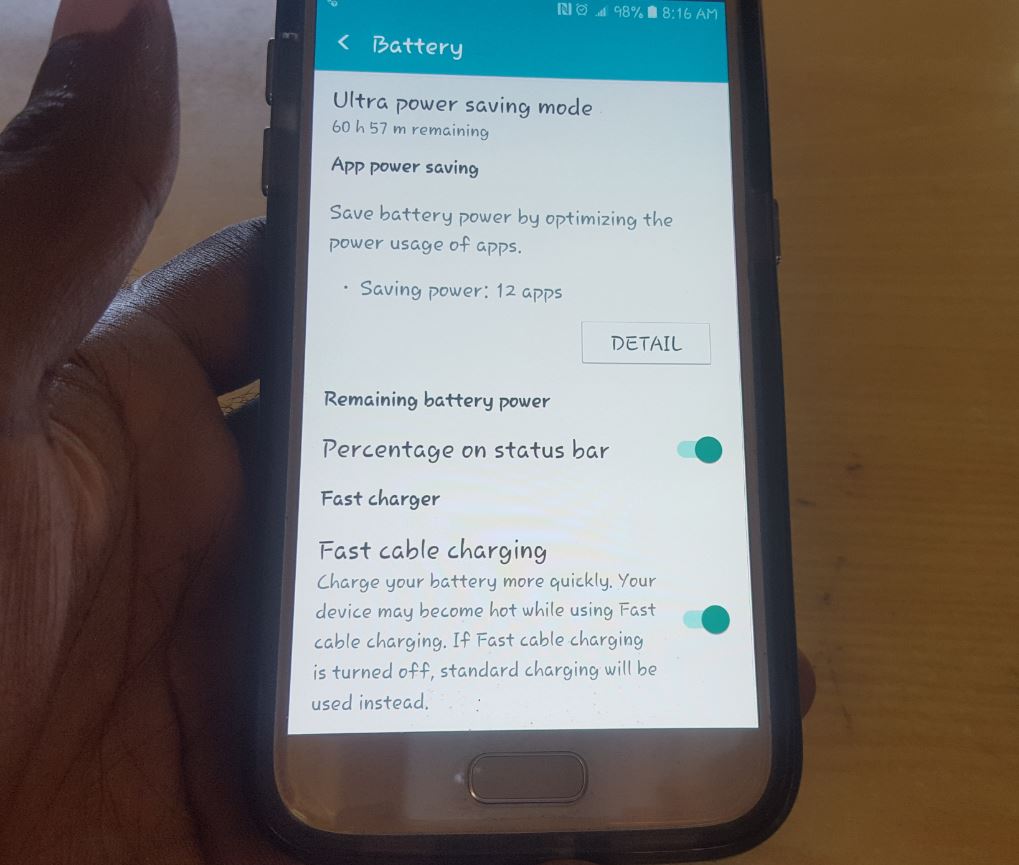 3. From here scroll down until you see:Fast cable charging. Turn the feature off
On The Galaxy S6
While the feature is present on the Galaxy S6 there is no way to disable it as its enabled by default. But there is a workaround. Seeing the feature needs a special adapter or fast charger for the feature to work to disable it use a standard Samsung Adapter or one that you have lying around the house that does not have fast charging capability. Now the phone will charge at a normal rate.
I do hope this was helpful to you seeing that you may have needed to disable fast charging for a good reason. I use the feature all the time but on my Galaxy S6, it can make the device really hot and I have to revert back to normal charging as the device tends to overheat. So if you found any of this useful show your love by sharing this article and do leave a comment below as I would love to hear from you guys.