If you tried to power on your Samsung Galaxy phone and your Samsung wont come on. If you get stuck on the Samsung boot logo or animation and the phone refuses to fully power on you my friend are stuck in a Samsung Bootloop or just a bootloop. This can be very unsettling having constant reboots or being stuck in a situation like this. My aim today is to show you how to deal with such a problem on any Samsung Galaxy device you may have. At the end of the tutorial you should be back to a fully functioning phone.
What does the issue look like?
You will have the phone either stuck on the Samsung logo or it will boot as far a the Samsung logo then reboot in an endless cycle that repeats itself over and over without fully booting. You may have the notification lEDs at the top of the phone light up. This and the fix applies whether your device has a removable battery or a built-in battery as on newer Samsung galaxy phones.
What causes a Samsung Bootloop?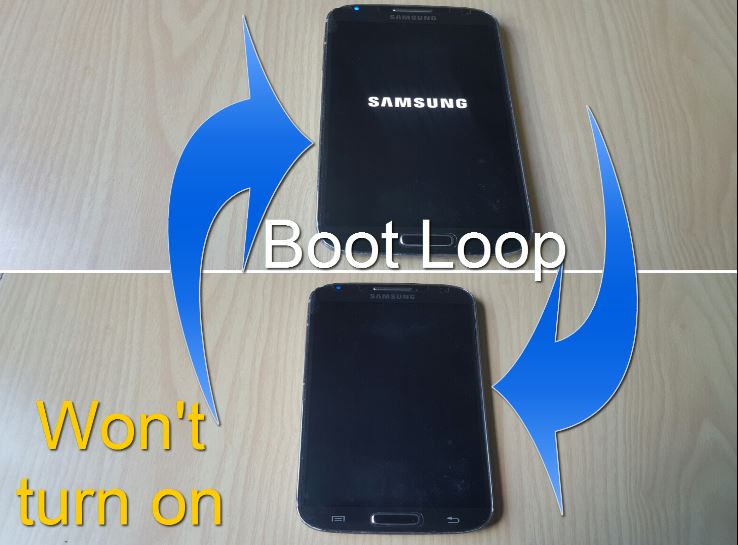 As long as there have been Samsung devices there have been bootloops. It even happens to other Android devices as well and tablets. So you can expect to deal with them on past and future devices all the same. The issues happen when the phones operating system is unable to boot for some reason and gets stuck in a loop where the phone tries to boot up gets to a point and then restarts or simply gets to a point in booting and then hangs there without going any further.Causes may include:
corrupted firmware or operating system.
Stuck power button
Build up/corrupted cache.
Phone operating system hiccups due to prolonged use.
Faulty battery
Faulty peripherals such as SD card or SIM.
The same issue also happens to tablets as well so feel free to apply the tips here in such cases.
How to fix Samsung Bootloop?
Its near impossible to pin point in one go exactly how to fix your exact situation so follow the steps below and one should naturally work for you:
1. First remove your SIM, MicroSD Card and battery for those with removable battery. If you have a spear battery or a friend has a similar phone go ahead and switch batteries out and try powering up the phone. For a few people the phone will power up as the issue was the battery or the MicroSd card in some cases causing issues. If not don't worry we have a few more steps.You can also watch the video above and follow along to see how its done or continue reading.
2. Go ahead and leave the SD card out for the rest of the tutorial. While the phone is off hold down Power + Volume down for 20 seconds. If that did not power up the phone reverse the process by hold power + volume up and see if the phone powers up.
3. From an off state again and from here hold home+ volume down and power. The phone should power up to a download mode. Simply press volume down to reboot or read instructions on-screen.
4. If above fails then Hold Volume up+home and power and you should boot into recovery mode. Your button combination for recovery may be different, also if you get stuck on No command read this. When you come to the recovery menu use volume key to scroll to wipe cache partition option and use power button to select. After you finish reboot and the phone should boot up. Also wiping cache will not erase anything from your phone so its safe to do.
5. If this fails go back to recovery and this time select Wipe data and Factory reset. Be warned that this will erase all your data. select yes to proceed and reboot you will have to set-up your phone again but you should be good as the bootloop should be gone.You can also skip this step if you want.
6. You may have a stuck power button and you will have to open the phone to fix the power button as I show you here. If you are not comfortable at doing this then try this alternative that sometimes work. Go ahead and remove the battery from the phone if its removable. Firmly to un-jam the power button firmly smack it against your palm on the power button area and repeatedly nudge the power button repeatedly.You can even smack the power button against a soft telephone director or book. This sometimes gets the button un-jammed and fixes the issue. Remember you are responsible for any damages you may cause to your phone and I will not be held liable so attempt at your own risk.
Pull out all stops if Above Fails
7. If all else fails then you need to Flash your Phone, it's a extreme move and I only recommend it as a last resort but it can fix 90% of these problems in most cases and a bunch of other issues. Read how to Flash any Samsung Galaxy here.
Final Thoughts
I would love to know which of the following steps did it for you and what device you are using. You can do this by sharing your experience in the comments which may save a reader some time if they have the same device.Also do subscribe to the blog for future updates and Tech tips we have plenty in our many articles that already exist as well so check them out.