I wanted to title this Article My first Amazon UK Associates Cheque but considering that I settled for direct deposit you can understand why I titled this article My First Amazon UK Associates Payout instead. Also note guys that this article is a bit delayed as I wanted to write it only when I was confident in what I was saying. Time passed and I forgot about it but I want to record it here so that it may help someone else who may be in a similar situation.
My First Amazon UK Associates Payout
My First Amazon UK Associates Payout was GBP 58.89 the GBP stands for Great Britain Pounds. Seeing that I am a Amazon.co.uk Associate that lives outside the United Kingdom I decide to get my first payment as a Cheque. It took me an entire year to make it to payout and the minimum is set as GBP 50 or above. I waited about 2 months or so and the Cheque did not arrive in my country I was really disappointing.
Getting my Lost Payment Back
To make things worse the only method I had to accept Payout was Cheque and I decide to find another way. I contacted Amazon UK and told them the situation and they cancelled the Cheque and started the refund process. I never saw the refunded balance reflected in my account but I started to look into getting an bank account that could collect my founds although I was outside the UK. I found that Payoneer had a UK payment service and I already had their US payment service so I ordered a UK Payoneer card.
Later on I realized the information for direct deposit given by the Payoneer UK Card did not match the information asked for by the Amazon UK associates account for direct deposit. I almost gave up and then I realized the Payoneer EU card had the exact information that Amazon UK wanted for direct deposits. The accounts were both in different currencies but I had nothing to lose and decided to use that information. What do you know it actually worked and I received my Second payment along with my fist payment as one.In case you want to know how I used My EU Payoneer to accept Amazon UK payments read the direct procedure here.
My Payments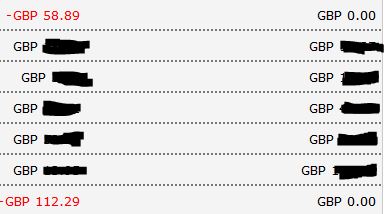 So finally I was able to get my First and second Payment as one. The Second Payment was £112.29. I had to actually put payments on hold until I had figured all the things I mentioned above out and in that time I was over a hundred British pounds. Payment for the First payout that got lost and the second can be seen in red in the picture above.
When the payment was revived in Payneer it was converted from Great British Pounds (GBP) to Euros which my Payneer card was in. I had to simply keep my Payoneer UK card and not activate it as it was unable to accept the funds due to the type of transfer it facilitated.

So as you can see above I revived €216.93 in total,I was confused at first as there was no way £112.29 translated to so much Euros. So it was actually the refunded: £58.89 + £112.29=£171.18 then converted to Euros that was =€216.93.
Final Thoughts
So you see guys with a lot of perseverance and trial and error I was able to collect my Amazon UK Payment by direct despot although I don't live in the United Kingdom. I though Payment by Cheque was my only option until that had failed me and it did not arrive, even a year later it did not turn up at all. Now a days I get paid roughly a day at the latest after Amazon UK informs me they have sent the payment which is super fast. No waiting for mail that can take months or weeks even when they are coming from close by.
So guys if you found the information in this article useful please share your thoughts in the comments. I am sure some other associate is in the same situation and wondering how they can collect their funds and have no clue as what to do. So now you know. Feel free to ask any question you like below in the comments.
Save
Save
Save
Save
Continue Reading we have even more Tips for you: