Today's issue is the No Notification Alerts from Messaging app on Samsung Galaxy S8 and Galaxy S8+. This issue involves your messaging app and you getting notifications such as ringing or vibration on your phone whenever you get a text message as normal.
So if the above sounds like you and you are not getting notifications from your messages no matter your overall ring settings this article will show you how to fix the issue.
Why is this Happening to my device?
The issue is caused in most cases because the messaging app is blocked under notification and as a result you receive no vibration or ring alerts.
How to Fix No Notification Alters from Text Messaging?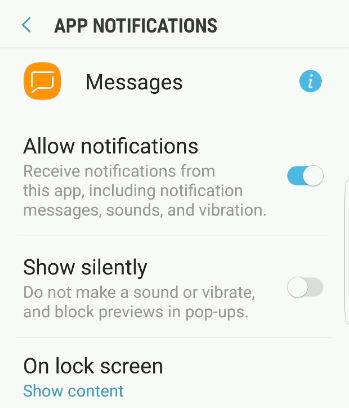 1.Long press the Messaging or text Messaging App and a context menu should pop up.
2.From the context menu select: App Info.
3.Scroll down and select:Notifications.
4.Now look for : Allow Notifications and enable it.
That's it whenever you get Text Messages you will get a ring or a vibration as normal.
Final Thoughts
That a fix for a very annoying and hard to figure problem that has a simple fix. I do hope you guys enjoy the article, if you did please take the time to leave a comment below and also do share this article on social media as it would be greatly appreciated.
Save