Today I will be reviewing the HMDX HX-P120 which is a small Wireless speaker. Firstly don't let the small and innocent appearance fool you this thing produces monster sound as I like to call it for its size. I was really amazed as to how good this small speaker looked and to find out that the sound that came from it was nothing like I expected. It's definitely a cool gadget that you should not think twice about getting.
I got to play with it for a while and was impressed. A friend of mine got it as a gift and that's why I would highly recommend this as a gift for a friend that's into technology. It would also make for a great kids gift as well.Its small and inexpensive but it draws attention and peoples curiosity which is great for people like me and my friend as we like to tinker with gadgets, thus my recommendation as the ideal gift.
Suction Speaker
Now you will notice it's refereed to as a suction speaker. Which means you can stick this thing to almost any surface using suction. Yes that's right, you can attach it to glass, a wall and so on and it will stay mounted. When you need to remove it there is a peel tab that makes removal easy, you could yank it off but its well stuck to anything you attach it to. Meaning you don't have to worry about it falling once attached.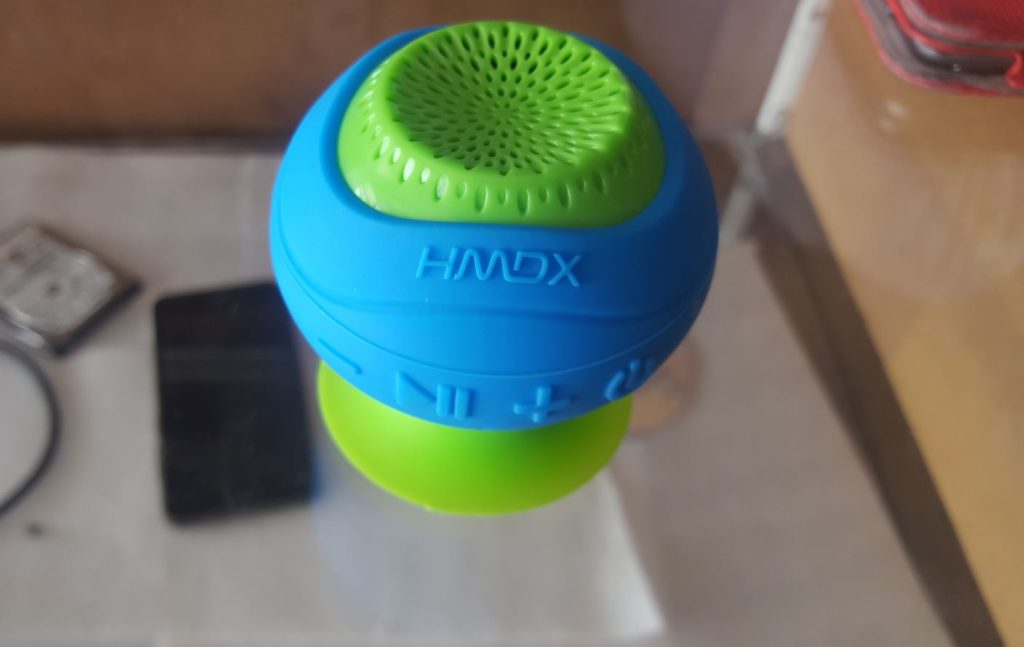 Splash Proof
Now you can take this thing just about anywhere as its splash proof and can survive getting wet. This does not mean however that you should submerge it in water, it only means it wont break so easily in case of a splash. So you can take it to the pool, bathroom and so on without worrying.
Battery
The battery is amassing on a single charge you can get a solid 4 hours and that's no joke. I love this as it means you can take this speaker along without worrying that you will run out of power fast.Four hours is plenty of time to play all the music you have on your device such as a phone and whatever else you want to do.
Wireless
The Bluetooth is great. It can connect up to 30 feet away, trust me I checked as I was able to play songs from my phone from a room that was next door through solid concrete walls without the slightest drop in audio quality or glitches. In my book that's more than enough reasons to give this HMDX HX-P120 suction speaker its props.
Connectivity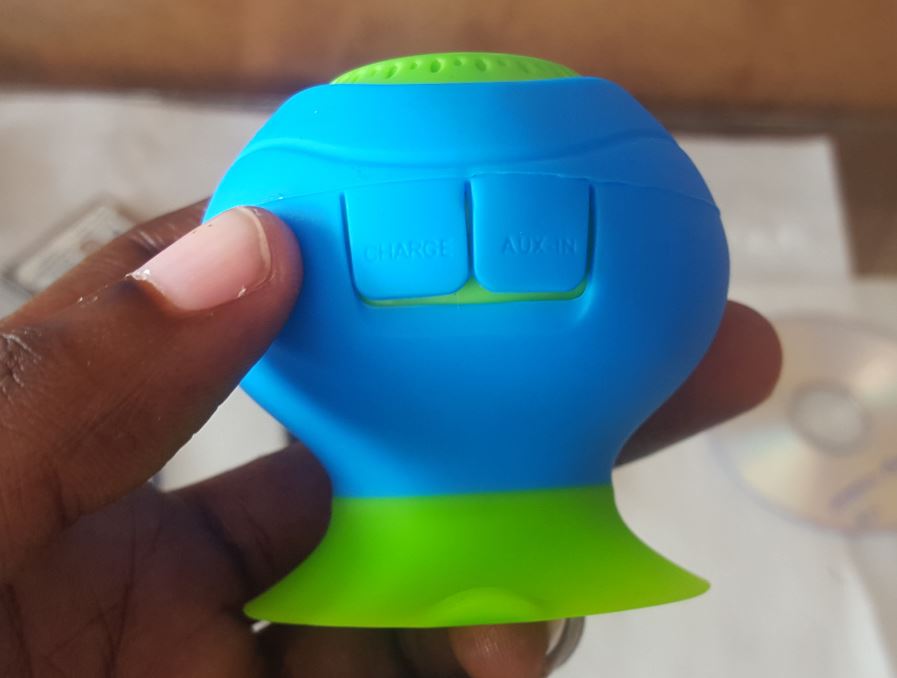 Other than the Bluetooth that will allow you to connect to just about any Android, Apple iPhone,iPod and other devices with Bluetooth support to play music,you also can use the Aux-in jack for connecting non-Bluetooth devices. All you need is the correct cable and you are good to go. The connections are kept in the back under a simple rubberized flap.
How durable is this thing?
Its made from plastic and rubber and I can tell you its built tough to withstand a drops, which was a smart move by the designers. It almost looks like a ball and dropping it can happen due to its shape but the rubberized exterior protects against such drops as you will most likely drop it at one time or another while you own it.
Audio Quality
As mentioned before this thing is loud and it produces enough audio to fill a standard size room and do so quite well. I was able to play music from my phone, stick this thing to the wall and never looked back. The sound is good and loud, which means you can find a number of creative uses for this device considering the long battery life and great range you get.
Conclusion
Overall I really love this little thing,it so amazing that something so small can produce such impressive sound. Size does not always matter and this small speaker with its suction cups prove it. So if you are looking for a great set of speakers with killer sound I suggest you buy a set of these and keep one for yourself and give the other to a good friend. They will really appreciate it trust me.
Buy yours here:
Interested to get your hands on a HMDX HX-P120BL HoMedics Neutron Wireless Suction Speaker ? buys yours now

Price Disclaimer
Why should I get this:
1.Great battery life.
2.Good range by Bluetooth.
3.Built tough and splash proof.
4.Produces loud and clear sound which makes it great for music.
Save
Continue Reading we have even more Tips for you: