So I just came across the Verizon 4g LTE omv7a Tablet and thought I would do an article on how to Hard reset this device as well as how to enter Safe mode. The reason that prompted this article is that things are a little different on this device so just in case others may need it let me create a tutorial so as to help them out. If you find this useful do share and leave a comment at the end of the article as it helps out big time.
So we will be doing a Verizon 4g LTE omv7a Tablet Hard Reset and entering safe mode. We will be doing this by entering the devices recovery mode (Factory Mode) that's a bit different from the typical Recovery mode you use for performing a Hard reset.
When to use this method?
This method of performing a hard reset can be used in cases where you want to reset your Tablet, remove forgotten password or pattern,restore a slow device to factory condition, fix issues where device is not behaving as it should, remove some viruses or malware and much more. Be aware that this method will erase all your data that's stored on the Tablet.
What else can I use this tutorial for?
This method can be used to do all the following to your device:
1.Hard Reset your device especially in cases where it wont boot up.
2.Enter Safe mode for troubleshooting.
3.Auto Test, Manual test,Item test,Debug test.
4.Get version information about your device.
How to Perform a Hard Reset on the Verizon 4g LTE omv7a Tablet?
1.Power off the Tablet.( You can also watch the video above to see how its done)
2.Hold power + Volume down.
3.When you see the welcome screen wait a bit and let go of power and keep holding volume down. You will boot into the screen seen below that says Factory Mode at the top of the screen.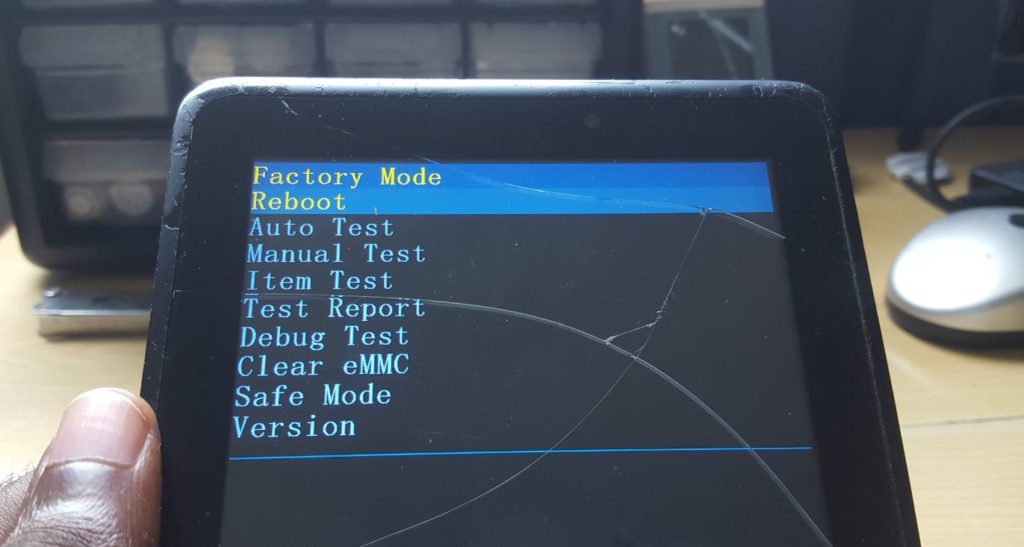 4.Go ahead and use Volume down to Navigate,Up to select and power buck to go back while in this mode.
5.Select from the menu options: Clear eMMC to wipe data or Factory reset. Bear in mind that this will erase all data on the tablet.
6.When finished you can select the first option to reboot.
The tablet may take some time to boot up after this but be patent when finished the Tablet will be just like it was the day you took it out the package.
Additional things you can do:
You can use the options in this mode to do additional things such as entering Safe mode to troubleshoot issues with your tablet were all third-party apps will be disabled or get version information about your device or test the tablet as shown above.
Final Thoughts
I do hope you were able to perform a Verizon 4g LTE omv7a Tablet Hard Reset using the method shown here in this tutorial or whatever you were intending to do. As always share this post if you found it helpful or simply leave a comment below and share anything useful you might have learned that may help others.