My friend recently had an issue where his Samsung Galaxy screen goes black but doesn't lock. Is device is a Galaxy S7 but this could happen to any Samsung Galaxy or other Android as far as I can see. The issue happened to him where he was out with a friend and she took is phone which the display was black as the screen had gone to sleep. She was able to wake up the phone and swipe the phone awake and the phone did not ask for a password.
Scary I know to think your phone might be open when you think it's locked. We tried all the obvious settings relating to lock your phone immediately after the display is off but they were set to immediately and we had a genuine mystery on our hands as to why this was happening. Luckily we were able to figure out why the phone was behaving like this.
The Issue
Your phone screen turns off but for some reason it will not lock itself or lock itself immediately. If someone wakes the phone it will not ask for the password and simply open up which is not a good thing for the security of your device. You may not have known that this was happening with your device until you ran into the issue by mistake or out of luck.
Device this Will work on:
This fix should Work on any Samsung Galaxy including old a new ones such as: Galaxy S8,S7,S6,S5,S4,S3,S2,Note 2,Note 3,Note 4,Note 5,Note FE and any Android based Smartphone. So if you are having this issue on any Android device be sure to try this fix below.
How to Fix Samsung Galaxy screen goes black but doesn't lock?
So if your phone screen turns off but your phone does not lock do as we did to fix it:
1.Go to settings then lock screen and security.( Some devices it may be settings-security)
2.Look for Smart lock enter your password.
3.Go to on body detection and turn it off if off.
That Fixed it for my friend. Note Any of the functions under Smart lock could cause the issue so disable them all if they are on.Also if your settings is a bit different on your phone you can use the search function to find any of the settings mentioned above or look under your lock related settings that allows you to set a password.
Other Things to check:
1.Also under lock screen and security –lock screen setting, set Lock automatically to :Immediately or a short time like 5 seconds.Also make sure lock instantly with power key is set .
2.Also under smart lock in your device make sure all Smart lock features are turned off including:Trusted places,Trusted devices and trusted voices.
3. The Google assistant may be causing it as there is a feature that allows you to unlock your device with your voice within the Google assistant which may be listening for voice commands. Disable the google assistant to test if that fixes it. Also you can uninstall updates of the Google app as well that may be the source of the problem.
Why did this Work for me?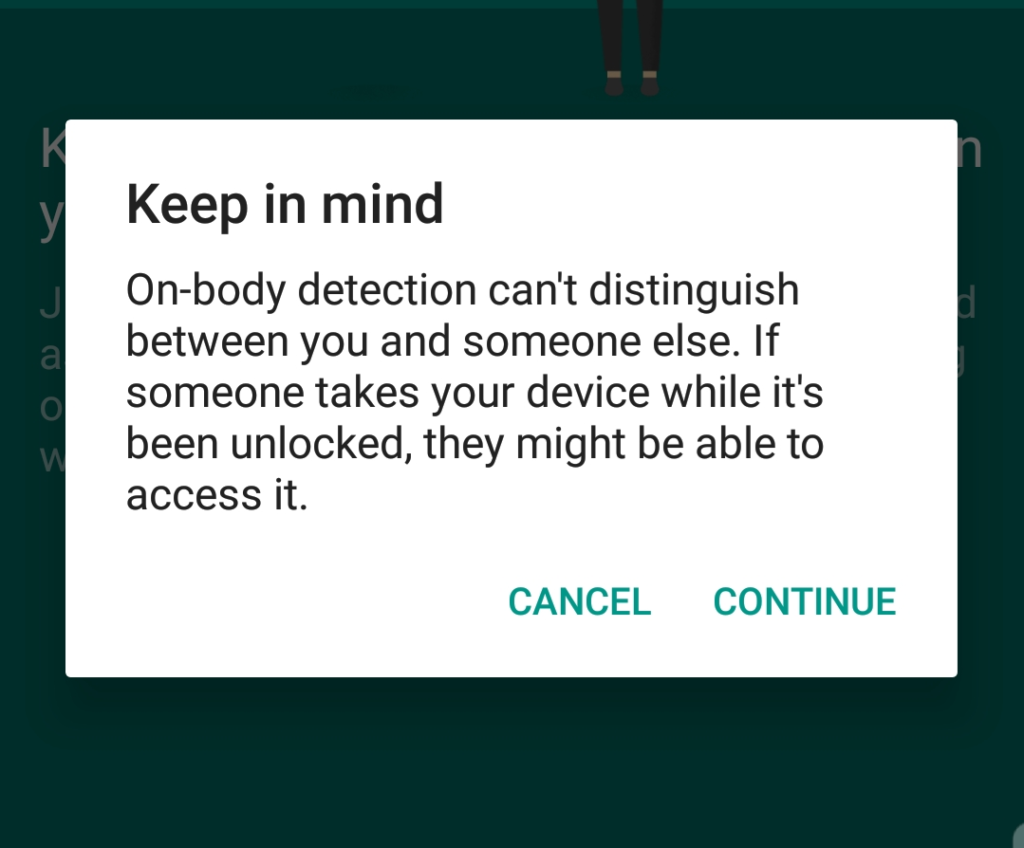 It seems in my friend's case That Smart lock on-body detection turned on some how which keeps the phone unlocked while you are moving and only locks the phone when its set down like on a table. You see now how this is troublesome as if you are not aware its on someone may take your phone and access it. So simply turning off the feature is best unless you know how to use it.
Final Thoughts
I really tricky situation here but hopefully if you encountered this problem you found my article and was able to fix the issue. In such a case congrats. Please share your story below and also take things a step further and distribute this article on social media as it would be greatly appreciated.