Meet WenWen the World's First Sociable Smart Jewelry which is basically a Smart band that looks like traditional Jewelry. This product is so much more than meets the eye as it perfectly blends the Glamour of good-looking Bracelet pieces in His and hers sets and fuses them with modern smart band technology. Move over traditional analogue jewelry as there is a new wave of smart jewelry ready to take the world by storm. It's both smart and good-looking which is the best combination of beauty and brains.
I first want to thank the guys at WenWen for sending me an early sample for review just for you guys. The Project is currently a KickStarter project which will be up for 44 days and if you like the product you can go over and check it out and back the project.  I am sure this product will make it to market soon as it's a great idea.
Wenwen Smart Jewelry: Packaging and Presentation
The First thing that stood out to me about this product is the great presentation that went into the set. The Boxes came in all white with a nice Pink Bow on both. The packaging was easy to open and I really felt a proud sense that care was placed into the packaging of this product. Which is a good thing.,the Bracelet was the centerpiece after opening the box.The nice material that lines the box really shows off the bracelet just like a luxury piece.
The documentation and magnetic charger were all stored away out of sight in a Side drawer that slides in and out nicely. WenWen did a nice job here and should be commended for presentation. There are two sets, one for a female and the other for a male. The male is called Erick and the female version is called Joy.
I really think the female version looks way better though (Jealous) and the male version looks nice too but the female version really stands out. The only complaint I have during the unboxing stage is that when the packages are closed it hard to tell Erick from Joy?? I think the male version which is Erick should have a Blue Ribbon, a small observation but it does make a difference and also the names on the box could also sort out the confusion.
This would make a lovely gift for a couple, Girlfriend or spouse. The distinction between the male and female version would easily help when you receive both packages. Otherwise this does not spoil the experience overall.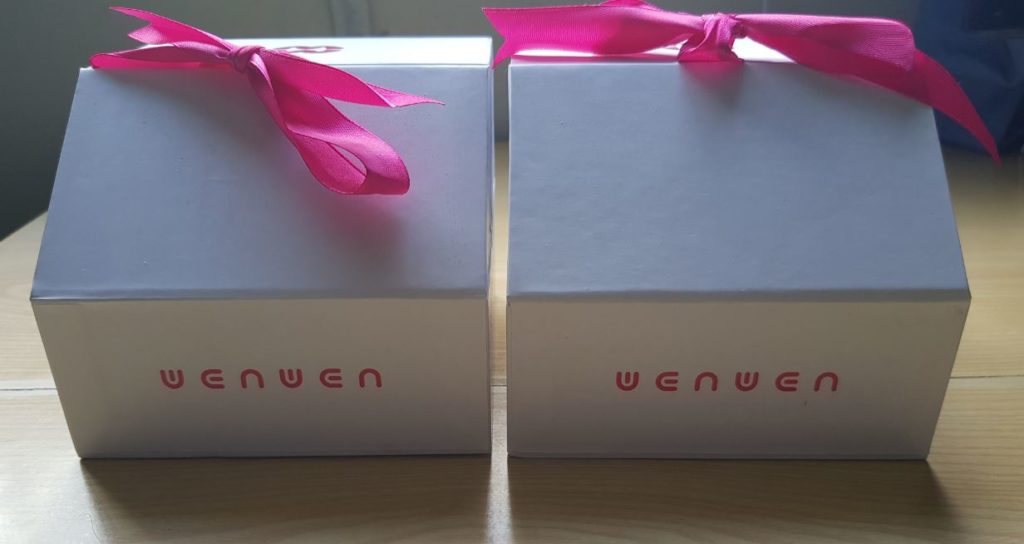 Erick
Erick has a masculine look with a leather like strap on one side and a link chain silver section on the other. There is an easy open clasp on the other side and to the center there is a pyramid crystal like structure. It can produce LED lights that glow from the center based on what you are doing.The sides that hold in the crystal is silver and its very light weight.
Joy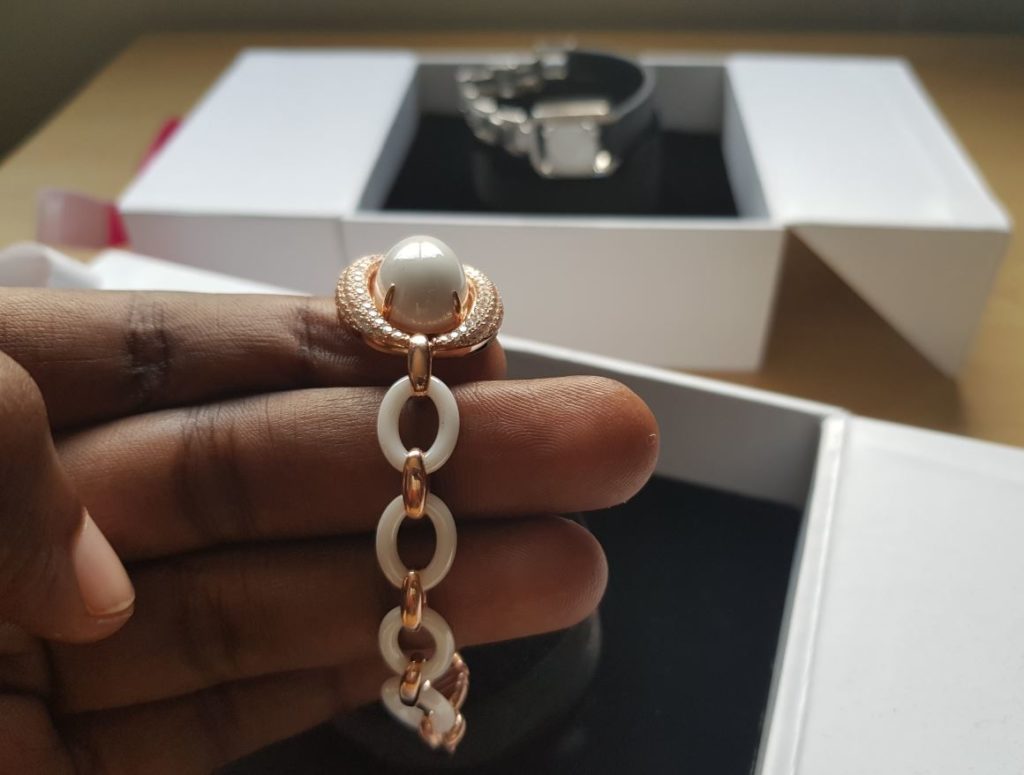 Joy is more feminine and looks really nice. The centerpiece is a pearl that looks really good with a nice strap that stretches and can be easily put on. This is so nice that you can wear this as jewelry only and no one would be the wiser. The center piece that holds the pearl has some nice encrusted crystals and it looks gorgeous.
Whats Inside the Box:
Inside the Box you will find a nice user manual in English and Japanese I think, A magnetic clip on charger with a USB end and that's in a simplistic nutshell.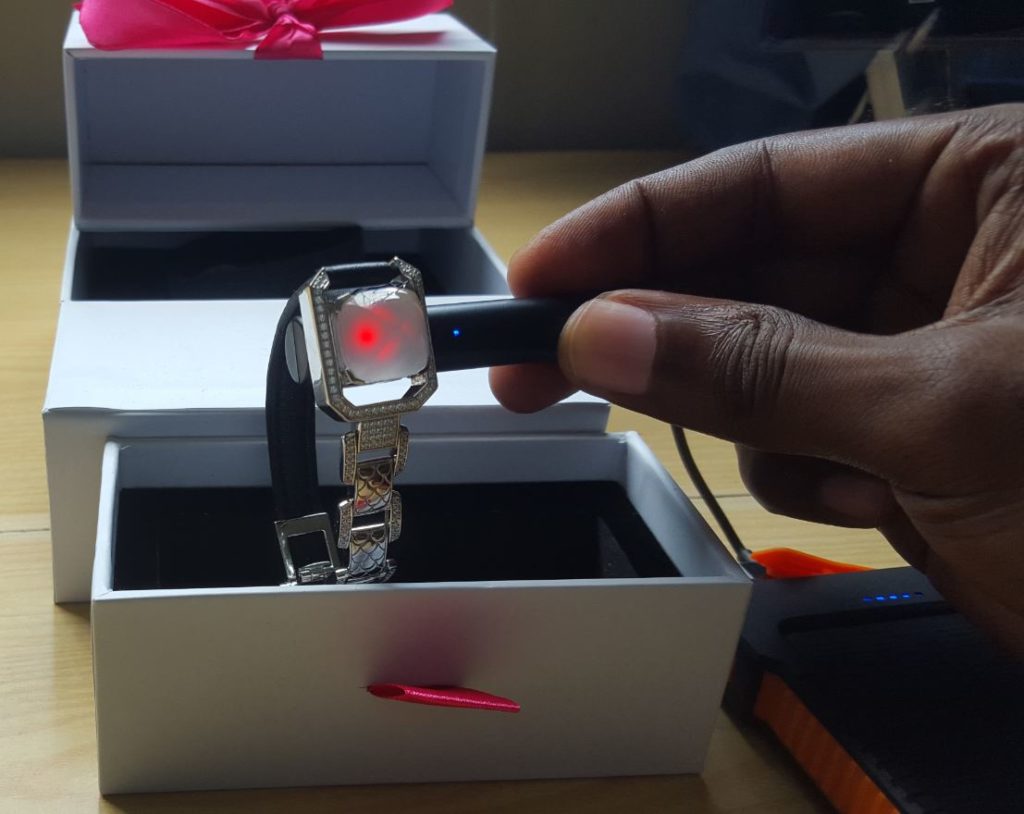 Features of this Product:
This is basically a smart bracelet that looks like jewelry and it does not have a display. It connects to your smartphone and has a variety of functions that you can control from the companion App that you can download to Android and iOS respectively.  You can do cool things such as:
1.Send an SOS with your location and more.
2.Send secret loves taps or vibration to a lover.
3.Notify spouse or girlfriend you have arrived discretely.
4. Call and Message reminder
5.Mobile Phone Anti-lost technology.
6.Track steps /Health
7.set timers and reminders.
8.Play Cool Games with the Bracelet as an input device.
There is so much packed into this one product its amassing.Its also iP67 Water resistant and wont become damaged if wet.
How well does WenWen Joy and Erick Work?
It charges fast in 30-40 minutes and can be on standby for days at a time you can get up to 10 days easy.The App is easy to find either use the manual or search in the PlayStore for WenWen and it will showup. Setup was easy as the App connects to your phone by Bluetooth. I Can't believe they fit so much tech in such a small space and you also get Firmware updates as well that adds to the functionality.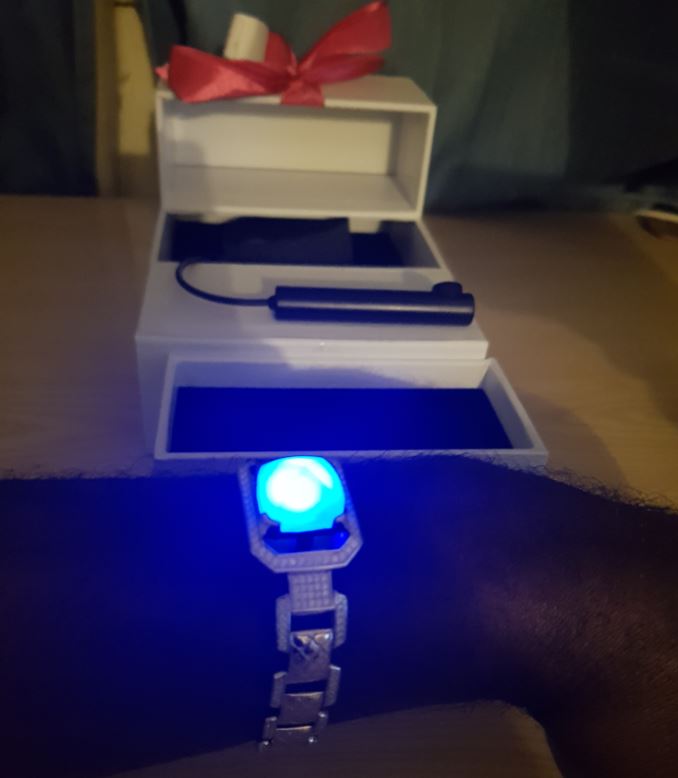 Setup was easy, I simply searched for the App in my phones Play Store. Created an account using my phone number and I quickly got a verification code. Once the app was up and running I was prompted to pair the phone and the Bracelet. I simply enabled Bluetooth searched for the WenWen Erick which I simply gave a tap and the phone discovered it. Soon after this I had to tap when the device lit up I messed this a few times during setup and had to repeat the pairing process. I found that keeping Erick close to the phone helps and doing exactly what it says on-screen and I was able to pair it easily.
Once that was done it was smooth sailing from there. I could easily invite the other device Joy and I had access to cool Entertainment features such as Colorful Jewelry which lights up Erick in various colors,Games like throw a Kiss which I highly recommend and a variety of other stuff that integrated the bracelet and its many functionalities.I could set smart reminders Relating to calls, messages,SOS and Phone Anti-lost. There was a welcome words, tracking steps taken and a memory Album.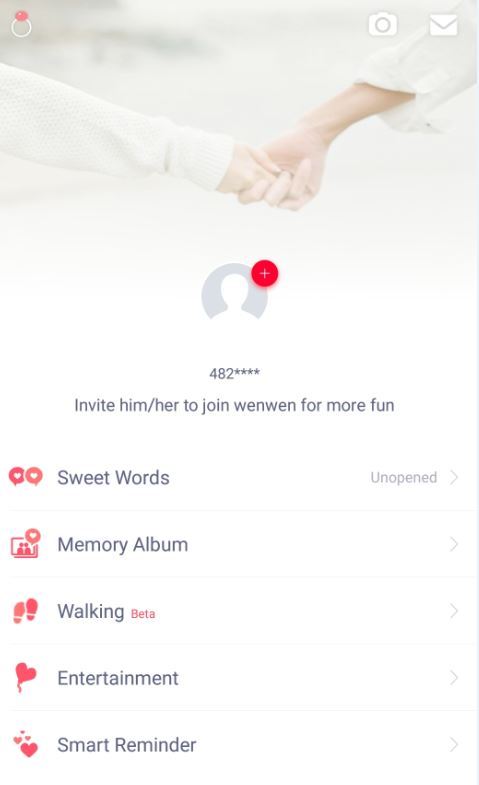 You can easily check if the Wristband is connected by Bluetooth with an icon in the upper left of the screen.I also found that it can even access data from other health Apps such as Samsung Health which was cool such as steps taken and so on. Also if you lost connection from the device it was easy as disconnecting everything such as Bluetooth and relaunching the app and you would be good again.
Battery Life:
I really like the short charge times as its not bad. I however did not like how fast the battery would drain when playing with some of the more flashy features such as the light patterns and so on. But to be fair I think this was because I was playing with the features all the time as with any new device, the battery however should last a good amount of time under normal usage.Plus it very small and has to hold a Bluetooth radio, power a LED and the other sensors that included in it.I am amazed what they were able to find in a do on the small battery that must be in this thing.
A Females Perspective:
My girlfriend loves her WenWen Joy as she thinks it's the cutest thing she has ever seen. I tend to agree with her as it really looks nice when she's has it on. She was able to set it up with no help and started using it in no time. Soon we were messing with the couples features that worked nicely. We basically bined the devices together.
It was cool sending what I call personal coded messages and having knowing it was from me without anyone else around us knowing about it. It was our little secret and shes loved it.
Video Review and Demonstration:
Below you will find my unboxing and Review of this product.
Who is this for?
This product is great for couples or you could even get each unit separately but you would be missing out on the fun aspects. I love that you can send secret messages to your partner it creates that sense that you two have a secret that no one else has or knows about and that can draw you closer. My Girlfriend who has joy really enjoys it and is fascinated by it. It really captures the imagination and makes you think of Technology in a whole new light as this product does not look like traditional tech in any way which is what makes it look really unique and stands out.
If you love technology like me it works well and if you are not so much into technology it still works really well. That's why I highly recommend this as a Gift to a couple, weeding or anniversary Gift. It's very unique and I guarantee its something special the recipient will not forget any time soon.Its also a gift that keep on giving with the SOS functionality in case of an emergency.
Conclusion
Hands down this is a really great product. The presentation was excellent minus a few minor flaws. The Pieces Joy and Erick look really nice especially the female version. The Apps looks really modern and coded nicely. It's not hard to setup if you have ever used a smartband and the features really work. Once you get your head around it and put your mind to it.
It was really fun playing with both devices as me and my Girlfriend tried them out. It's definitely something I intend to wear on the daily and integrate into my tech world. If there is anything of note that I might have missed I will be sure to add it to this detailed review here later on.
Strengths of this Product:
1.Great design especially on the female Joy version. Looks just like great looking jewelry.
2.Relatively easy to setup and use.
3.Creative features especially for couples.
4.Great.SOS safety features,
5.Send message between lovers or partners.
6.Makes for a perfect couples Gift.
Potential Weaknesses:
1..Male version Erick could be adjusted a bit to look as Nice as Joy such as reducing the shape of the crystal and the general design of the centerpiece to look more masculine yet nicer.
2.The Male and female box should be identified differently such as a Blue ribbon for the Male or the names on the Boxes or the male and female symbol as an added touch.
Where to get yours?
You can pledge to the WenWen project on KickStarter here and help them to their goal and do remember the project need enough backers to meet its production goals before the product can be funded by Mon, October 30 2017 8:28 AM EST.
I you are interested in this KickStarter Wenwen Smart Jewelry project then check out the listing above and back them. Also do share your thoughts on this product below and remember to share this article to others who may be interested in it.
Continue Reading we have even more Tips for you: