If you are like me you transfer files all he while from your Smartphone to your PC. This process usually involves me finding my USB cable and then connecting it to the PC and then to the phone. I had to then search for the files I want to transfer which can be quite the bother. What if I told you there was a better way which you can use and transfer any files to and from your Samsung phone and PC within seconds without missing a beat?
What Will you need?
1.A Samsung Smartphone.
2.The SideSync App for your phone and for PC or Mac.
3.A WiFi Connection with Internet.
How to Wirelessly transfer files from Any Samsung to your PC?
Also note that while this will work for the PC it's also works for the Mac as well.
1.Install the SideSync app on your PC/Mac and then install it on your phone as well,
2.Now Once installed on each device make sure your PC is connected to the same WiFi/wired connection as your Samsung Smartphone. The Phone can be on WiFi and the PC can be connected to the same Router or modem with aa cable or even WiFi, it will still work.
3.Launch the App on the Smartphone and on the PC. It should search and find your Smartphone and connect. If you have issues initially then connect your device once with the phones USB cable as normal,sync to the App and then disconnect the devices. After this turn on the WiFi on the phone on and you will still connect wirelessly from now on.
4.When you connect to the PC other than the phone which will be Mirrowed on the PC you should also have a popup for a file manager as seen below.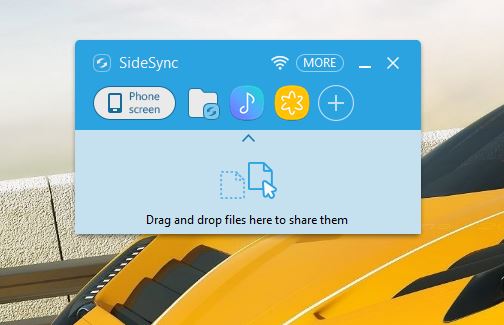 5.You can at any time click on the folder option to get the file transfer feature and simply either drag and drop a file for transfer to the phone to the area that's shown above or click the folder icon twice and choose which picture or other file to transfer to the PC.
Final thoughts
I do hope you enjoyed the tutorial and now you can transfer files to and from your Samsung Smartphones without needing any cables at all. You will find that the transfer by WiFi is easy and super convenient. I can hardly go back to cables after this and it's so convenient. So guys if you have any questions please ask them below and do remember to share this on social media with friends.