So for today's fix we will be looking at the problem where after trying to update your phone you get the error message: An Error Has Occurred While Updating The Device Software. If you are in such a situation where your Samsung Galaxy is bricked we will be showing you exactly what you can do to actually fix your phone and restore it.This method is very similar to this tutorial that we did recently which is used to fix various issues with your Samsung Galaxy.
The Error:
The error shows an exclamation in a white triangle and reads: An error has occurred while updating the device software. Use the Emergency recovery function in the Smart Switch PC Software.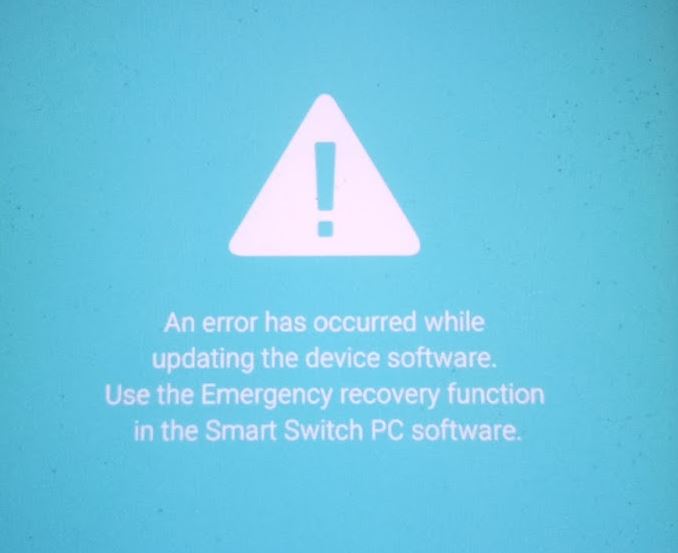 What you will need for this Fix?
1.A Computer.
2. USB data cable for your Samsung.
How to Fix the error?
1.Download the Smart Switch App from above in the :What you will need for this fix section.
2. Launch the Application after its been installed on your computer and then click More in the upper right of the software.
3.Now select reinstall device drivers and confirm, also make sure you don't have anything unnecessary connected to the USB ports on your computer. Reboot your computer after the process has completed.
4. Relaunch Smart Switch after reboot and connect your phone with the error to the PC. Click on more in Smart Switch and choose the option for Emergency Software recovery and initialization. Next Select Device Initialization tab.
Now enter your device Model number, this can be usually found on the back at the bottom of the device in fine print,on a sticker or on the box and documentation that came with your device.
5.Next input your serial number of your device which can be found again on your device box or back of the device. Hit OK and read the warning and then confirm. The software will begin downloading and will need some time depending on your internet speed.
The software will load on the phone and your device will reboot you will then have to setup your phone as when it was new. That's it your device should be working 100% now.
Final Thoughts
I do hope you were able to fix the An Error Has Occurred While Updating The Device Software error which happens when your device becomes bricked. If this was useful please take the time to share the article and do remember to leave a comment below. Thank you for checking out my article and also note that this method can be used to fix other issues you may have with your phone that affects its functionality.