I have owned a few Wireless keyboard and mouse sets and my best one to date lasted me about seven (7) years before needing replacing. With that being said you know I have very high standards when it comes to Wireless keyboard and mouse combos, thus I decided to buy the Logitech MK270 Wireless Keyboard and Mouse Combo which I will be doing a review of today. So this will be my Logitech MK270 Wireless Keyboard and Mouse Combo Review in which I look at this set it detail and give you a clear idea whether its worth it or not.
What in the Box?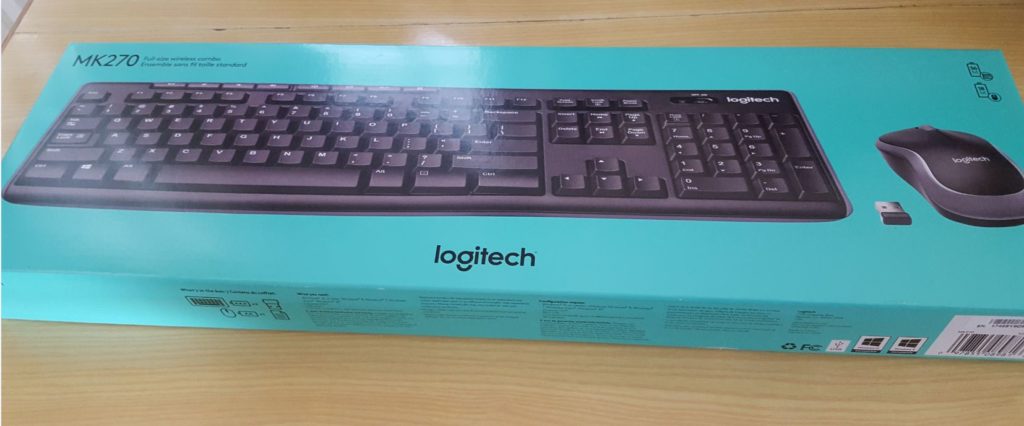 Inside the box  you do get the Logitech Wireless Keyboard, Wireless mouse, Wireless sensor, 1x AA battery for the Mouse and 2x AAA batteries for the Keyboard along with a warranty information card and that's it.Everything is packaged nicely and neatly for you and ensures the safety of the product during delivery.
The Logitech MK270 Wireless Keyboard and Mouse Combo
The Wireless Mouse
The Wireless Mouse of the MK270 is very light weight and if you are coming from a normal or larger sized mouse. Its designed to be compact and on using it for the first day it took some time for my hands to get accustomed to how light it was but after a while it was hardly noticeable.The mouse boasts an impressive 18 Months on the Single AA battery that's inside which is great, older wireless sets would chew through batteries and would never offer such efficiency.
One of the reason why these sets are so efficient is that the laser light that allows the mouse to track movement produces no visible light and you can even switch the Mouse off when it's not being used. Finally you can even get a set of re-chargeable batteries and things will be perfect as you will never have to buy batteries for a long time. Overall I am loving the design of the mouse which feels great in hand and makes scrolling and web browsing a breeze.
The Sensor
The Sensor which plugs into the PC can also be stored away in an easy open compartment on the underside of the mouse. The sensor is so easy to setup on Windows PCs as it's as simple as putting the battery in both mouse and keyboard and plug the sensor it and the keyboard start to work. It's truly a hassle free experience.
The sensor also works pretty well in keep connected with the Logitech MK270 Wireless Keyboard and Mouse Combo set as I only had slight issues a few times with the Keyboard loosing signal for a few seconds where the buttons were pressed and it took a little while for the actions to translated on-screen in the word processor I was using. The incidence has not happened for a while and may have been a fluke or early install bugs as so far so good.
The Wireless keyboard
The wireless Keyboard is lightweight and has great range similar to the mouse. I really love the addition of the shortcut keys at the top in grey as they make for awesome shortcuts to pausing and playing music, going home in browser,lowering and increasing volume and accessing the calculator,mail and more. These are functions which are welcomed on any Wireless keyboard.
You also get the full QWERTY layout with numeric keypad which makes typing really convenient. I love the keys too as they press easy and do not produce too much noise. The most impressive feature though is the low price and battery efficiency as the Keyboard boasts an impress 36 months of battery life which means big savings for you.
Where to buy this Wireless Keyboard and Mouse set?
You can purchase your Logitech MK270 Wireless Keyboard and Mouse Combo below.
Why buy this set?
1.Impressive battery life of 18-36 Moths.
2.Cool shortcut keys.
3.Light weight with great design.
4.Very affordable price that's great value for your money.
5.Easy to setup and use.
Why you may skip this:
1.Mouse feels a bit small and light compared to other sets which may be annoying to some users.
So that's it guys for the Logitech MK270 Wireless Keyboard and Mouse Combo Review, I am really enjoying my set so far and its great for preparing articles for you guys as well a web browsing and I am loving it. So if you have any questions or inputs please use the comments below and do share this article on social media as it would be greatly appreciated my friend.
Continue Reading we have even more Tips for you: