So recently I needed an affordable and effective Smartwatch solution and decided to purchase a DZ09 Smartwatch. This will be my full review of this device and my experience after owning and using it for a while. So if you are thinking of getting one for yourself this DZ09 Smartwatch Review should be able to answer all your questions and help you in making that final decision regarding this purchase.
Please note that there are many versions of the DZ09 Smartwatch that exists but they are all basically the same device with the same look and sometimes only with a branding name difference as mine is from GDZL and sometimes some slight software versions. My version is the latest and includes support for Twitter,Facebook and Whatsapp out the box.So no matter the branding of your DZ09 device this review will still apply.
What in the Box?
Inside the Box of my DZ09 Smartwatch we had a USB charging cable, DZ09 User manual and the DZ09 Smartwatch itself. You can get yours in Black, White, Silver and Gold. As for me  I went with the Black version as in my opinion its the sleeker looking one of the set.
The DZ09 Smartwatch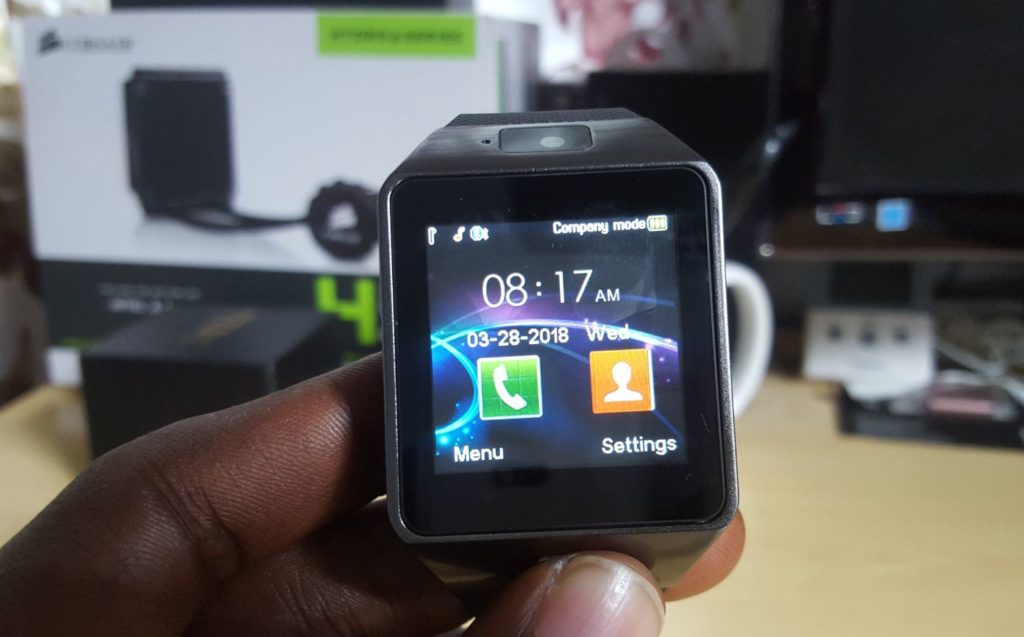 The DZ09 itself has a great square look with a nice adjustable strap that make it easy to fit on just about any size wrist. As for buttons there is only one main home button on the front that serves as a power button on long press and traditional home button on single tap or to wake the smartwatch from sleep. There is a covered charge port on the side and a removable back with a loud-speaker grill. Out the box you will need to charge your device at least two (2) hours to get it to power on but after that you should be good.
The device accepts what seems to be a very small Nano SIM card and a MicroSD card that's no larger than 16 GB total in size. Setup was relatively easy and you can either choose to Sync your Smartwatch to your smartphone or use it as a standalone device with its own SIM card and storage. The only tricky aspect of setup was setting the time and date and getting things just right but otherwise the setup process was user-friendly and convenient.Its slightly bulky in look but is not at all heavy with just a little bit of weight to it so you always know it's there on your wrist.
The Display
The main thing that amazes me the most about the DZ09 Smartwatch is the display, while its small it's very accurate and easy to use. This is saying allot considering that some Chinese Smartphones with larger displays tend to be stubborn and unresponsive at times. Not the DZ09 though as the screen produces great colors reproduction and enough detail to make it a good experience while using it.
It takes a little time but typing and punching in numbers is OK and not as hard as it may seem when initially going into things. The display actually makes using the smartwatch easier and not frustrating at all as you may think before using it directly.
Sound Quality
Sound reproduction sadly is not very good, you can load your Music to the MicroSD card but the loud-speaker simply produces OK sound for listening to music. This is in no way exceptional or bad but just OK. You would be better off using your headset which can be connected by Bluetooth for both Music and calls from this device. If listening your music and quality is not an issue then you should be fine just listening.
Its loud enough to fill a small room and clear enough for others to enjoy, but don't expect the quality you would get from a high-end Music entertainment center with Bass and a variety of sound effects which the most keen eared among us would enjoy. So long story short the sound is loud and clear enough to enjoy but not so good you would be blown away by.
The Camera
I hate the Camera placement while on your wrist it always seem to be pointing up. I don't know if this was an intentional design for privacy but you will not be taking a picture with the camera without all around you noticing you turning and twisting your wrist awkwardly.The quality of the camera is also dirt poor and you can bearly make out anything you snap.
Not to be overly critical but comparing the quality to a way better high-end smartphone which you most likely have will have you wanting more. Pictures are basic and will only produce something worth viewing or recognizable under ideal lighting conditions. Long story short again pictures are meh and almost borderline OK, meaning you will only be using the camera sparingly at best.
As a standalone Smartphone
Using my DZ09 as a standalone smartphone was fun,you can make or receive phone calls but you will need a headset as without it all calls will have to be put on speaker. Receiving text is also good and responding is OK if you don't mind writing while taking your time on  a small keyboard which can be done but it will take time. Using the Smartwatch for calls will put a drain on the battery so do bear that in mind.
Reception will also be blocked heavily while in doors due to walls and you do get better reception while outside according to my observations. The best part about the telephone features is having something so small as a phone on your wrist which most people will think its just a watch.
Connectivity
You can connect your Bluetooth headset to the DZ09 easily and this is great for calls, listening to music and so on. Connecting these devices was easy and hassle free which makes the Smartwatch even more fun and convenient like a normal smartphone.
You can also Download the BT Notifier App to your phone and Sync your DZ09 to your Smartphone and do away with the SIM card in the Smartwatch and all your messages and calls from your phone will show up on the DZ09 so you can answer calls and view messages instead of taking out your phone. This makes things really flexible and your options varied for using the DZ09.
Battery Life
With a charge time of 2 hours give or take,battery life greatly depends on your usage of the DZ09. If you make lots of calls it will drain quickly, if you use the Bluetooth heavily then expect it to die quickly as well. The idea here is that you have very little to work with in terms of battery life so don't overdo using the heavier features such as calls and connected device for actions such as music.
You can get through an entire day but you will have to ration calls and other features and keep usage to a reasonable limitation. With that being said you can expect average to good usage depending on what you decide to use yours for.
Where to buy:
You can buy yours below that comes with the latest features
Overall
Overall the DZ09 is a great Smartwatch and considering the very affordable price you pay you are actually getting steal for a device that has a built-in Phone,Camera, Bluetooth, Social media, Internet browsing and much more. My suggestion is that you get this as a cool addition to your smartphone and for basic tasks. It can also come in handy for making emergency and the occasional phone calls. Dont however think it can totally replace your smartphone, its best as a backup or companion to a high-end smartphone which when paired will work great together.
So guys what are you waiting for? Go ahead and pick up your DZ09 right now it's practically a steal at the great prices they are going for right now to see what the fuss is about when it comes to smartwatches.
Continue Reading we have even more Tips for you: