Today I will be doing the ZOSI 720P 8-Channel Home Security Camera System Review based on my experience after owning and installing the system. I first decided to get this system after wanting to boost the security at home, the last thing you want is to be away from your property only to have someone snooping around or worst to try to rob the place. ZOSI offered one of the most affordable and effective security systems on the market to date that comes highly rated.
What do you get with this set?
Inside the main Box are two other boxes one containing the ZOSI Digital Video Recorder or DVR, Quick start guide, 2x  Power adapters, 1 Mouse,User manual, 1 Data CD, 4x Digital security cameras, 60 feet BNC Extension Cable, 1x 4 way power splitter, Warranty registration card, Mounting screws and that's it.
The DVR does not come with a hard drive installed so you will need to buy one, a 500 GB hard drive or higher would be recommended. Without a Hard drive you can't use the record or playback features of the ZOSI DVR.
The ZOSI Digital Video Recorder
The main ZOSI DVR is really small and light weight especially without the Hard drive installed. There are three LEDs on the front,one to indicate Power in red, yellow for the LAN and HDD and they only light up when LAN is connected for internet or the Hard drive is attached.There is also a USB connection at the front. There are also plenty of ventilation holes at the side to allow air flow.

At the back of the device you will find eight (8) connection points for the cameras, two (2) USB ports, , Ethernet port for internet, HDMI and VGA port for the monitor,4x  red and white Audio input jacks and the main input for power.
Installing a New Hard drive
Installing a new Hard drive or HDD was quite easy I simply bought a new one and opened the ZOSI panel and connected the SATA cable along with the power. After this it was a matter of aligning the hard drive and screwing it in from the base to make sure it would stay in place. The real trick is aligning it with the screw holes which is not overly difficult but takes time. If you have ever worked on computers then this should be more than manageable for you.
Installation of the ZOSI Security System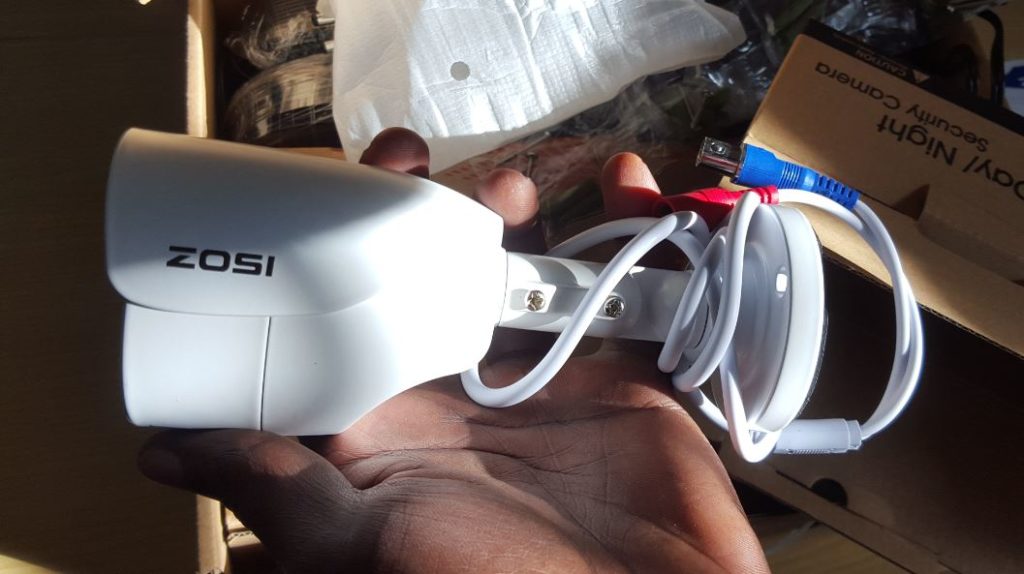 I opted to install the security System myself with a help from a friend. It was not very hard and the only thing to worry about in most cases is mounting the cameras. Its recommended you have another person handy so you can position the cameras perfectly. One can monitor while the other install and so on.
I recommend that you first unbox the Camera and then setup everything in House to know how it works and then proceed to install around the house, office or Business place. You can select the main entrance and exit points of the house or office to best use the cameras and make sure they cover a wide area. You will need a drill to affix your camera to the wall but be sure of your positioning before you start making the holes to place the plastic mounts into to then screw things down. Your next big consideration is how to neatly and creatively get your Video camera cables back inside to connect to the DVR box.
Functionality and Performance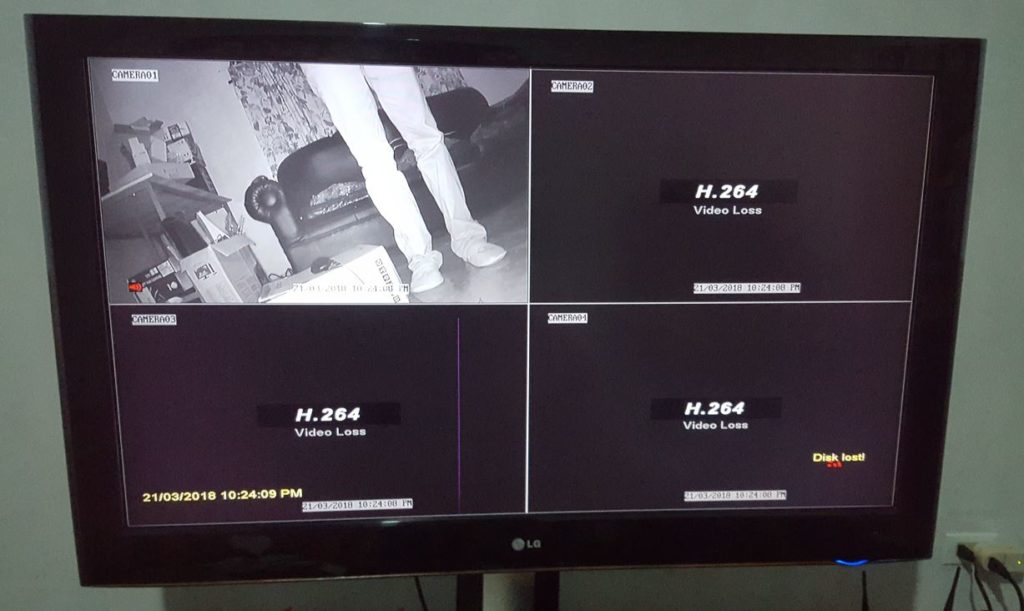 Setup after powering on the ZOSI DVR was quite easy as the startup wizard guides you through setting the time, date and all those other basic things. After powering on if you connected everything correctly all the cameras should work just fine. The cameras are very high-resolution and you can see clearly especially during the day and when it transitions to the night periods the Camera goes infrared and the display shows black and white, on the camera you will notice those red faint LED which are bearly visible at a distance.
I love that you can setup motion detection to look for movement and then snap a picture, send you an Email or Alarm. The Motion detection is far from perfect though and works best inside or in environments without grass and trees. It tends to detect any motion and go off so you will have to tweak and select the perfect environment to activate it such as inside or on paved surfaces without trees,tall grass or any moving objects to get in the way.
There is also sound detection which is handy and you can replay video footage over days or the last hour as long as you have a HDD installed. You can even have the unit alarm if a camera goes offline which is great if someone tampers with the system and you can even password lock your DVR to protect it and maintain security.
Video Review:
Watch the video review below.
The ZOSI App
With the ZOSI app you can remote access the DVR when you are away from home and still see whats taking place when you are not there. You only need the ZOSI app and then set it up with your devices unique code and make sure its connected to the internet. You can then from Android or iPhone do what you would normally do at home while on the go. It was relatively easy to setup and the feature works quite well. You will need a decent internet connection but it does work and does so well.
Where to buy?
You can get your ZOSI Security camera system below right now.
Why buy this Security Camera System?
The ZOSI Security camera system offers :
1.Great price.
2.Lots of cool features to improve your security e.g. Motion detection, Noise detection..
3.Multiple inputs and outputs.
4.Set comes with everything you need to get started.
5.Easy to setup and use.
Why you may skip this:
1.Does not come with a HDD out the box you will need to buy one for features such as recording and playback.
Overall Views
Overall the ZOSI security camera system is a great deal and you do get a variety of cool advanced features that will keep your home safe while you are at home or away. I love the way this system was put together and with a few more tweaks over time the system will be perfect. The system as things are now is very cool and works very well with a few minor areas that need some more tweaking such as the motion detector which while works could do with some tweaking to be even more effective.
So guys do take the time to ask any question you would like below as I will answer any question you may have about this system and do remember to share this article with a friend or two.