There is a new feature on Instagram that allows you to mute any user or person that you may follow. It's a brand new feature and a welcomed change to the platform that was not available before. The best you could do in the past was to mute a users stories but now Instagram has added the feature to actually mute a user so you wont see post from them until you decide to unmute them. Best of all they will not be notified or know you have muted them which can prevent awkward situations.
What devices is this available on?
This is available for Instagram on Android and iPhone. All Instagram apps are covered across all devices.So if you have the Instagram app you should be good to go.
Why don't I have the Mute feature on Instagram yet?
As with all new Instagram features it can take a few days for the feature to actually show up after being rolled out. So keep checking back the app and the feature should appear soon as it been officially released already.
How to Mute a User on Instagram?
1.Go to your Home feed and find a user that you want to mute or one that's sharing excessively that you want to mute.
2.Click the three dots or option menu to the upper right hand corner of the post from the user.
3.From the menu that appears go ahead and look through the option and you should see the mute option.Go ahead and select it.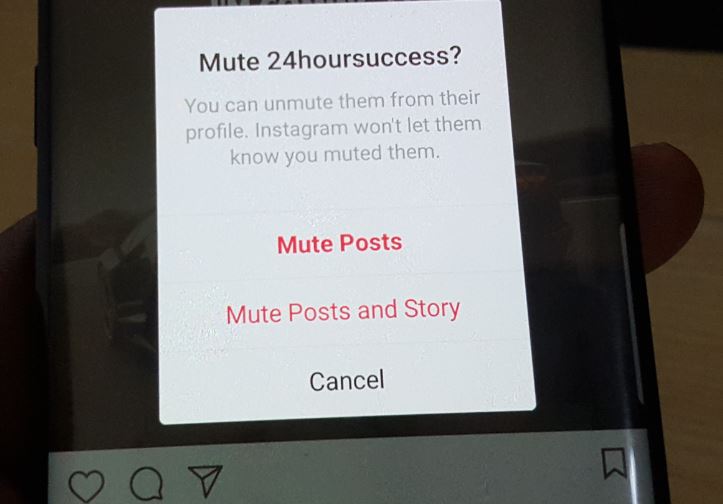 4.Now from the menu choose mute post and that's it the post from this user is now muted until you unmute them.
How to UnMute a User Instagram?
1.First go to the profile of a user you have muted as shown above. You can do this by using the search function in Instagram.
2.When you find the profile of the user simply look on page below the user description and above email section and you will see the unmute option.
3.Go ahead and select the unmute option and that should do it, the user is now unmuted.
Video Demonstration:
See below for the video demonstration.
Will a User know they are Muted?
The simple answer is No users who are muted will not know that they are muted so you can go ahead and mute any user you like.
Final Thoughts
That's it for the Instagram Mute User feature that's new, please share below your views on this new feature and what you think of it. I think the new feature is a cool new tool that you can have to help you in maintaining sanity in an ever evolving connected world where social connections are very important. You also have to be careful in the way you cultivate those connections as they can have impact in the real world.
Do also remember to share this post and also to check out even more of our related content here on he website as we have plenty of content that can help you out with various forms of technology.