I have been waiting some time for this PlayStation 4 Pro Review but before I begin let me just point out a few things. I have been a Gamer from a child and I recently decided to take a break from Gaming. Its been a few years and now that I am back I decided to change things up a bit. I usually mainly gamed on the PC, but since being back I decided I would get a PS4 Pro seeing from earlier years I have long liked the PlayStation before getting into PC Gaming. With that being said this is my honest review of the PS4 Pro and my impressions after being away from gaming for quite a while.
What Inside the PS4 Pro Box?
I must say that when the PlayStation 4 Pro was delivered I was really captivated by the Box as Sony did a marvelous job with presentation. The box was a little;e heavier than I had anticipated weighing about 12-13 pounds. Everything is well put together with nothing out of place. Also the Console itself with all accessories are packaged in such a way as to protect them from damage which is always a welcomed packaging consideration. Having your gear damaged on delivery can really be annoying.
I got the PS4 Pro 1TB Jet Black edition and as my first Game I got was God of War 4. Inside the Box was the: PS4 Pro Console or system,The DualShock 4 Wireless Controller,HDMI cable,USB Cable,AC Power cord,Mono Headset and manuals along with other printed materials.That was about it, also be sure to check the boxes thoroughly as you might miss something.
System Setup
Seeing I was out of the Gaming scene for so long I had no idea as how to setup the PS4 Pro, luckily it was not difficult at all. Simply connecting the power cable and then the HDMI to a free input on my TV set, then connecting the controller to the first port then to the controller was easy. The power buttons on the PS4 Pro was a bit different put clearly labeled if you look closely. In no time the system had powered up and the initial setup was a breeze.
The only problem I had was when I tried to insert the Game that I had I instinctively pressed the eject button and thought something was wrong when I did not see the tray for the Game pop out. I am sure many new users who are not accustomed to the PS4 Pro will fall for this as well. I later figured out that the DVD drive on the console actually does not eject, you simply have to place the DVD up to the DVD bay and push a bit and the system will grab and place it in. The eject button is only for removing the DVD after it has been put in.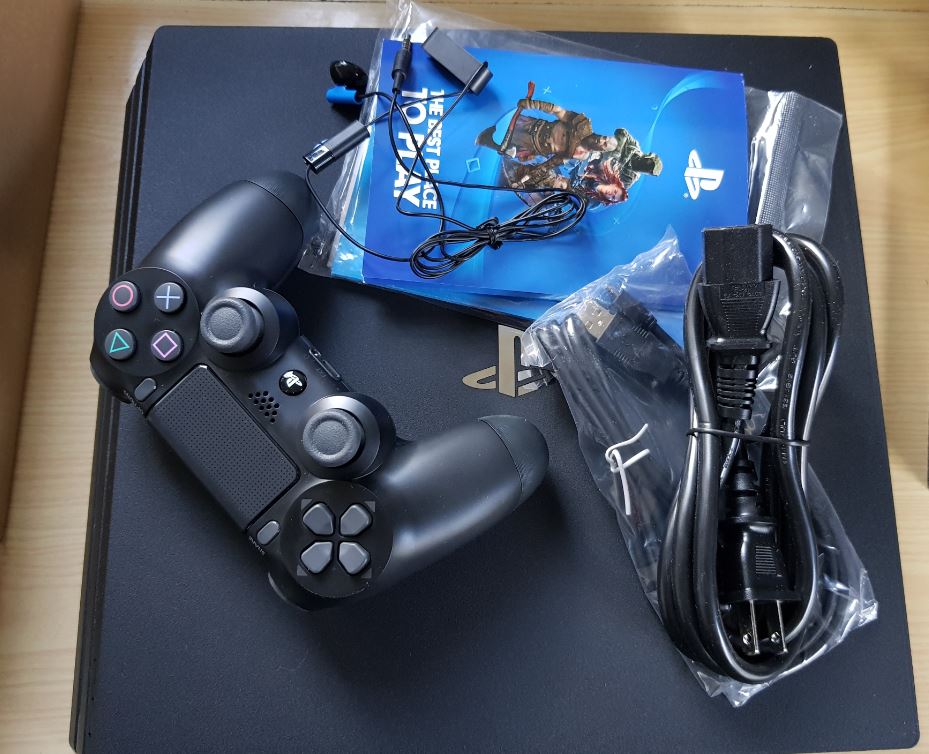 After this it was smooth sailing as the Game showed up in the PS4 pro menu and from here it was simple jumping right into my Game.
The DualShock 4 Wireless Controller
I really love the DualShock 4 Wireless Controller, the PS4 Pro controller has surly evolved over the years I have not seen or used one. For example it's really sleek looking and just the right weight. The addition of Wireless capability is very nice and makes things very convenient. I love the way the controller light up to warn you it's in need of a charge and how you can easily check the battery life.
The touch pad is also a nice addition and adds another dimension of Control to the PS4 Pro that makes it unique among controllers. The buttons also have a perfect feel when pressed and feels at home in your hands like a perfectly fitted glove that was designed just for you. I had no issue using the controller especially in Games. Although I am a bit rusty things came back quite quickly while playing for a while.
Gaming on the PS4 Pro
As mentioned above my first Game right out the Gate for the PS4 Pro was God of War 4 Which I can't recommend enough that you get. The separate review for that title will be coming up soon. In Game the PS4 Pro is a beast I can say I suffered no lags or issues while playing. If your Game is enhanced for the PS4 Pro as the God of War title is then you are in for a treat. Although I was Gaming on a 1080p TV set I still benefited from smooth frame rates and fluid Game play.For the best experience get a 4K TV with HDR and you will be golden.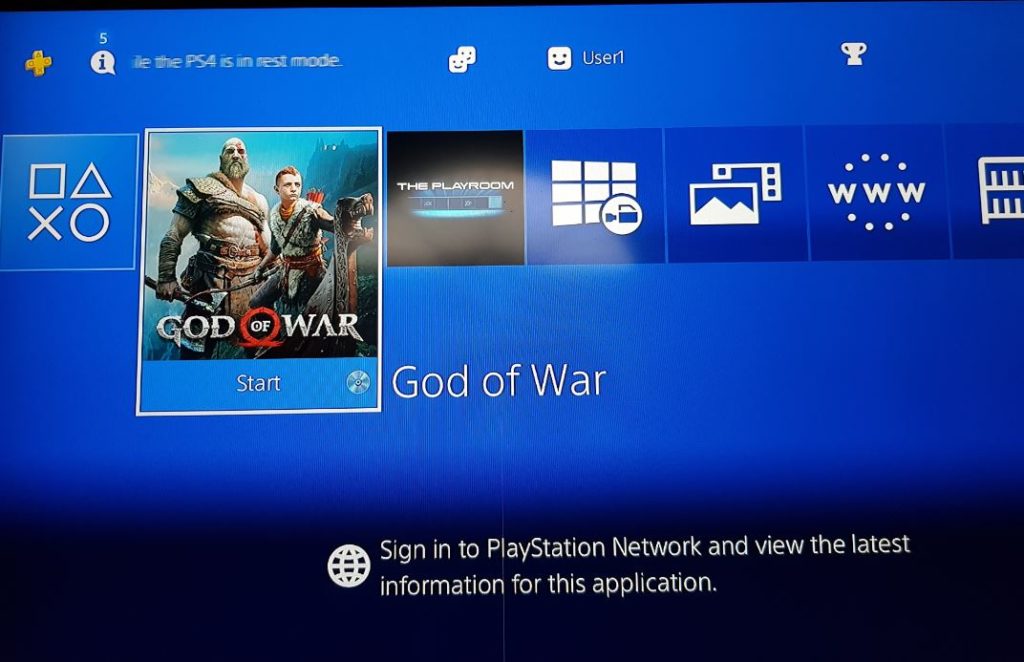 The PlayStation was also a champ while playing and you would only hear the console ramp up every once in a while but after a short period would calm back down and was whisper quite again. The last thing anyone needs is a noisy system. Honestly once you get into your Games the PS4 Pro will take over and you will be left doing what you do best and that's enjoying yourself in an immersive world the creators intended for you to enjoy in the best possible way.
Online Support and Functionality
The PS4 Pro console has a variety of online feature that includes web browsing and you can purchase your Games directly from the Plantation store. You also have WI-Fi support which means one less cable to your device. I love that you can also Play with friends online or play offline the choice is yours. I have yet to test out these feature and they will require a PlayStation Plus subscription.
PC Gaming VS Console Gaming:
What I like about the PS4 Pro over the PC is that the Games are ready to play without any fuss or tweaking. They simply work, mind you we all like convenience plus the exclusive tiles on the PlayStation don't hurt at all. I also have never been the type to take sides as PC gaming has its own merits as to does Consoles. I would still Game on my PC if I feel like it but as I said the PS4 is way more convenient and less fussy.
Overall Views on the PS4 Pro
If you are going to get a system now I suggest you get the latest and greatest and that's the PS4 Pro, the console has years left still in its life cycle. You will have a huge library of exclusive Games that can only be found on this system and nowhere else. Best of all these titles covers various genres such as action,Adventure, RPG's,shooters, Car Racers and much more. You literally can't go wrong with a PS4 Pro as your main console as you really can see the thought and craftsmanship that was placed into every aspect of its design.
I can truly say I have fallen in love once more with Gaming and I am having a really great time with the PS4 Pro. There are so many other titles I want to get and each is better than the last. I really anticipate coming home at the end of the day as I get ready to relax and put on a Game to play which the PS4 Pro makes really convenient and easy. I could not ask for a better console right now and I really think the PS4 is worth every penny I paid for it.
Where to Buy the PS4 Pro?
You can purchase your PS4 Pro below in the link.
You can get your PS4 Pro here.
Why buy the PS4 Pro?
1.Great Overall design.
2.Exclusive Games and content.
3.Great designed and comfortable controller.
4.Really powerful for fluid Game Play.
5.Support for HDR and 4K for really good-looking and playing Games.
6.Lots of great Games to come in the future.
Why Skip the PS4 Pro?
1.The price: You are really investing in a system when you decide to buy the PS4 Pro. It's worth it but you do spend a significant amount on it which some users may find to be an issue. Price aside you can't beat the quality you are getting.
So that's it for my PlayStation 4 Pro Review I know its impossible to answer or touch each and every possible question you may have on this device and with that being said let me open the comments to you guys to ask any question and I would be glad to answer them.
Continue Reading we have even more Tips for you: