This is my review of the APC 850VA UPS Battery Backup & Surge Protector, specifically the APC BE850M2. I decided on getting this unit after plenty of research and found it to be a reliable option. The main reason for getting this Battery backup is to protect my sensitive equipment such as my PlayStation 4 Pro and other electronics I have around the house. This was mainly prompted as  in my area we have frequent power cuts that can happen at random.
These power cuts tend not to last long but its enough to disrupt my work flow and potentially damage expensive electronic equipment, so that was a definite no no, considering the relative cost of these Electronics to the value of a Battery backup.
Whats in the Box?
Inside the APC BE850M2 box which is a brown plain-looking box with the product information carefully detailed on it you can find The User manual or getting started guide, relevant cables for data port connection,warranty info and other safety guides along with the Battery backup unit.
The product is protected on the inside with what seems to be recycled cardboard crate like packing material which does a good job.
Features of the APC BE850M2 APC 850VA UPS Battery Backup & Surge Protector
The APC BE850M2 has 9 outlets -3 with surge protection only and other 6 has battery backup and surge protection.
Automatic-shutdown software for compatible devices such as your PC.
2x USB Charging ports @ 2.4A.
Building wiring fault indicator.
Circuit breaker button.
3 Year warranty.
5 foot long power cord with 3 prongs at right angle.
850VA or 450watts capacity.
As you can see a lot of thought was placed into the features of the Battery backup to make sure its easy to use and can easily fit into your home without causing much issues and remain high on functionality.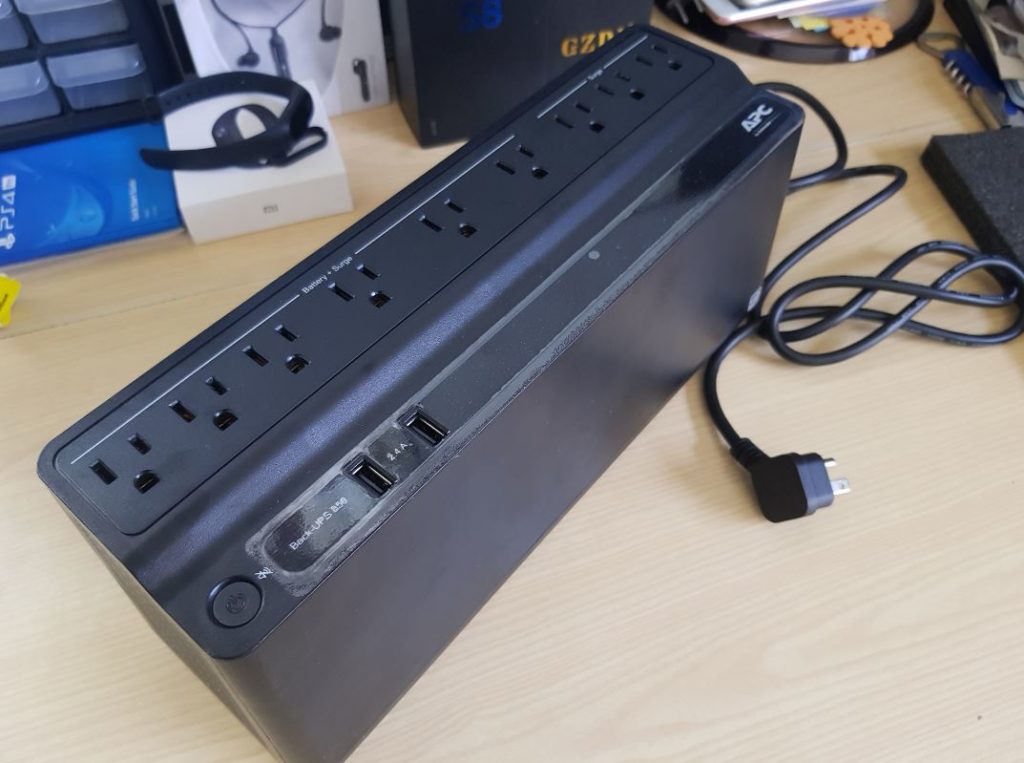 Setup and Usage
I love that the APC BE850M2 battery backup is well designed and looks nice. There are adequate ventilation homes at the sides to keep things cool. You will have to open and attach one of the terminals at the base of the unit on setup but that's very easy. You simply remove the base slide cover and take out the battery while it's on its sides and slide the connector over the free pole and that it. After this its only a matter of charging the  Battery backup for a good 24 hours to make sure it fully charged for the first time and working at peak efficiency.
When setup is all completed simply connect your Critical devices such as Gaming console, PC,modem in the first 6 ports with battery backup and surge protection to make sure they are not affected by sudden loss of power.  You can also have enough time to power down safely in case of a power outage.
See what it looks Like: Video unboxing:
See what the product looks like in this video unboxing.
APC BE850M2 Battery Backup Review
In my case I find that the APC 850VA UPS Battery Backup & Surge Protector works really well as while Electricity is consistent in my area and we have very few long-term outages I find that at random we would have short outages through some days that last for a few seconds which is enough to damage equipment. I decided to get this to protect from such outages and prevent me having to boot backup my equipment or wait until the modem reconnected again to have internet.
Once I got this battery backup I had no issues as soon as we had a sudden power cut it kicked in and prevented the downtime I would have with power cuts before in restarting everything. Also in worst case scenarios were we had a full outage and power was off it was enough time to save and power everything down.
Please note though that if you have a powerful PC that's for something like Gaming you will need a unit with more than 850 VA, this particular unit works better for smaller workstation PC's, Video Game consoles and so on.You will have to also be reasonable with what you have plugged in at any one time. For example you can have your TV and a Game console and modem plugged in, a sudden power cut and you are good as you can save your game and power everything down. If it was a simple power cut and power comes back you have nothing to worry about.
Conclusion
If you want a great affordable Battery backup that can handle a regular PC, Gaming console then this would as cheap as you can go. From here if you want more time to save or backup your work you will need something with more VA which APC provides. But if you want just the bare minimum to protect especially your Game console to give you enough time to save and power down then definitely try this Battery backup as it work just fine for you.I highly recommend this brand  and this unit unless you want more power in which case I suggest you check out one of their higher units.
Where to Buy:
You can buy yours below.
Why Buy this Battery Backup?
1.Provides enough power to support Video Game console and basic PC in outage to save and shutdown.
2.Well designed.
3.Very affordable and reliable.
4.Easy to setup and use.
Why skip this?
1.Depending on the equipment you connect and the rated 850VA or 450watts this may not be enough power to support some very high-end electronics and in which case you will need a unit from APC with larger VA capacity.