This Review has been a long time coming and I know how hard it can be to actually find a reliable set of speakers that can meet your Audio needs in terms of being a great set of computer speakers or as part of your entertainment setup. If you are seeking a nice pair of speakers that will give you great surround sound that will knock your socks off so to speak and that is very loud then look no further than the Logitech surround sound speakers Z506. I have actually own my current pair for more than three (3) years and to say I am impressed with these speakers would be a understatement at the least.
Specifications and Features
The Logitech Z506 features a:
Ported down-firing subwoofer pumps out deep, clean, booming bass
Rich 3D stereo in 5.1 surround sound, even from 2-channel stereo sources
Multiple inputs make it easy to connect your PC, Game console, iPod, DVD player and more
75 watts (RMS) of balanced power and room-filling sound. On-speaker bass control lets you easily dial the bass level up or down.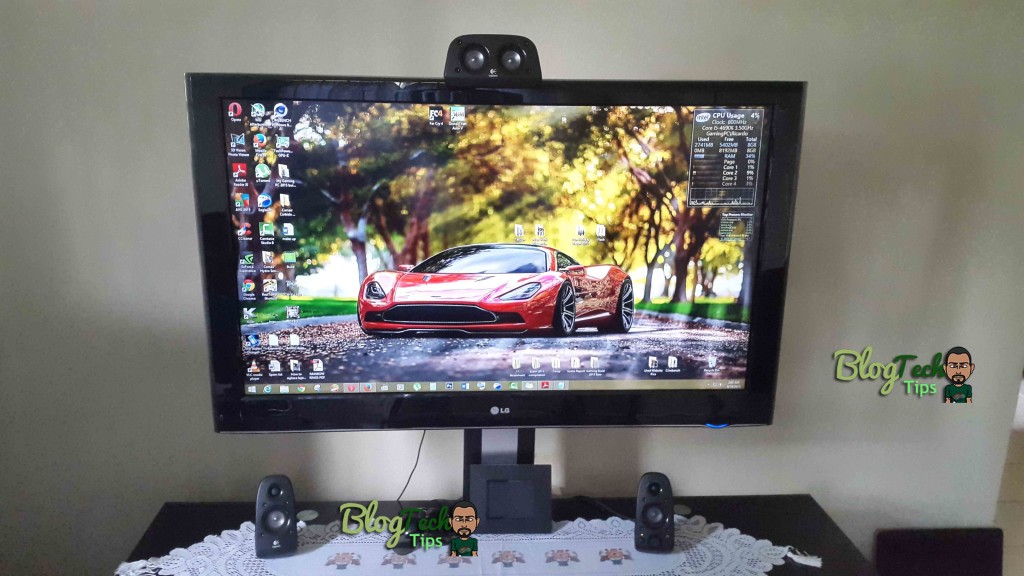 Logitech Surround Sound Speakers Z506
These 5.1 surround sound speakers at first Glance look great but for the most part all of my friends who come to the house first look at them a shrug them off in terms of the sound they think they will hear from the speaker system-Big mistake,but the minute I start playing a movie or Music that doubt turns to amazement. You will also see what I mean the minute get yours in your hand should you decide to purchase the Logitech surround sound speakers Z506. They are super loud so much so that it can cause windows to shake when turned up or anything that's not bolted down and prone to vibrating.
The Design
The first thing that attracted me to this set of speakers was the design, the black plastic along with the unique shape of each speaker is something to be admired and placed at center stage around your desk or TV stand. I have mine attach to my Television and the center speaker is placed on top of the TV which is made possible with its base which is like a clip that holds on to the TV or you could flatten it out and use it and stand to have the speaker stand flat on its base. The main control speaker is on the right and has a power button, a volume knob and a Led light which lights up to indicate the speakers are on. To top things off there is even a head phone jack that's supports a standard headphone if you should need it.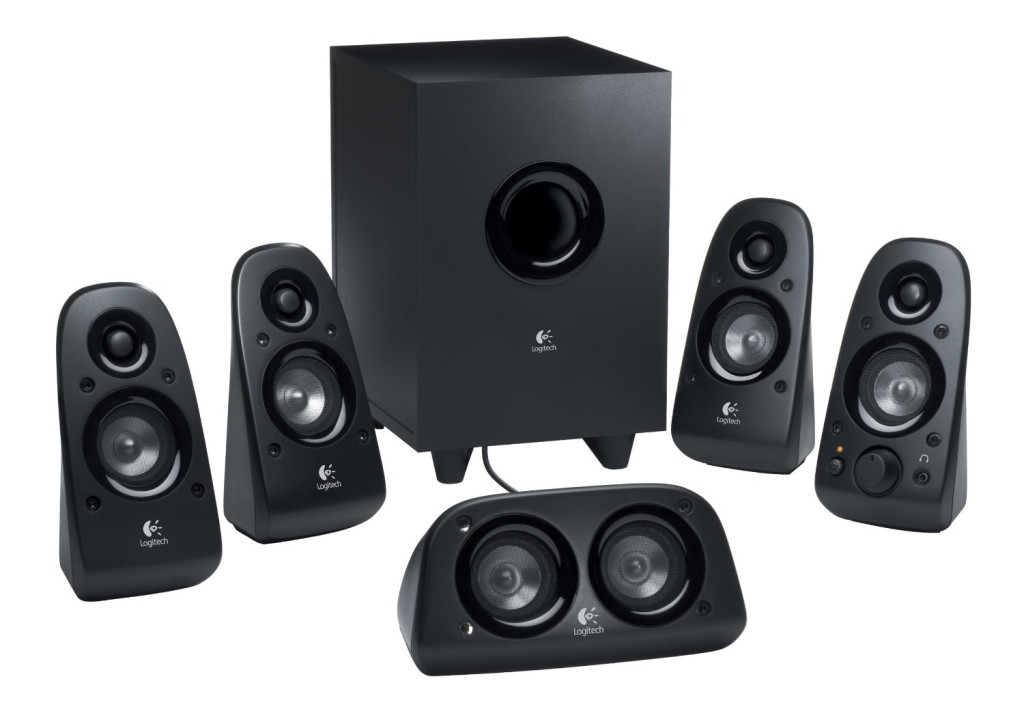 Next t0 the main control speaker is another tower speaker that has no controls and there are two rear speakers along with a Subwoofer that fires downward that acts as a central hub for all the other speakers to connect. Towards the side is a hole that allows the expulsion of air as the bass fires down to the floor and should you touch the subwoofer while audio is being played you can feel the raw power as air exits the sides and the subwoofer produces high pitch bass. There is literally no need to turn it all the way up, in fact I advise that you adjust it according to your listening needs.
The Subwoofer and Bass
This speaker is really great at producing great sound and that's thanks largely in part to the Subwoofer as we outlined above in its design. At the rear is a knob that controls how heavy the bass is and I don't usually turn it all the way up as things can get really loud so as to cause a disturbance if I am not careful. But its enough to create a very rich and entertaining sound quality that you would love from a high quality speaker set.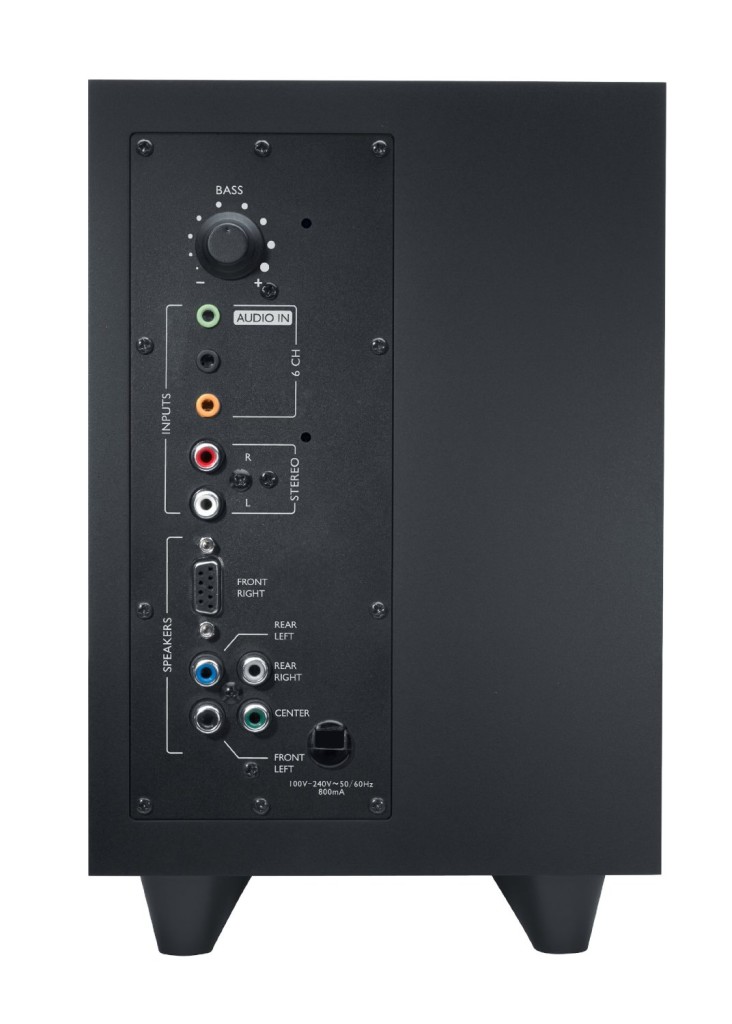 In fact in movies and Games that support 5.1 surround these speakers create great sound from the engine on a car revving or the sound effect of something gigantic moving and getting ever closer the speakers along with the Bass gives you that sense were you feel like you are a part of it all. A great example of this would be like watching a blockbuster movie such as Avengers Age of Ultron, Avatar or Fast and the Furious 7 which all have great rich sound to give these speakers a run for you to enjoy some of the great audio feedback I am praising so much.
Surround speakers and Sound Quality.
To take advantage of the surround sound you will need to configure your computer or entertainment system to the 5.1 surround sound setting were you can properly configure all the speakers so the computer for instance knows were each speaker is and once the media that you are playing along with the player or Game supports surround sound you will be in for some of the best sound your ears have ever heard.
I would advise though that you add some volume to the back speakers for a little more effect. I like in movies when a sound is heard off-screen only for you to hear it in the room from the direction the movie or game creator wanted you to hear it from. This works well in horror and thriller movies as well as it really helps with immersion using sound as a tool through the Logitech surround sound speakers z506.
The speaker is also great at creating high, low or even intermediate pitched sounds with great clarity. I really like  the Z506 as the playback quality is great. So much so that recently I switched for a second to some regular speakers while I was doing a test and the sound was so flat that I really had to switch back as soon as possible and it is at these times that you tend to really appreciate the great audio quality and clarity of these speakers. I personally would never use another brand speaker unless its Logitech or another in this series as the audio quality is that good.
Connectivity
In most cases my Z506 speaker set is connected to my Gaming computer but occasionally I do connect my Smartphone with a special cable and I am able to play audio from my phone straight to the speakers which is cool as I don't necessarily have to depend on my computer to get good music which can come in really handy at times. You could also connect your PlayStation 4 or other consoles if you own one which should work just fine with this speaker.
The Cost of it all
Personally the most attractive feature in the end is the low-cost of the Logitech surround sound speakers z506 which is below $100 bucks and is such a good deal that you would be crazy not to consider these as a viable option for your next speaker set for your Computer, Gaming console or entertainment center speakers.
Why you should Get this?
1. It will last for years
2. Produces very loud and clear audio with a killer Bass
3. The price is very affordable at less than $100
4. Its well designed and will look great on desk or living room space
5. Offers great connectivity for lots of devices including Gaming consoles, Tablets, smartphones, PC and much more.
I must tell you that the Logitech surround sound speakers z506 is the best speaker that I have ever bought and based on how long its been serving me with great audio quality I can recommend it with a moments hesitation and I am sure you will like it as well. It's sure to impress you with its loud sound and deep bass that you can control and the connectivity options will have you finding the most creative uses such as hooking up your Gaming console for a great experience that second to none.
Continue Reading we have even more Tips for you: