The Tecnugiz 32GB USB C 3 in 1 Flash Drive came in recently for review and I must admit that when I first saw the package I thought it might been fine jewellery based on the box that it came in. All that aside the Flash drive for smartphones on first handling it came across as a premium device with solid construction.
The Packaging
First off I must say that as I mentioned above the Tecnugiz 32GB USB C 3 in 1 Flash Drive came in a nice black box that's just like a Jewellery box as I just mentioned. Inside the Flash drive is well padded and protected with black protective Foam.
The drive is in a clear see through Plastic and beneath the packaging is a helpful to assist with using your device and answers common questions or things you should know about the product.
The Tecnugiz 32GB USB C 3 in 1 Flash Drive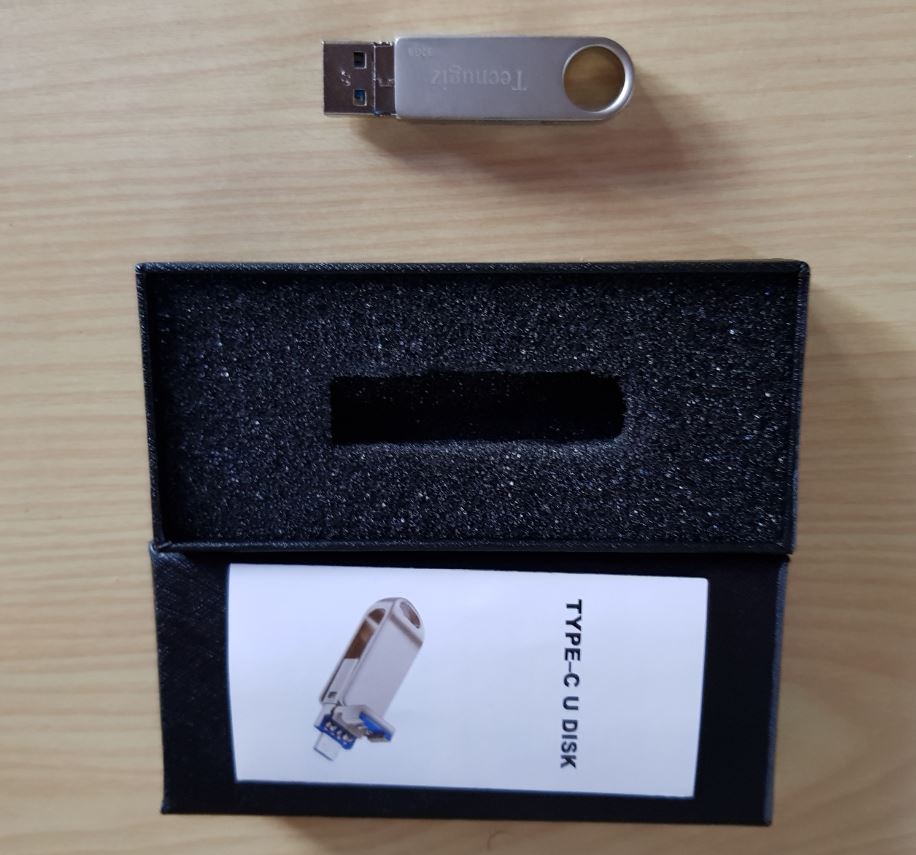 The drive itself is made out of solid Aluminum and it has a nice noticeable weight to it. Its also impressively waterproof,shockproof and dustproof which is something you cant say about most other drives like this.
The Flash drive has three (3) main heads with a Type-C connection, USB 3.0 blue connection and that section also turns into a Micro USB section. What I like is that this flash drive is like a transformer in a way. I was able to easily connect the flash drive to my smartphone and transfer over several files and then easily read the files on my Windows PC. This also works on Apple computers as well.
Video Review and unboxing:
Functionality of the 3 in 1 Flash drive for Smartphones
The fun thing is that you could easily connected this flash drive to several computers and almost any smartphone. Its ideal to backup your files such as pictures and move them between two sources without the need of complicated software. The only thing that's missing from this drive is a small LED that can be sued to tell when its connected and working. But that is no big deal though.
The head rotates in any direction easily and While time will tell how durable this mechanism is seeing that its a moving part. Overall I am very satisfied with this device and the price is really good for what you get.
Where to Buy?
You can purchase yours in the link below:
Why purchase this Flash Drive?
1.It has great connectivity with three (3) connections of USB Type-c, USB 3.0 and Micro USB.
2. Its waterproof,dustproof and waterproof.
3.Solid build quality being made of Aluminum.
4.Very flexible for backing up file and moving them between phone and computer.
5.Fast data transfer speeds great for large files.
Why you should Skip this?
1.Wish there was a LED to indicate that its working.
Conclusion
Overall the Tecnugiz 32GB USB C 3 in 1 Flash Drive is more than worth the price you pay. It is filled with great features that most other flash drives don't have. You can use it as a regular flash drive while being able to connect to smartphones as well especially Android ones. I love this flash drive and would buy it over a regular flash drive any day so go ahead and purchase yours right now.
Continue Reading we have even more Tips for you: