I recently need a way to track the Humidity and temperature in the house. I decided I needed a Indoor Thermometer Humidity Monitor and went searching on Amazon.
I came across the ThermoPro TP50 which was of a good price and seemed to have all the features that I needed.
This will be a ThermoPro TP50 Review covering the device in detail.
Whats Inside the Box?
Inside the ThermoPro TP50 box was the User manual in various languages, Help pamphlet, 10% coupon code and the ThermoPro TP50 itself.
Also included was a AAA battery so that the ThermoPro TP50 could be powered.
The packaging is well put together and sealed. The manufacturer also makes every effort to make contacting them easy if you have any issues with the product.
ThermoPro TP50
The ThermoPro TP50 is very small and compact, actually its smaller than I imagined when first seeing the pictures.
The size is not am issue though. It has a Kickstand on the back which you will miss if you are not paying attention.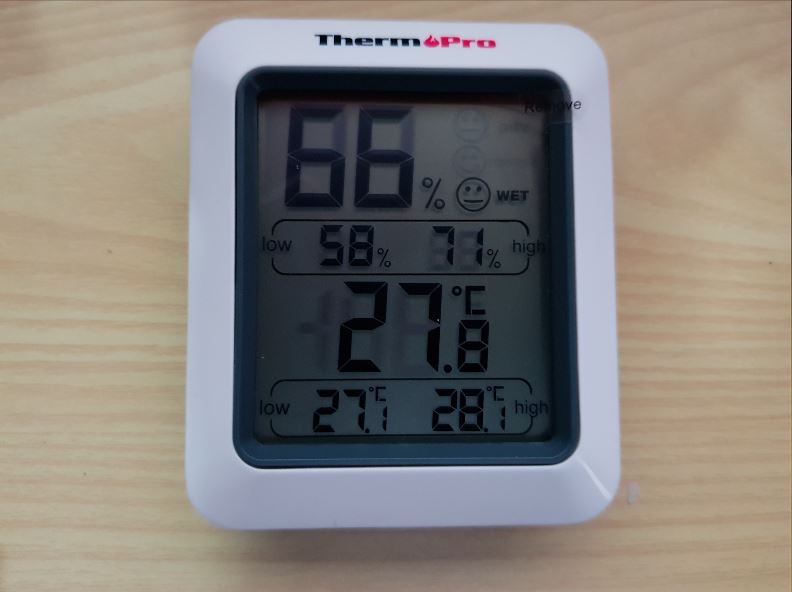 There is also a cool button for Celsius and Fahrenheit so you can switch between both. The meter tracks both Humidity and Temperature with while remembering the highest and lowest readings reached.
All this is great for monitoring indoor temps so you can make the house as comfortable as possible. Other than your comfort you can track humidity as Gadgets and other forms of technology do not like overly moist or humid areas.
A Monitor like this can be great for overclocking as you can keep a eye on room temperature at all times.
Buy it Now:
You can buy yours below.
Why buy this Product?
1.Great compact design.
2. Low price.
3. Solid interface that flexible.
4.Comes with everything you need out the box.
5.Has a stand for mounting on a desk.
Why Skip this?
1.Might be too small for some users.
Conclusion
Overall in my experience the ThermoPro TP50 is working fine and giving very accurate readings. I love that's its portable so I can move it from room to room.
Even if I leave the room I can see what was the lowest temperature reached or the highest. This way I can take the necessary steps to make sue the room gets warmer or lower the humidity.
I would gladly buy this product gain and I suggest that you give this product a try its worth the price.
Continue Reading we have even more Tips for you: