My review today will be of a budget Laptop in the form of the HP 14-dp0004dx. This is a budget offering which is very affordable from HP and while its not the best in terms of specifications and geared towards the budget conscious customer I will do my best to highlight its merits if any.
So I will be running this Laptop through the usual check points as we do all our other reviews in hopes of helping you the consumer make a more informed choice before purchasing this device for yourself if you so choose.
Connections and Ports:
The HP 14-dp0004dx includes a HDMI port, 2 x USB ports, one Type-C port, Headphone Jack and a Charge port on one side. On the other side can be fund a memory card slot and that's it for ports on this device.
The underside has no easy access compartments for changing out or adding parts but does include cooling vents and that's about it. I don't think HP thinks users would think to upgrade the RAM for example and makes things easier for the user.
Merit Points
The parts or part of note would be the display which is full HD at 1920 x 1080p which quite big and very vibrant. Looks great for watching movies and I would definitely disappointed had it been half the resolution. The display is the only stand out portion of this Laptop and would make sense as a budget build as you will be most likely staring at that display a lot.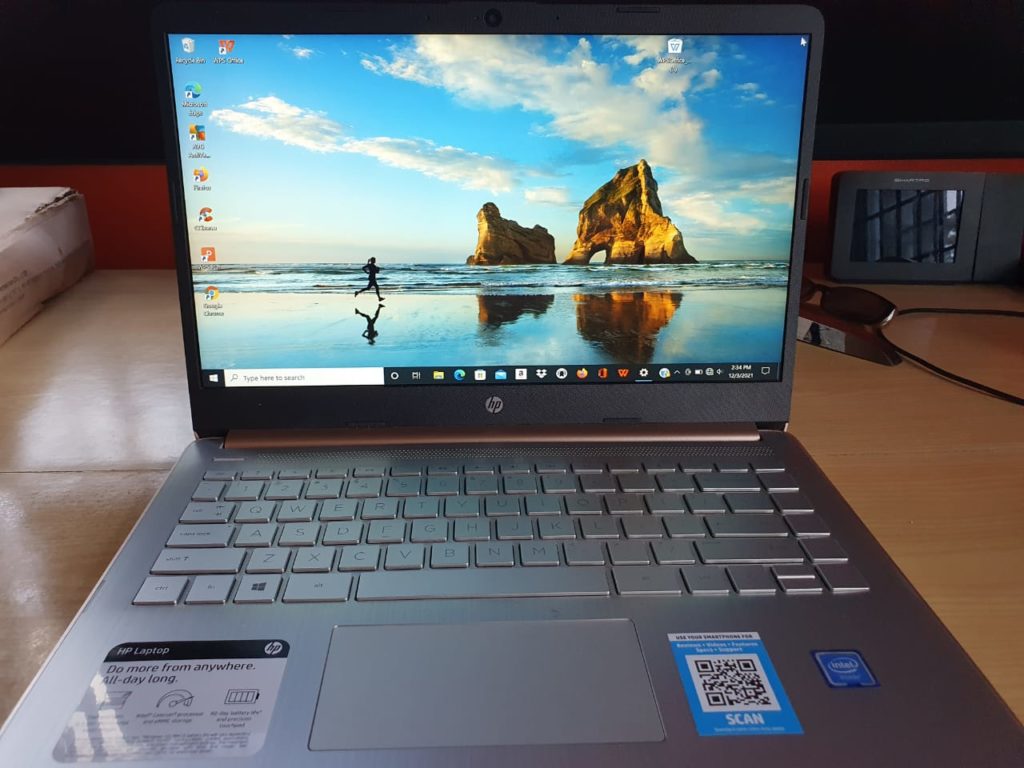 Video Overview or Review:
See the Video review and look at this device below in the video which walks you through the device and its features. You can also check out the YouTube channel for more Tech content.
Other Specifications
This device runs Windows 10 out the box,has 4 GB of RAM,a Intel Celeron N4020 CPU @ 1.10 GHz with two cores and the internal harddrive is 60 GB with the operating system taking up about 15 Gigs plus of that.
This makes this Laptop severely limited and we recommend you use up the SD Card Slot and get a external storage device for storing files. Outside of storing documents for School you will find this very limiting and constrictive.
Personally I find this device OK out the box for web browsing, document preparation, research and listening music and watching the occasional movie and little else. You will have to keep this always in mind due to the limitations of the storage and the other hardware.
Who is this for?
This HP 14-dp0004dx laptop is definitely for the student who is on a budget and needs a affordable laptop that wont cost too much and can get School work done and for basic online entertainment in the form of streaming mainly.
The storage on this device and the processor greatly limits what can be done on it and HP definitely developed this system bare bones. This is not a bad thing in general as HP most likely had affordably in mind with this device and was producing it with a set budget or price point in mind.
For those this device will be geared towards if the price matches what you are looking for then the only question now is does this match your needs and are you willing to pay the cash and performance price as such.
Conclusion
If you can find another Laptop that's more affordable and with better specs then go with that one. However if the price of this one catches your eyes and you can live with it and make it work for basic tasks such as document preparation and less resource intensive apps then go for it. Otherwise I suggest you skip this Laptop unless you know what you are getting into or you will be sorely disappointed.
Continue Reading we have even more Tips for you: