If you are on YouTube there will eventually come a time when you will need help with a issue and you will need to contact YouTube as the problem is outside your control or ability to fix.
Easier said than done as contacting YouTube is not easy or straightforward. well luckily you have this article to help. So join us as I show you How to Contact YouTube Creator Support.
When to Contact YouTube?
Its recommended that you only contact YouTube when you have exhausted all other options such as Googling you issue and seeing if there is a solution on YouTube.
If the YouTube team is the only one that can fix the problem such as a technical issue,broken feature relating to your channel then go ahead and read on on how to contact YouTube.
How to Contact YouTube Creator Support?
1.Click on this link ahead to go to the: YouTube Support Team Page here.
2.Make sure you are signed in. Do note that what you will see will be customized based on your account.
3.You should at least see the Email option, More popular Accounts with at least 25,000 Subscribers and 100,000 watch time in hours will have Chat option which is the live chat feature within the last year.
Each option will give a short instructions on how to access the feature.
4. Seeing Email will be available to most. Go ahead and select Get support upper right, Get creator support, Select the relevant category e.g.Chanel and video features and finally at the bottom you will see Send us a Email.
For Live chat the process should be the same for the most part if you have the feature it will show up in the options.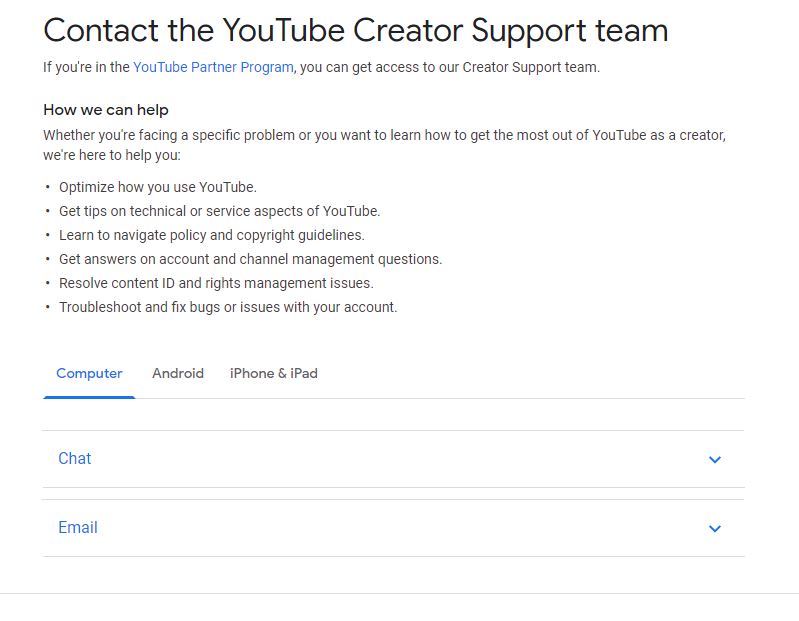 Thats it simply fill out the form with the details and send. For email you will receive a reply usually with a few hours.
Before you Go:
If this article on How to Contact YouTube Creator Support was helpful then please do us a solid and share the article. I would also love if you would comment and share this article with friends.