I recently saw a error that I have never seen before on my Samsung Galaxy in the form of the:Check your charger Connection error.
This error appeared after connecting my Smartphone to the charger and I noticed that despite it being a fast charger the charging was slow and the the error as shown in the picture appeared on screen.
This tutorial will show you How to fix the Check Your Charger connection Error.
The Error:
The error reads:
Check your charger connection
Make sure the cable and charger are properly connected.
If you're using a cover case,try removing it.
Do not show again.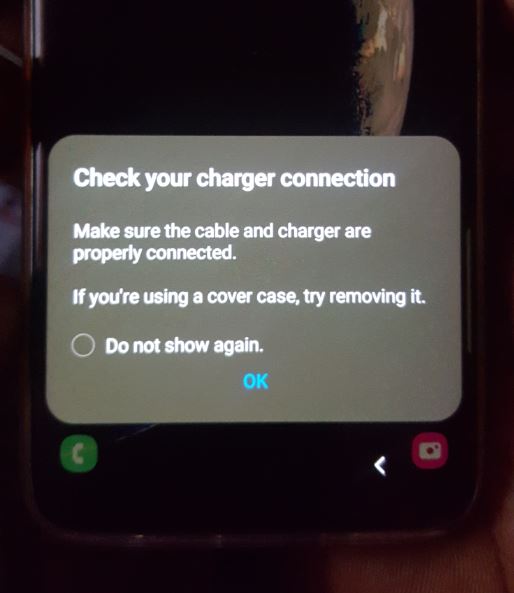 What does the Error mean?
The error actually explains itself and offers a spot on solution how to solve it. This article simply makes it easier to understand and gives actionable tips to get rid of the error to restore normal fast charging.
Devices this Applies to?
My device is a Galaxy S8 running Android PIE with One UI. This error should also apply to Galaxy S9,S10,Samsung Galaxy Note line of phones and all other Android phones as well.
How to fix the Check Your Charger connection Error?
1.If your smartphone has on a case go ahead and remove the charger from the port.
2.Put the charger back in this time making sure it goes all the way in without getting caught on the sides of the case.
3.If all else fails then remove your case and try charging the phone without the case.If the case is at fault then consider try finding a new one or modifying the area around the charge port.
4.The problem may be at the wall, check your adapter and remove the USB end and place it back in. Also remove it from the outlet and plug it back in.
5.Reboot your phone and try the above again if the steps did not work and the error should disappear and you should return to normal fast charging.
Before You Go
Before you go please share this article on Check Your Charger connection Error Fix it would be appreciated. Also comment below, Share with friends and check out our other articles as well.