So today's focus will be on the Unfortunately Camera has stopped error and how to fix this on the Galaxy S10.
Do note that we have several suggestions and tips for you to try out. You will have to test them one at a time and see which one actually works for you in fixing the problem.
What is causing this Error?
The error can be caused by a variety of factors which range in most cases to software issues that can easily be fixed if you know what to do. The other cases may be hardware problems which is a rarer occurrence but possible.
Video Tutorial:
Watch the video tutorial below and see it all being done step by step.
How to Fix the problem?
1.Clear Camera Cache: Go to settings, Apps and search for Camera, Next go to storage and clear cache as well as data. after this force close the app and reboot your phone.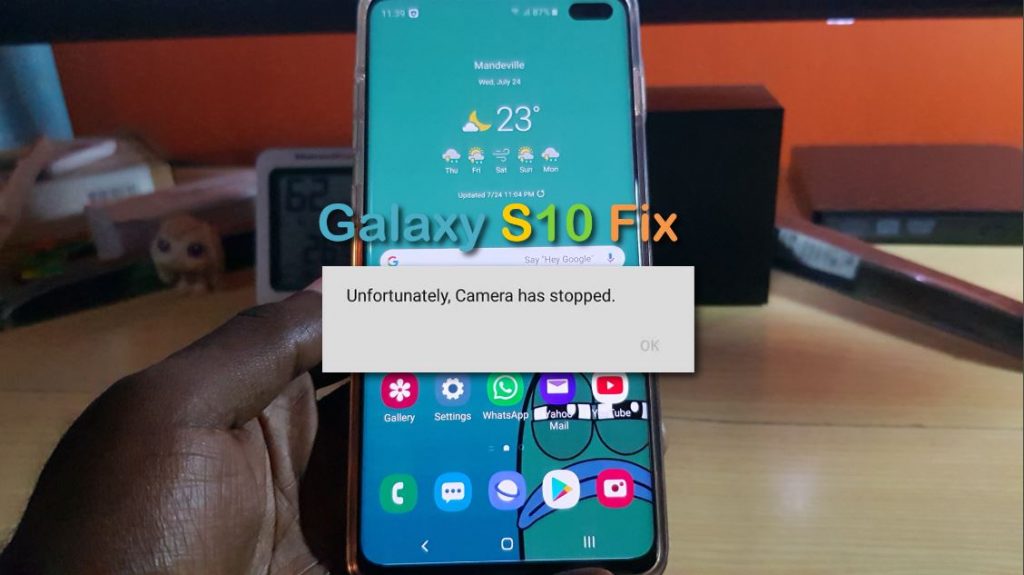 2.Update your Phone Apps and Software: To do this go to Google play, click the three lines upper left and go to My Apps and Games and look for updates.
For Galaxy Apps click the three dots upper right., go to My page and update. For your phone itself to update go to settings, software update and finally download and install.
3.Reset App preferences: : Go to settings, Apps and click the three dots upper right. Finally select Reset app preferences.
4.Clear Cache Partition: Go ahead and clear the cache Partition on your phone as shown here.
5.Reset Camera Settings to Default: If you can get the chance to get to the camera settings then launch the camera and select the gear icon. Scroll down to the bottom of the menu and choose: Reset settings.
6.Uninstall buggy Apps: A recent app install may be the cause of the crash so uninstall the last two apps you installed before noticing the issue.
7.Restrict App Access to the Camera: A app that uses the camera may be holding on to the Camera and causing the crash. If you have a App such as Whatsapp long press and go to App info. Next select permissions and then finally turn off access to the Camera.
8.Reset settings: Go to settings, general management, reset and finally Reset settings.
9.Reset your Phone: If all else fails consider backing up your phone and doing a reset.
Hardware Issue
Finally if you have exhausted the options above then you definitely have a Hardware Issue. In such a case you will need to change the camera as its crashing due to hardware problems.
If you have the camera replace it should start working perfectly again.
Before you Go
That's about it guys. Please take the time now and share this post Unfortunately Camera has stopped Galaxy S10 Fix. Please take the time now and comment below as well as be sure to check out more of our articles.