So today's review will be focused on the Origem HS-3 Wireless Headphones. I want to thank the guys over at Origem for sending this device in for review. As always guys do note that this will be my honest review of the product and the above will not influence my review in any way.
Whats Inside the Box?
The Origem HS-3 Wireless Headphones has a exceptionally nice packaging. Lots of attention and care was placed into packaging the product. You can see this from the moment you pick up the box.
The product is well presented and represented on the box. It was also nice that the main features are all summarized on the back in plain sight for all to see.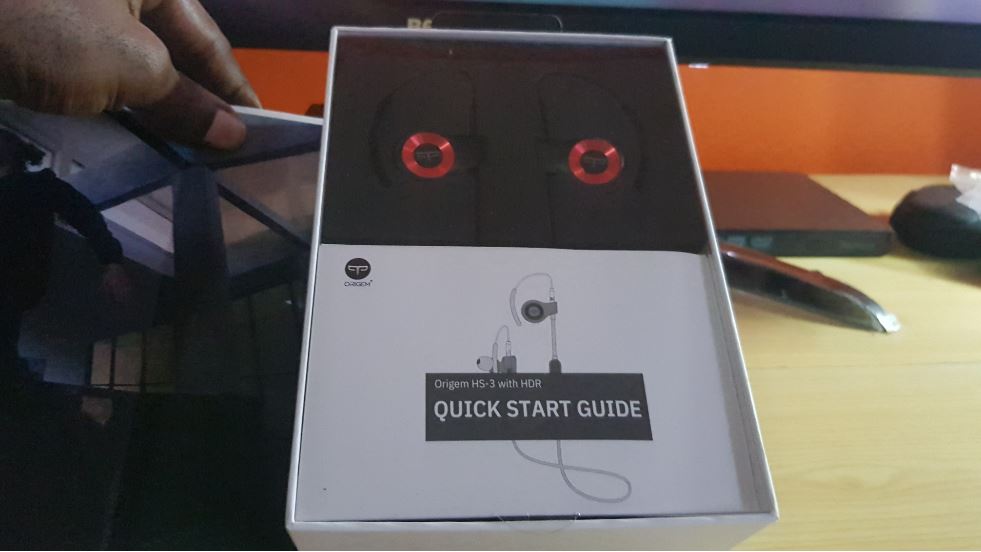 Inside the Box you will find : The Origem HS-3 headset, Extra earpiece tips, Quick start Guide, User manual, Carrying case and USB charge cable.
The product is also perfect package to reveal the product as you open it which is a really nice touch and a great impression at first sight with the preview window once its opened.
Features of this Device:
The Origem HS-3 Wireless headphones features :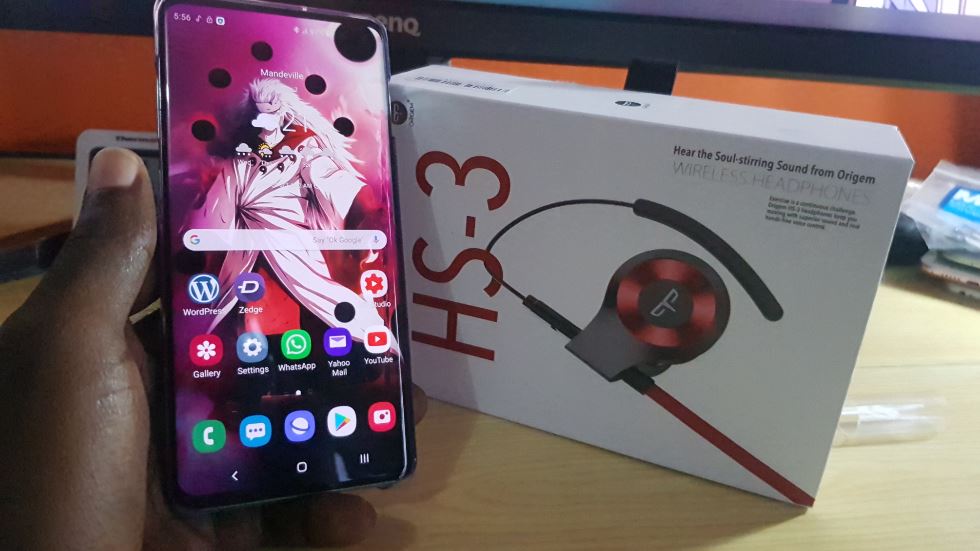 1.HDR Algorithm for superior sound which makes sure the sound that is produced is always balanced and sounding its best.
2.Rotating Ear Hook allows for the perfect fit on any Ear size and it makes putting on these super easy.
3.Voice Recognition allows you to play and stop your music with a simple voice command. You will also be able to Answer calls and more.
4.Quick Charge:Fully charge your Headphones in 40 minutes and with as little as 10 minutes charge be able to get about 2 hours of playback.
5.IPX 5 Waterproof allows this device to be worm while exercising or if you get caught in a shower of rain.
6.Snap Pictures: Remotely capture pictures with your phone using your headset as a shutter button.
7.HD Voice for clear conversations:Have crystal clear conversation while the headset is connected for better call quality.
Setup and First time usage
Setup was surprisingly easy. Its so easy a baby can do it and that's no joke.I did not even have to read the manual and it was as simple as removing the Origem HS-3 from the box which came charged and pressing power. Next I turned on Bluetooth on my smartphone and paired it with the device.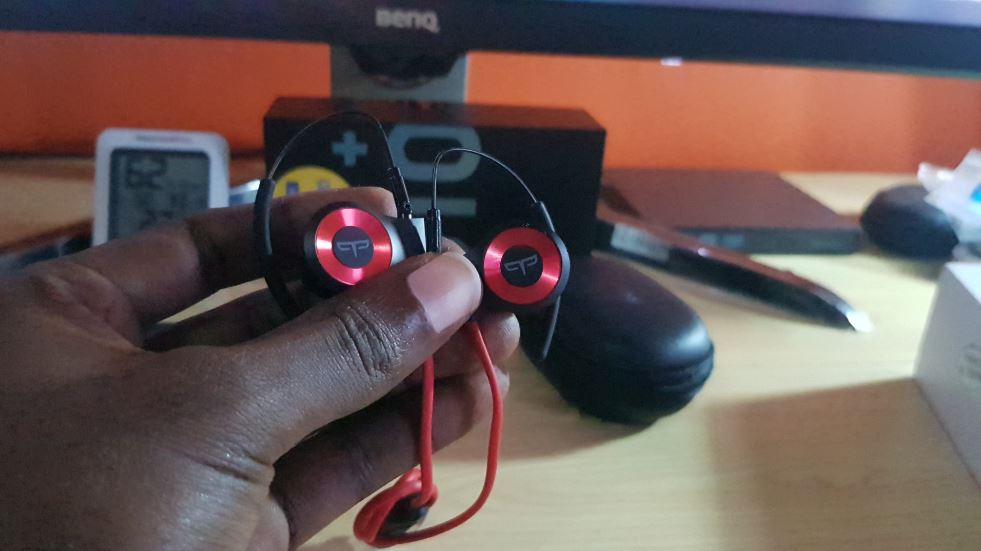 It was so simple and it did not even require a pairing code of any kind. It simply connected. It was off to playing my music after this. Something else I have realized is that the device conveniently remembers what was playing and would play the same song after restarting.
This feature is very nice as it would keep track of what was played and continue playing the next time it was connected. I particularly love this about this Wireless headphones.
My Experience with the Origem HS-3 Wireless Headphones:
Now I must say the first noticeable thing I noticed about the Origem HS-3 Wireless Headphones is how comfortable they are to wear. They simply sit in the ear and the well designed hook take the pressure off your ears.
This allows you to enjoy the music and not focus on the Headphones themselves but on the music. I had Zero ear strain as with other headphones and long term usage. Also be sure to remove the Extra tips from the case and install an appropriate one for the size of your ear.
For me the smaller tip was best. By default no tips are included.
Sound Quality:
Now when it comes to sound quality I found that Origem HS-3 delivers a full bodied sound that is well balanced and that's perfectly balanced for enjoying various types of media including your Music.
They were not overly loud or overpowering but really smooth and adapted quite nicely weather I was listening to a YouTube video or enjoying some music with a heavy base.
This should also be great for causal music lovers or hardened Audio buffs looking for a quality Wireless headphone.
Regular and Voice Controls:
Controls are easy to understand and My favorite feature is the Voice controls hands down. They are command specific but not hard to remember. I find that the Voice controls are dead accurate especially when the exact command is said, it does miss every once in a while but its accurate more times than not.
The one flaw that I found with the voice command though is that if you have say the TV playing in the background you may find that your songs end up pausing or skipping. This may be because it mistakes the cater as voice commands. The same happens is a noisy environment as well.
Exercise and Rapid Movement
The Rotating hook design is a nice touch and I find that it fits my ear perfectly, its also makes taking off and putting on the headphones easy. The design of the Origem HS-3 is also looks very stylish. Its also next to impossible to have these fall out if you are exorcising or moving about making these the perfect Exercise or jogging headphones on the market.
I am not saying this is only for those who exercise but that its a great fit for regular usage or those who are active and move about through the day.
Video Review:
Watch the following video to see the full review:
Conclusion:
I must say I am pleasantly impressed with the Origem HS-3, I genuinely though I had seen all Wireless and even wired headphones had to offer, boy was I wrong. The voice control adds a whole other dimension to this product line that welcomed and is something I am sure other will try to copy.
I love that these are comfortable and rest easy in the ear and wont fall out so there is no sacrificing comfort for protection. You can also count on the waterproofing to protect from everyday splashes and best of all this thing charges super fast in comparison to other devices.
Believe me when I say you should buy these Wireless headphones and not look back. You will be both surprised at the sound quality and the voice command paired with the fast charging.
Where to buy this product?
You can purchase yours below:
Why buy this Wireless Headset:
1.Fast charging for less time at the plug.
2.Really comfortable in ear.
3.Accurate Voice commands.
4.Nice hood design that fits almost all ear types, Holds sturdy during exercise and goes on easy.
5.Very good sound Quality.
6.Waterproof for resisting every day wet conditions.
7.Remote control for capturing pictures.
8.Well designed and looks great.
Why Skip this:
1.Voice controls may be triggered by background noise in loud environments.
So that's it guys for this Origem HS-3 Wireless Headphones Review. Please ask questions and more in the comments below.