So Kinsound USB Type C to HDMI Adapter is one of the finer cables of its type that I have had the please of Reviewing.
Its simple and works. If you have ever had the need to cast your Smartphone, Tablet or Notebook to a TV Set or Projector then this is the cable you need.
What devices are supported?
This product is made for Mackbook 2018,2017, 2016, Huawei Mate 20 and Mate 20 Pro. Hp Spectre, Pavillion Huawei Matebook, Mi Air (Supports DP function), Mackbook Pro 2018,2017, Samsung Note 9,Note 8,S9,S8,Chromebook, Dell XPS Series, Mobile phones and Tablets.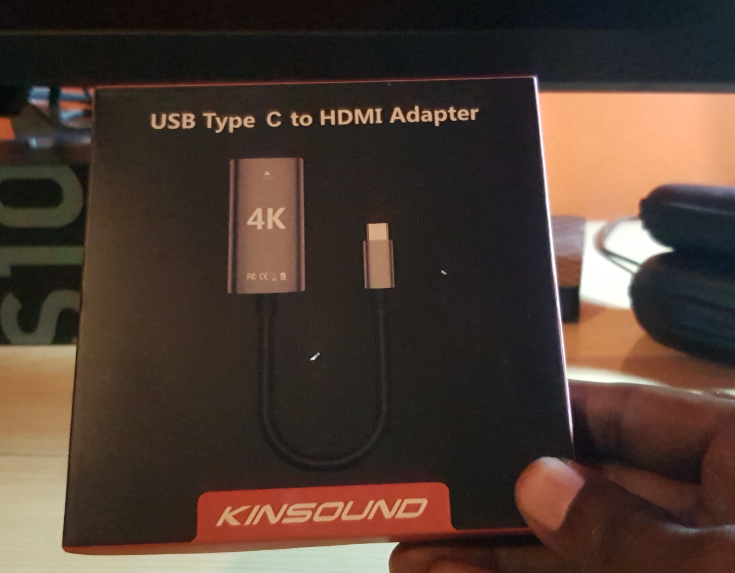 Now the above supported devices is from the Box and lots more devices does work such as my Samsung galaxy S10 works fine and I suspect a number of other devices as well not mentioned.
Video Review
Watch the video review of this product below.
What does this Product do?
Well this product is meant to Screen Mirror your Phone, Notebook or Tablet to a TV set, projector or other display that can be up to 4K.
Pretty impressive for such a device if you ask me.
How well does it Perform?
I must say that this is one of the simplest and straightforward products that I have seen in a long while. I noticed that there was no user manual in the box.
No need though as its a plug and play device through and through. I mean I was literally able to Plus the USB Type-C end to my smartphone and the other HDMI end to a HDMI cable and to the Display and it worked.
I was seeing everything from my phones display being mirrored to my TV or Monitor when I was testing this out.
Practical uses for this Cable
One of the main reasons you would buy a cable like this is to screen Mirror your smartphone, Tablet or Notebook to a larger display. This can be great for presentations, showing videos and pictures to family members and much more.
The sky is the limit with this cable. It pretty much allows you do turn those smaller displays and project them or transfer the signal to a larger display. Without a specialized cable like this then none of this would work.
Conclusion
I do think that if you are in the market for a great USB Type-c to HDMI cable this should be one that you do not rule out.
It has a great price, Simple to operate and understand, lightweight and very portable. What more could you ask for in a product like this.
I also love that the picture quality is very crisp and solid when mirrored to the secondary display. The support for 4K also means a very impressive picture quality you wont find in some rival offerings.
I suggest that you give this product a look if you are in the market for something like this.
Where to Buy?
You can purchase yours below
Before you do please share your thoughts or ask any question you like about this product and I would be glad to answer.