So OLALA has release a brand new 7800 mAh power bank that they are calling the OLALA S70-i Power Bank. It has that familiar and iconic OLALA design like the last power bank they sent us for testing which was an excellent product. Lets see how this new design matches up and what are the improvements.  Again I would like to thank OLALA for sending me this unit so I can review it for you guys and give my honest opinions.
The Packaging:
There is not much to say about the packaging as its a standard brown box which is really frustration free and easy to open. It does have a cool slide on white product information covering on the box that looks nice and works well for the presentation of the product. It also outlines all the cool features of the product at a glance so there is no doubt as to what you are getting. Another nice touch that keeps things simple.
Features of the OLALA S70-i Power Bank:
The power bank has
1.Bright Built in LED flash light.
2.Safety protection to protect against Over charging,Over voltage, temperature protection,short-circuit and much more charge related protective features.
3.It has a Lighting connector for iOS or Apple devices built on.
4.Micro-Connector for Windows and Android devices built on.
5.Normal USB port for connecting any USB cable for charging
The OLALA S70-i Power Bank
The OLALA S70-i Power Bank is 7800 mAh which can for example charge my Galaxy S8 which has a 3000 mAh battery roughly two times with some power to spare. The last unit has a larger mAh rating but what this Battery Bank lacks in stored power it makes up for with the Built in Micro-B and Lightning connector so you can charge a variety of devices from iPhone's,iPad,Android phones and Windows phones. This means less cables to carry around as you simply pull out the built-in USB charge cables at both sides easy.
I like the black finish of the metallic exterior which they have decided to paint Black this time which looks very sleek. It has a four charge indicators on the top side which indicates the battery banks charge status and keep you informed at a glance. The power button is at the side and I really love the addition of the LED Flash light which is a nice touch. So what the OLALA S70-i lacks in storage of power it more than makes up for in extra features.
The OLALA S70-i VS the OLALA PQ100
Please note that the OLALA S70-i and OLALA PQ100 are two different devices and you would buy each for different reasons based on your needs. The OLALA PQ100 has 10500 mAh stored power which is a 2700 mAh difference and the inclusion of fast charging which is really neat.This device makes up for that with the built-in charge cables and LED flash light though.
They both have the same 7 safety features to make sure protection of your smartphone or other device is a priority and the equally appealing build quality which is a metal casing and small size. They are dense but that's because of the Cell inside that store energy but the size does make up for that. The difference in weight is only a negligible few grams which you will hardly notice. They also have the same life cycle according to the ratings that comes with the device.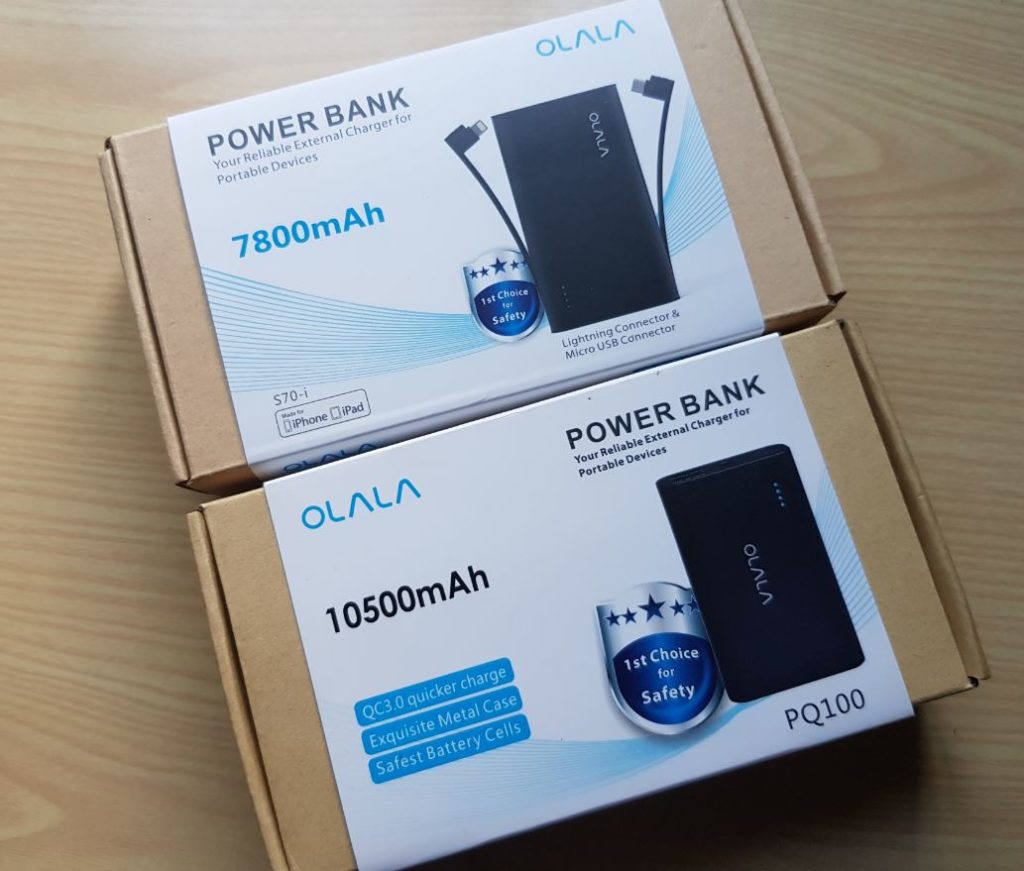 Video Unboxing and Review:
Check out the Video unboxing and review below.
Why Buy this device?
1.Great Price.
2.Small, durable and well designed.
3.Seven (7) different built-in protection mechanisms to protect your phone.
4. Built in cables to charge Android,iPhone and Windows devices.
5.Cool LED flash light that really bright.
Why Skip this?
1.This is a really well thought out devise the only reason you should skip on this is if you wanted a larger storage capacity larger than 7800 mAh.
Where to buy this device?
You can purchase this newest device below.
Conclusion
Overall I love this device and give it my stamp of approval. The previous devices from OLALA were great but this one went and refined an already great product and provided a bunch of new and convenient features. This makes this product and the brand even more attractive. If you want to trust your device which are super expensive to a reliable Power bank then I would definitely try this cool product out.
Guys if you have any thoughts or questions on this product please leave a comment below and remember to share this post on social media with your friends.