Wanting a non chemical means of controlling house pest I did some research and found a Ultrasonic Pest Repeller in the form of the EVER Pest Ultrasonic Pest Control Repeller.
As you guys know I love Gadgets and thought it a new and Interesting Invention so I decided to give it a try. This will be my full review and opinion of this Gadget.
This is my first time reviewing a Gadget of this kind and while there were plenty of good reviews about it on the product itself I wanted to test this out myself. Do note this will be a long term review and I will be adding on to the initial review as I go along.
It would be impossible to review this product fully of the bad so I will add to the review as time goes on.
Product Specifications
These are the product specifications as outlined on the Box.
Voltage AC 110-220v
Power: 4-6w
Frequency: 50-60Hz
Ultrasonic Waves 22khz-65khz.
Dual Ultrasonic Chip for Stronger Impact.
LED Night light.
EverPest Ultrasonic Pest repeller uses electromagnetic waves to irritate pests Auditory systems.
Effective against Mice,Cockroaches,Mosquitoes,Flies,Bugs,Rodents and others.
Can be used in Home(Bedroom,Kitchen,Living Room etc.),Warehouse,Office,Restaurant and even outdoor as long as it does not come in contact with moisture, direct sunlight and shielded from rain.
Whats Inside the Box?
The Box only contains the Four (4) EVER Pest Ultrasonic Pest Control Repeller. They come in individual bags and nothing else in the box.
All the details and information you need is written and illustrated on the Box which works quite well. After all its a simple product and the box shows that.
You can also see whats inside the box and get to know the product better from the first look video below.
The Install Process
The install of the EVER Pest Ultrasonic Pest Control Repeller was very easy. It was as simple as removing it from the box and plugging it in at the wall. That's it for the most part.You know its working as the LED light comes on simple.
The box does however runs through some guidelines to the product which is very important you keep in mind:
The product should be plugged in Vertically 25-60 inches off the ground.
The effective coverage range is 800-1200 sq ft.Maximum 1600 Sq Ft.
The Ultrasonic Sound cannot penetrate Walls. Avoid mounting near Curtains,carpeting s they will weaken the ultrasonic waves.
To see results unit has to work constantly for 3-4 weeks. Additional Units will Increase effectiveness.
When first Activated Number of pests will appear to increase. As the pest repeller will drive nearby pests out of hiding.
My Experience:
So far I love that the EVER Pest Ultrasonic Pest Control Repeller is so easy to install. It doubles as a nice night light that's not too bright in blue and does a nice pulsating thing that's not distracting at all.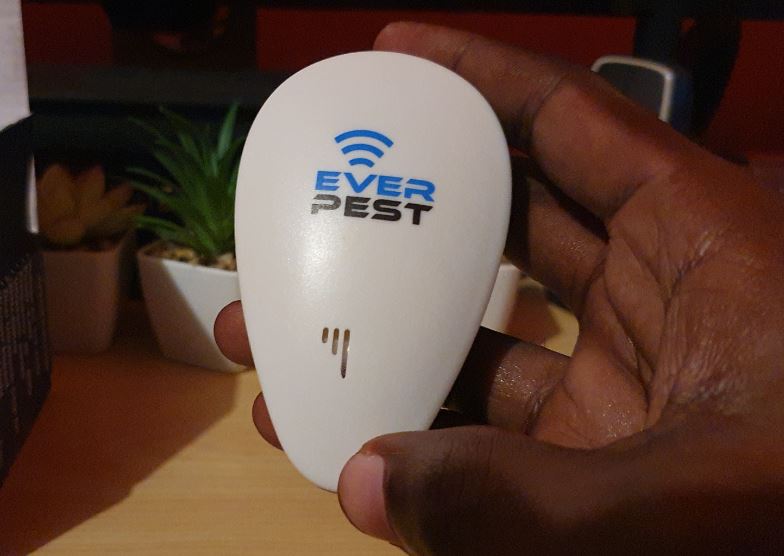 Its light and and uses only little power of 4-6 watts which is great considering you have to have this thing on all the time. So far they have been on a working nicely as for what I can see.
I have been looking out for Insects and the usual spots they hang out. I have not notice any major change and will be giving the gadget some time to settle in.
I just made another round on writing this to do some checks and I noticed a Big beetle which I have never seen before on its back and looking some what disoriented. I have never seen this insect before my guess he was behind some boxes and hes out now and heading towards the door.
The box did say that they would come out of hiding and so far it seems to be true. Next thing I have noticed is that a area in which I was having issues with small fruit flies I don't see them flying as usual.
The few fruit flies I do see have landed and I can bring my finger very close before they decide to move a away from my finger. Mosquitoes are still around they seems a little less responsive to me. Note this is the first Two hours or so of having it on. The information does says it will take 3-4 weeks to get rid of them but I think I have started to see some effect and its promising.
Lookout for updates guys I will date them and add them to the article. Below. So far I am really excited about the product and still reserved thus my promising conclusion from initial use.
Buy Yours Now:
You can buy yours right now in the listing below.
Have a Question?
Have a Question? You can ask below and I will answer as best as I can. If you have anything else to share you can share in the comments below.