This problem may be very specific to my setup and no one may have the exact same problem. I would however like to note what I did to fix the issue just in case some one else ran into the problem I encountered.
The issue involved my Laptop Audio not Playing with Volume moving up and down and how to fix it.
I will do my best to describe my setup and the problem and what you can do to resolve the problem.
The Problem:
In the case of this problem I have a Laptop and it uses a Realtek High definition driver for Audio and I have the Laptop connected to a BenQ monitor by HDMI for a secondary display which also is identified as a Audio device as well.
The monitor does not have speakers but a headphone jack which you can get audio from. I notice all of a sudden that my Audio would go out recently and if I disconnected the secondary monitor and restarted the browser the Audio would start playing again when I watch YouTube and so on.
This time I noticed that as soon as the secondary Monitor was connected the audio was not playing despite volume on the player Windows shows I should have audio. The volume level on windows also kept bouncing up and down in percentage of Volume back and forth and seemed if you looked closely to be switch between two Audio devices.
What I did to fix the issue and Restore the Audio?
If you have no Audio and your Laptop keeps switching between two audio devices try this: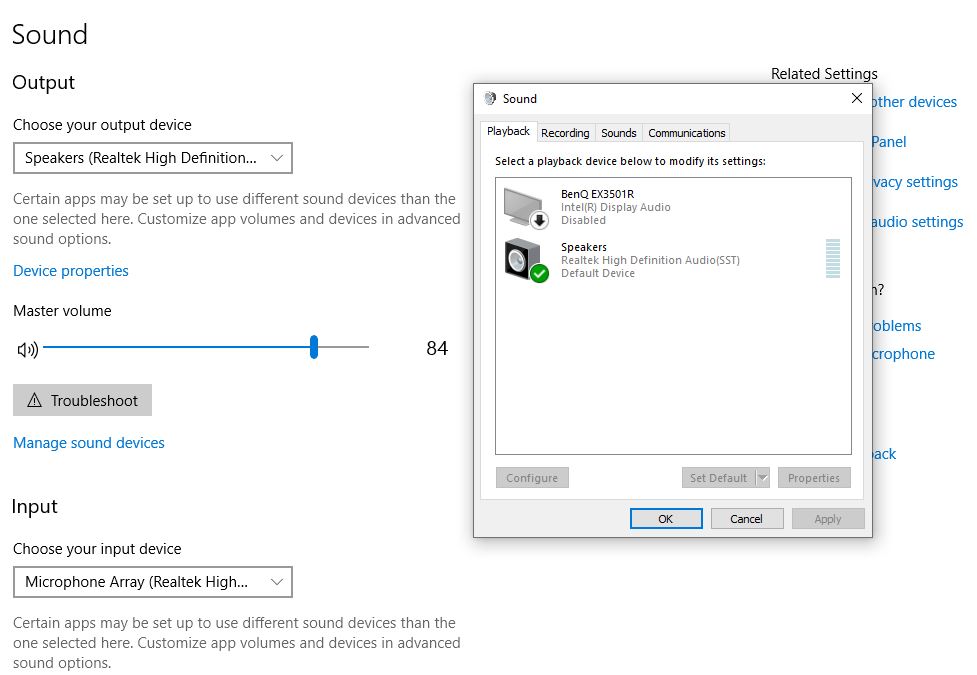 1.Go to your volume control in the lower right side beside the time.
2.Right click the speaker and choose: Open Sound settings.
3.On the extreme right select: Sound Control Panel.
4. Select your main Speakers and choose set as default. If your device is switch randomly between both you may have to time it or disconnect your secondary monitor or speakers to select your main speakers as the default.
That fixed my issue as all I had to do was restart my browser and I could use my secondary monitor and play Audio from the Laptop without having audio problems.
The above should also work if the Audio simply switched to the secondary Audio device which produces no sound to tell windows to always play Audio from the speaker you choose, this can fix a similar issue where you are getting no sound.
You can also try disabling the Secondary Audio device:
You can try disabling the secondary Audio device also so your Laptop wont attempt to switch to it.
1.Follow the step 1 and 2 above.
2.Select Manage sound devices on the main page.
3.Select the device that's causing the problem, for me its the BenQ monitor Audio.
4.Select disable and go back.
That's it now if you connect or disconnect your monitor Windows should not try to enable that device as a Audio source and stick to the one option available.
Let me Know whats up
I would love to know if this worked for one other person. Please share in the comment if you are that other person as I would love to hear what happened.