The BenQ EX3501R Ultra Curved Monitor  is the kind of Monitor that you can get truly excited about with its bigger than life size standing in at 35 inches, 1800R curvature and the extra screen real estate that you will get from the extra wide width. Believe me when I say that this monitor has allowed me to fall in love with my PC all over gain. If you have never seen or experience a Ultrawide curved monitor  you literally don't know what you are missing. Having used dual monitors (Two single Monitors) in the past I can say having one seamless wide monitor makes a world of difference as there is no bezel between both, you simply have one extra wide monitor.
In case you are wondering how is this 35 inches its simple as monitors are measure diagonally and instead of being taller in height this monitor has the extra space in width thus the 35 inches stands true. Just thought I would explain that in case someone was pondering it. Also want to thank BenQ for sending this monitor in for review.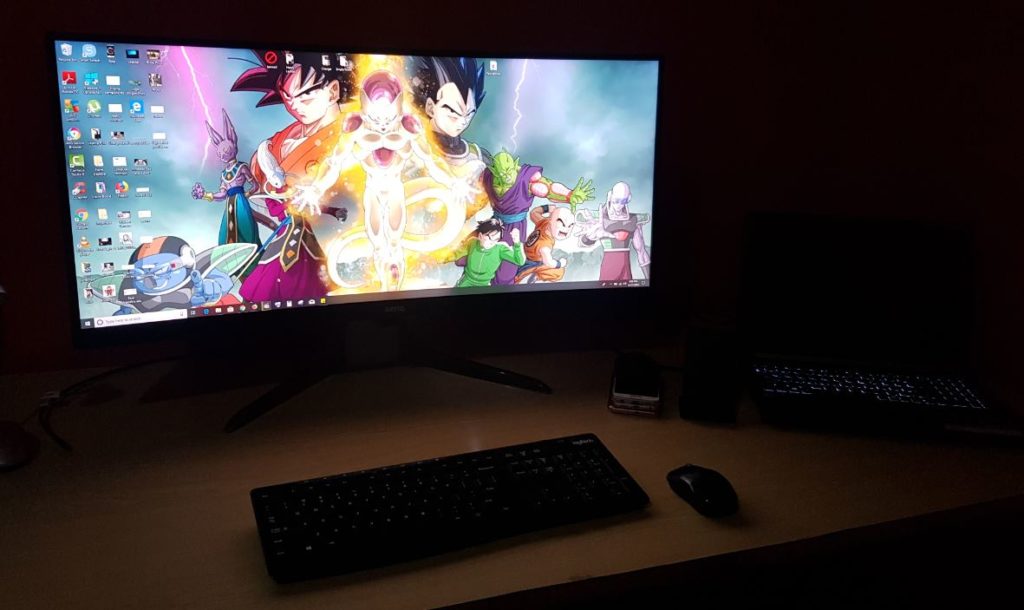 Make Room you will need a bigger desk!
When you buy an Ultra wide monitor be prepared for it to take up your desk. in Fact I have a pretty big desk and this thing makes it look small. But don't let that scare you as the extra size is a big benefit. Coming from using all manner of displays for my Gaming setup including dual monitors, Using a Large screen TV as a monitor and so on the BenQ EX3501R  seemed to have merged the best of all these worlds and found the ideal sweet spot. It's a monitor that large but not too large and its wide giving you enough of a balance between a unique look and the ideal amount of screen play room for productivity.
With my tape measure in hand I estimate you will need at least a  3 feet desk. This will only hold the monitor and you will have to place your system unit or tower somewhere close bye. Mark you my desk is about 5 foot 6 inches and can easy hold both my PC and the BenQ EX3501R. But if you are going to invest in a monitor like this a desk like this is at least standard to show off your awesome computer setup.
What Inside the Box?
Inside the Box you will find the usual lineup of stuff that comes with a new Monitor. I must say also that this box is really big for a monitor I almost though it was the wrong item when seeing it for the first time. BenQ also did a very fine job of packing it so it could survive almost anything during shipping. After all safety is key with such a gem of a product.
Inside the Box is the BenQ EX3501R  itself which comes well insulated from shock, Quick start Guide, USB Type C cable, HDMI cable, Adapter, Drivers CD and other small pamphlets to get you up and running and teach you about your device. I love that you get all the possible cables for the inputs at the back of the monitor, more on that later, also solid job by the manufacturer.
The Monitor comes encased in foam with several layers over the display to make sure it does not break when its being moved about. If something were to break it would not be the packaging's fault i can tell you that.
Design of the This BenQ Monitor
This monitor has some weight to it so bear that in mind. I love the design of the legs as they look really stylish especially with the silver chrome like finish. The addition of a circular hole for cable management was also a nice touch at the base of the stand.
Once all your cables are connected you can add the snap on cover which makes the back of the monitor look like one seamless piece. The excellent cable management also makes the monitor simply look like a standalone piece with nothing connected without much effort.
The Display of the BenQ EX3501R
The Display of the BenQ EX3501R is downright gorgeous and will captive and amuse you the first time you hook up your PC to this monitor. It will breathe life into any setup you may have at home which can include a Gaming rig or workstation for Video, Picture editing or other highend jobs. The curve is so well done and subtle that sitting in front of it you will notice it and being my first curved display I can say it's not as gimmicky as I first thought when I heard about curved displays. It makes content on-screen easier to look at especially sitting front and center of your monitor.
The monitor has an effective resolution of 344 x 1440 which makes it UWQHD or as some will refer to it as 2K. I wished it was actually 4K which this monitor is only missing a few hundred pixels on either end to make it 4K, which is pretty close. After using the monitor for a while though you will hardly miss the 4K. The display due to its ultra wide nature has an aspect ratio of 21:9 which is comparable to most Theater or cinema displays. When it comes to movies the Ultra wide curve monitor makes it that movies with black borders to the top and bottom actually show full screen on this monitor comparing to other normal monitors. Giving a greater viewing area to see much more. This also extends over into Games.I was also please to find that there were no dead pixels at all in the model that I got which is always great in these high end devices.
Gaming
The BenQ EX3501R  is ideal for Gaming. I hooked up my PS4 Pro on this baby. Instantly on Playing Games such as God of War 4 on the Ultrawide curved monitor found I had a greater viewing area. After a few adjustments to the PS4 Pro the game ran quite well. I could see more on screen while playing which made it that harder for enemies to sneak up on me from the side while taking on a larger set of enemies.
I also gave Final fantasy 15 a try and this game had HDR which I was sure to enable in the games menu. It instantly made a noticeable change in the clarity of what was seen on screen and the representation of the colors. Also the 100htz of the monitor was ideal for fast paced scenes in game where other monitors would lag due to their slow refresh rates.
I actually have over the test period found myself loving the Wider screen Monitor even over my Large Screen TV set. The wider screen brings with it way more advantages that a normal display cannot match. While gaming or doing normal tasks or even enjoying content such as movies on your PC.
I did not get to test the FreeSync technology which effectively eliminates screen tearing and choppy game play as I don't have a AMD Radeon graphics card. Don't sweat it though as even if you have another Graphics card like I do from NVidia the monitor still works just fine. Having a AMD based Video card simply gives you an addition feature.
Mobile Gaming
Believe it or not but Mobile Gaming is possible on the BenQ EX3501R and this is possible through the USB Type C connector which allows you to connect your smartphone and any game you play will be shown full screen on the monitor which is really cool.
You can check out the BenQ EX3501R Fortnite Gaming video below to see for your self. It was a very smooth experience and better than I though it would have been. I you should be able to play through an entire match without depleting your battery. The connector also charges the phones which will make the battery last a little bit longer. Other phones such as the Galaxy S9, newer Samsung Note phones that have a USB Type C connector should work just as fine.
Fine Tuning Picture settings
Out the Box the color setting is set to standard which is not bad at all but the back light is set to 100% but not to worry as the system can intelligently adjust the brightness to makes things easier on your eyes depending on your environment which is a really cool feature dubbed BenQ Eye-Care. You can manually make adjustments yourself but the choice is largely yours.
I simply love the HDR color setting and I think from the presets out the box for your screen color settings it's the best, This setting is not the true HDR feature which is available separately but its an emulated HDR picture color setting that's design to give a nice picture and its OK If you don't like this as you also have: sRGB,Photo,Gamer1-3, Custom 1-2,M-Book. You can simply choose one of adjust one of the custom settings to your linking the choice is yours.
Inputs and buttons.
I love the included Inputs which includes 2x HDM, one USB type C which is really nice as you can connect your Smartphone to the USB type C port such as Galaxy S8 or S9 and so on and the port will start to charge the smartphone while displaying whats on the phone on the monitor. I really like this particular feature and think it was a great addition. There is no speakers but you do have a headphone jack to connect headphones.
You also have USB ports and the works. The power button is Led lit and is on the underside of the front panel to the right. There are seven buttons in total and while they are OK it can be a bit tedious to navigate the settings. The menu settings is easy enough to understand but whatever points it gains in design its easily taken away with the frustration of navigation that's needed.
Multitasking
Among my favor thinning you can do with this monitor includes Multitasking. You can fit two windows on screen side to side and it will easily take up the space of two regular monitors. I love this as it a great productivity booster as you can simply really do multiple things at once especially if the power of your PC allows it. Trust me when I say I will never use a two monitor setup again unless it's a bunch of the BenQ EX3501R monitors. Trust me when I say you don't need the 2-3 monitors simply get one of these instead and you will see what I mean.
The entire setup also does a good job of drawing you in and immersing you into the display.Watching a Video on YouTube while researching something in Google without missing a beat as both Windows are snapped side by side on the screen at the same time. Its something that must be experienced.
Video Review and Unboxing:
Below you will see a detailed Review and unboxing of the product so you can get better acquainted with before you buy. I suggest you watch the video below for more product details and to see what the product is about.
Why you must get the BenQ EX3501R?
1.Great Multitasking.
2.Plenty of screen screen real estate with its Ultra wide design.
3.Comes out the box with all the cables you need.
4.Looks really nice.
5.Its curved.
6.Offers a 100Htz refresh rate and has HDR for better looking colors and pictures.
7.Great for Gaming,video viewing and multitasking.
Why Skip this?
1.The price although I can say its well worth its price tag easily.
2.Its a big Monitor and you will need the right desk to seat it properly or clear your desk so it can hold comfortably.
Where to Buy?
You can purchase the BenQ EX3501R right now in the links below based on your location.
My Overall View of the BenQ EX3501R Ultrawide Curved Monitor
Its been a fun few weeks playing with this great monitor. I can clearly say that I love the BenQ EX3501R Ultrawide Curved Monitor so much so that I am adding it to my setup. I can easily edit videos with ease for YouTube. Create articles on the website with ease now as I can have windows side by side without needing to skip between them as in the past.
Where else can you get a monitor that tick all the right boxes and simply leave you with a great feeling at the end of each day. I actually find it harder now to use a regular monitor. Also love how the eye care feature detecting ambient light and adjust on-screen brightness and color temperature.This beats having to adjust settings each time.
The BenQ EX3501R has set a new standard for me as it relates to monitors and I don't see myself going back to a standard monitor anytime soon.I can also encourage my readers to Purchase the BenQ EX3501R monitor and don't look back.