This will be my review of the X-Dragon USB Meter. This product is also know as a Digital Multimeter or USB detector. Whatever you call it its a very cool gadget to own that has so many applications and is very useful.
The price is very good too and if you get one you can easily test the power draw of any USB device you own that charges using a USB cable. This includes devices such as your Smartphone,Tablet and so on.
You will be able to see exactly how much Volts and Amps a device is pulling and if its operating as indicated by the manufacturer.
Why wait? get your X-Dragon USB Meter now
Features of this Product: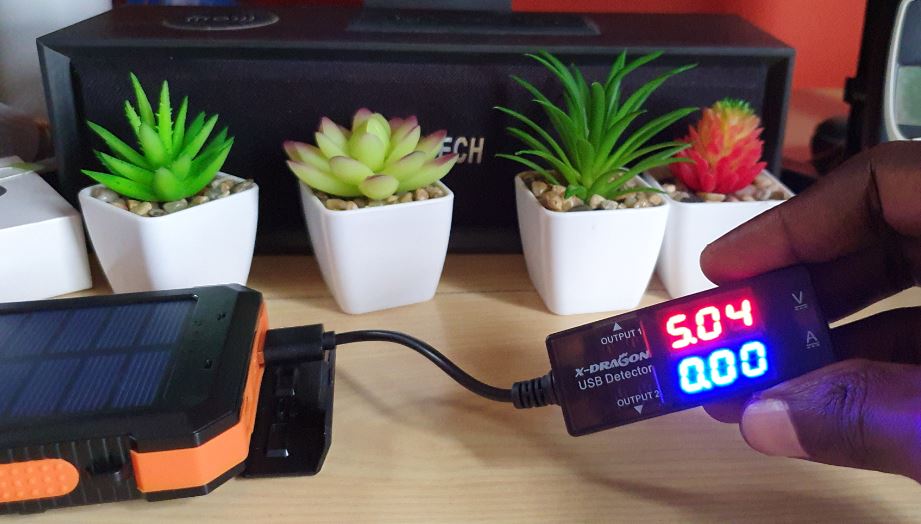 This USB monitor can display voltage, current, capacitance and power, press the button to switch among seven different display modes.
Features Dual output, Output one is used for both charging and data transfer, Output two is for large current fast charging.
Simultaneously displaying of Amp and Volt in real-time.
Perfect for testing how fast a USB cable or USB power charger, such as power bank, solar charger.
Measuring Range: Voltage 3.2-15V Current 0-3A Accuracy: +/- 1%.
Has seven (7) different testing modes or Monitors.
Built in Alarm Function for High-Voltage, Low Voltage, Over-Current protection which will keep USB powered devices safe.
My thoughts
I personally love the X-Dragon USB Meter as I can easily test a Power bank such as our X-Dragon Power bank which we reviewed recently. My Smartphone and other Gadget chargers, Laptop USB port and cables. I can see exactly what the power draw of any of my devices. I can even find out if a port is operating as it should and delivering power. Its the perfect and easy to use tool.
If you can use one of those Electrical or multi meters this will do the job of that easily. One of the best features is the High-Voltage or Low Voltage alarm and the protection this device proves to add a extra layer of protection for your Gadgets.
I use this as a stand in while my devices charge or connect to a laptop for the added protection and to keep a eye on my devices as they charge.
Video Review:
Check out the video review right now of this product.
Conclusion
This is the perfect little tester that I suggest you get even to protect your Gadgets and keep an eye on those Voltages. You cant be too safe considering that modern gadgets are so expensive. This simple and cheap item can put your mind at ease while any gadget charges.
I highly recommend if you have a use that you buy this thing.
By it Now:
You can buy yours at the link below.
Why Buy this?
1.Great Price.
2.Voltage Protection.
3.Test Cables and USB Ports, Adapters etc.
4. Alarm warning.
5.Simple to understand and use than a Multimeter.
6.Lots of modes.
7.Great for measuring Voltage and Amps.
Continue Reading we have even more Tips for you: