I finally got my new Galaxy Book Pro and I am pretty excited to do a unboxing and review. This article will go through everything you will possibly need to know before considering this great device as your next laptop of choice.
I will run through the merits, strengths and weaknesses of this device and weather or not its worth the price you will pay. Feel free to ask any questions as well in the comments.
What you Get?
The Galaxy Book Pro come beautifully presented in a white box and the unboxing is reminiscent of a smartphone unboxing. You get inside the packing the Laptop,USB-C charge cable, Adapter brick and documentation for the product.
The most shocking part of removing this product out of the box is how lightweight the laptop is. I guarantee it will catch you off guard and takes a bit of getting accustomed to.
Unboxing and first impressions Video:
Check out this very cool video unboxing and my first impressions of this product right out side the box.
Specifications of this product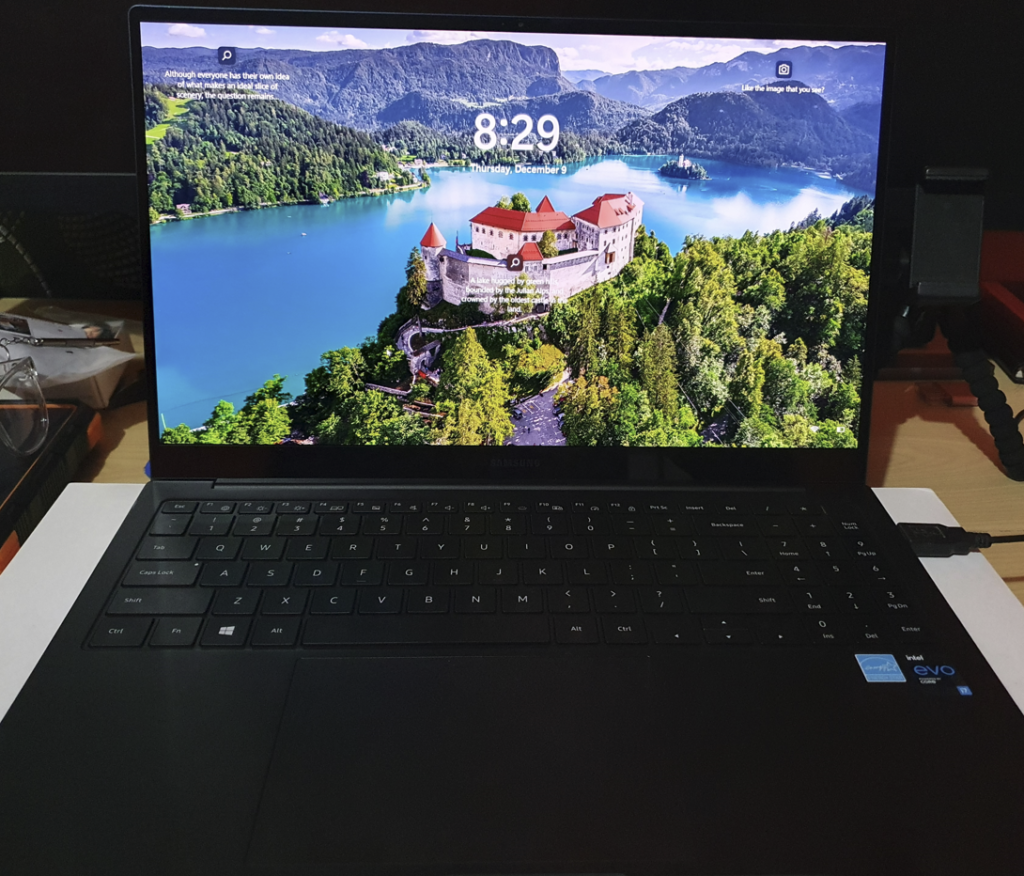 The Samsung Electronics Galaxy Book Pro comes with Windows 11 Home out the box on the Intel Evo Platform for a super thin and powerful laptop.It features a 15.6″ AMOLED Screen which is similar to the screens in Samsung's smartphones.
You get a 11th Gen Intel Core i7 Processor @2.80 GHz with virtually 8 cores.This is also accompanied by 16GB Memory and a 512GB SSD, descent battery Battery life.I got the Mystic Blue version.
You will have two USB-C cables,1 HDMI port,1 USB port, headphone jack and MicroSD card slot.You also get the usual webcam built in, Mic, light sensor and a very nice fingerprint scanner that built into the power button. The keyboard is also backlit.The screen is Full HD @ 1080p and that's about it.
Video Review:
Watch the video review below to see my full views on this product as I test it out.
Best Features
The display on this laptop is really stunning and makes everything look great. This is because it made from the same AMOLED display tech as can be found in Samsung Galaxy Smartphones. Its a noticeable joy to look at due to the vibrant colors when compared to a standard display.
Its super light and I often wonder with the thinness if there are any components on the inside. all jokes a side this product takes the cake so to speak in the thin and light category. Its made from plastic though and I wished it was metal especially at this price point.
The next area that you can see this Samsung Electronics Galaxy Book Pro shine is performance. Its very snappy and turn on in seconds. I literally lift the cover and it on. I hardly close apps or worry as it breezes through all the tasks that I can think of. The fingerprint scanner also saves me valuable time and I don't have to worry about memorizing a long password.
There is little you can throw at this laptop in a typical day that would pressure it in any way. I am very please with the performance.
Worst Features
The thing I hate and detest though with this laptop is the touch pad.I personally find it clunky and very inaccurate.I find that it clicks when I don't want it to and the only thing that seems to help is turning down the sensitivity.This only helps a bit though as it moves weird at times and cause the occasional accidental click or sluggish movement across the screen.
I had to get a mouse and I recommend you get a neat laptop mouse to save you the hassle of the touch pad. That's about the only bad feature I could find though.Also the battery life is OK at best and nothing impressive or close to Samsung's claim unless you are going to dial back the power and screen brightness. Overall though its not bad unless battery life is the main thing you need.
The sound is flat but OK and is to be expected of a laptop this thin and is good enough as you can clearly hear everything but its hardly a deal breaker but something you may want to know.
Overall Impressions
Overall the Galaxy Book Pro is a solid device that works great for serious productivity for Business or professional use.It can handle just about anything I throw at it, for example I was able to convert a almost 10 minute clip that was 1080p in under a minute.Fan noise is also not bad when this device is under load and is never heard for regular tasks.
I spend less time waiting for a video to convert or apps to load up and things to get done in general. The key points are great performance, solid thin and light product with great brand appeal. I easily give this product a 9/10 and the only reason it does not get full marks is the track pad which I try to work with but simply wont fly at all.
I definitely recommend you buy this one the only gripe one may have is with the price but if you are unwilling to compromise on power and design this is definitely for you. Its even more appealing if you can get it on a deal which would make up for the lackluster touch pad.
You may also want to pick up a mouse and a USB-C dongle that would convert your port into a few more USB ports seeing that you only get one.
Continue Reading we have even more Tips for you: