The Purkin USB-C Hub is one of the latest devices to come across my review desk. I am glad to do this review as this is one of those gadgets that you must have as a modern Laptop owner.
What do I mean? well go ahead and check right now how many USB ports you have on your Laptop? I bet the answer is not enough or to be exact about three (3).
There is never enough USB ports around when you need them and the Purkin USB-C Hub solves this problem easily. Best part is that it does not occupy any existing ports at all.
What You Get?
For this product you get a Additional Four (4) USB ports that are all USB 3.0. Its constructed from Aluminum Alloy which guarantees durability and a product that will last very long.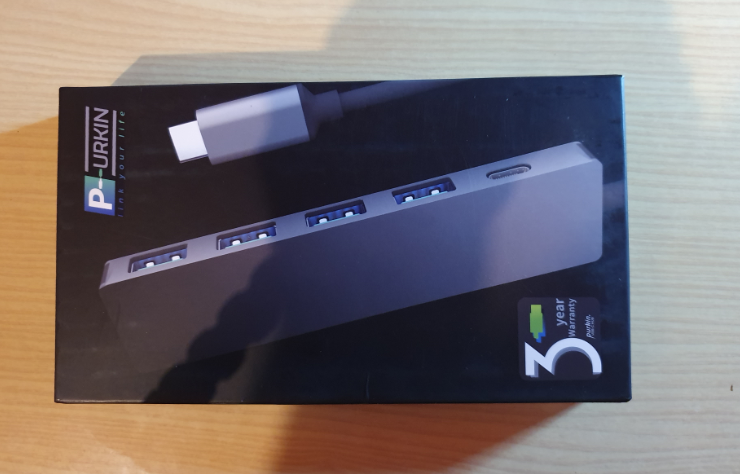 Another thing I like is that its powered over USB-C port so you will need a Windows Laptop,Chromebook,Mackbook and I found it also can work on Android devices with USB-c port as well.
Finally it also provides a USB-c Port for the one that it uses on your Laptop or device. So you get five (5) ports in total.
How does it Perform?
I am very impressed with this product so far. Its build quality is very nice and it blends nicely with most modern laptops. The design is a premium metallic look which make sit look premium and not tacky or cheap.
The Extra Five ports are a God send as I no longer have to be choosing which peripherals are necessary to keep plugged out or in to be swapped later.
You can Play the video review below and see this product first hand.
The Hub itself simply works as it plug and play no instructions needed. again seen that almost all modern Laptops come with a USB-c port you should be right at home and ready to use this device. Its also a solid use of the USB-c port which most Laptop owners are not using. You even get back the port on the Hub.
Very impressive design and implementation when it come to this product and I am very satisfied.
Conclusion
I suggest that you buy the Purkin USB-C Hub if you need additional fast USB ports and don't want to loose your USB-c port also.Be prepared for dead simple setup and a product that will last a long time.With that been said do purchase this product without a moments hesitation.
Main Highlights of this Product:
You Get Four USB 3.0 Ports and 1 USB-C port.
Made from a durable Aluminum Alloy.
Well designed and looks great.
You don't have to sacrifice any existing ports for this one.
Portable and compatible with a wide variety of Laptops and devices.
Best of all never run out of USB ports again on your Laptop.
Where to buy?
I suggest that if you want to purchase this device that you do so below.
If you have any questions about this product feel free to ask in the comments below. I will be sure to answer you in a timely manner. Also if you have any views to share on your experience using this device then also do so in the comments.
Continue Reading we have even more Tips for you: