This is my review of the Ringke Fusion X Compatible with Samsung Galaxy S22 Ultra 5G Case. This is a case that blends the best of both worlds. You get a slim case and it provides solid edge and corner protection.
Whats in The Case?
Inside the case you have a Quick start guide, a coupon card from the manufacturer and the case. The Case comes with a clear back or camouflaged back. This is the clear back which is great for showing off the color of your device.
The Package is environmentally friendly which is nice to see. Everything's light and well put together.
My Thoughts:
I am well pleased with the Ringke Fusion X Compatible with Samsung Galaxy S22 Ultra 5G Case. Its by far one of the best options out there for the Galaxy S22 Ultra and you cant go wrong unless you don't like slim cases.
It takes nothing from the phone and actually adds to the look. You can show off the nice color of your device and there is no doubt what device is in the case like some cases that add too much bulk. Plus it does this without taking away from the protection. I am pretty sure that if I drop the phone it will be protected.
Do note you need a Tempered Glass screen protector as well as you need the front protection to boot.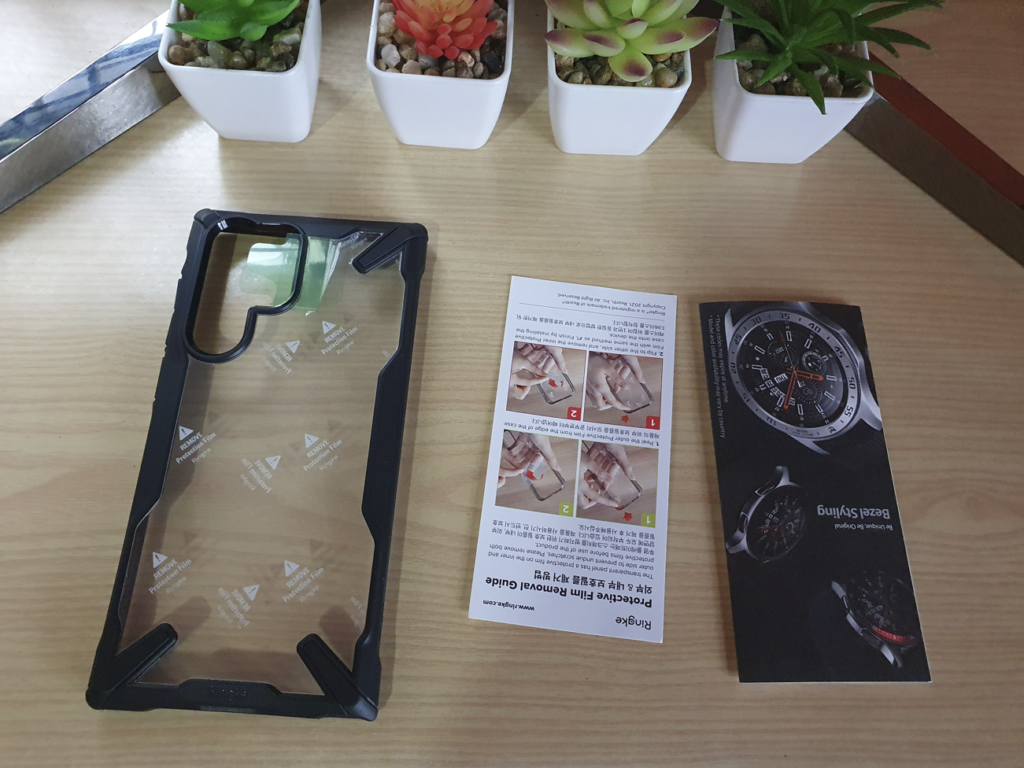 What I Love about this Case?
The things I really like about this case are
The case offers superb camera protection as there is a lip around the camera and this makes sure your camera does not scratch when placed on a Table.
Solid Edge protection and reinforced corners for added protection.
Clear back to show up your device color.
Exact cutouts and solid grip buttons.
What I don't Like about the Case?
The case is pretty much well though out and I have no major complaint. If there are any issues it may be long terms but I doubt that as you can see the developers know what they are doing.
Video Tutorial:
Watch the Video tutorial to see the review of this great case
Conclusion
I suggest that you buy this case its a great option and worth the cost. I have no regrets in getting this case and would purchase it again its a solid buy. I highly recommend it and if there are any developments I will definitely add to this review right away. Thank you my friend for checking out the review.
Where to Buy?
You can buy your Ringke Fusion X Compatible with Samsung Galaxy S22 Ultra 5G Case right here from Amazon.
Continue Reading we have even more Tips for you: