I recently received a Laptop that was in need of repair that I got from a colleague of mine, she was quite worried as she was unable to logon or to her computer and access her files as she normally does when she attempted to signin there was a warning indicating that the User profile service cannot be loaded. This is a detailed account of how to fix the issue should this happen to you.
The Signin Error
Windows will boot up as normal in this case its Windows 7 and when you reach the logon screen on attempting to input your password and hitting enter the following message is displayed on-screen:
The User profile Service service failed the logon.

User profile cannot be loaded.
Which computers does the User profile service cannot be loaded Problem affect?
As can be seen it can affect Windows 7, XP,Vista, Windows 8 or any other version of windows as far as I can tell, so once you are running Microsoft Windows you are prone to this error.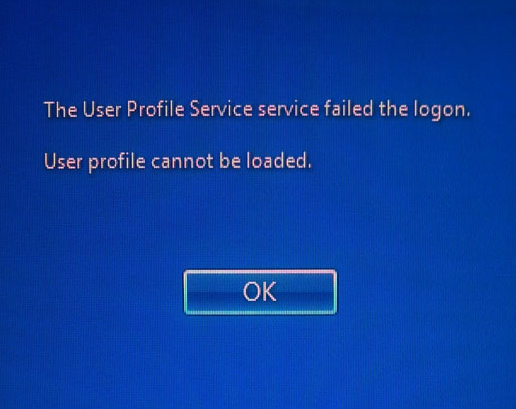 How to fix the User profile Service cannot be loaded Error?
1. First of all power off the computer or Laptop.
2. Power on the device once again and this time from the time you hit the power button keep pressing the F8 key to enter safe mode.
3. Their should now be an option on-screen that says   safe mode, safe mode with networking and so on, go ahead and select safe mode.
4. You will now see a lot of code flash across the screen do not worry then the usual Logon screen, now enter your Password once again and hit Enter.
5. Your PC will boot and say Preparing User profile, when it loads up you will notice you are in safe mode as its written at the top of the screen and the computer resolution looks low res but this is by design.
If you have noticed that your files are nowhere to be found this is because you are not in your normal profile, to get to your normal profile:
1. Click on Start and then select My computer.
2. From My computer go to Local Disk (C:) and find the folder Users.
3. From the Users folder select the folder with the name of your Users that you normally log into.
4. You now only need to open a folder such as desktop or My computer to see your files.
I recommend that you now back up your files and attempt to repair your Windows installation this will require the Original Windows disc and after this you should be able to log in as you normally do. Or you could simply reformat windows and start fresh with a clean installation of windows.
Update: Simple User profile service cannot be loaded Fix
Now as was said above you could reinstall windows, but there is a simpler solution that I have discovered to get your computer back to full functionality and that is to first boot into safe mode as shown above and for safety backup your critical or important files as recommended. Then while you are still in Safe mode do a system restore by:
1. Using search which can be found in the start menu or the charms menu to the left in windows 8 (Also found under windows control Panel).
2. Then search for: System Restore, once you have found system restore simply use the options and  find a date in the past that the system was functional and restore to that date.
3. Once you are finished restoring your user profile should now log on in normal mode and if there are any files missing you can restore them from the backup you made earlier.
I hope you were able to find your files and fix your issues with Your computer not booting up as normal and displaying the error after trying to login. It can really be annoying when you need to access your precious files and you are faced with this issue, the key thing is recovering your files and then attempting to repair your windows installation.