My good friend and I recently met up and I instantly noted that he had a Samsung Galaxy Tab 4 7-inch with a pair of headphones with him. Being the Techy I am it wasn't long before I had it in hand and was playing with it. I had not thought much of Tablets of this size before but this one peaked my interest to say the least and I must say I was pleasantly surprised by what I found when I took the time to play with it for the day and pick my friends brain as to the performance of the tablet and is experience so far with it.
The Cost
When I had the chanced I took the time to checked the price of the Samsung galaxy tab 4 7-inch and I was pleasantly surprised that it was priced just right as a device that a budget conscious consumer who is not willing to spend a lot of money on a tablet would sweep up. This is largely in comparison to the other devices on offer from Samsung that can cost way more overall. Also don't let the low-cost fool you as based on consumer feedback and rating this is one capable device considering the overall price you pay.
Specifications
So within this 7 inch power house you will get all the following:
Android 4.4 Kit Kat with a 1.2 GHz quad-core Qualcomm processor
8 GB Flash Memory, 1.5 GB RAM, Connectivity: Dual-Band Wi-Fi 802.11 a/b/g/n
WXGA Display (1280×800 Resolution)
32GB of memory available through a microSD slot and 50GB of free Dropbox storage
Comes with over $300 of free content and services
So glad we got all that out of the way lets move on.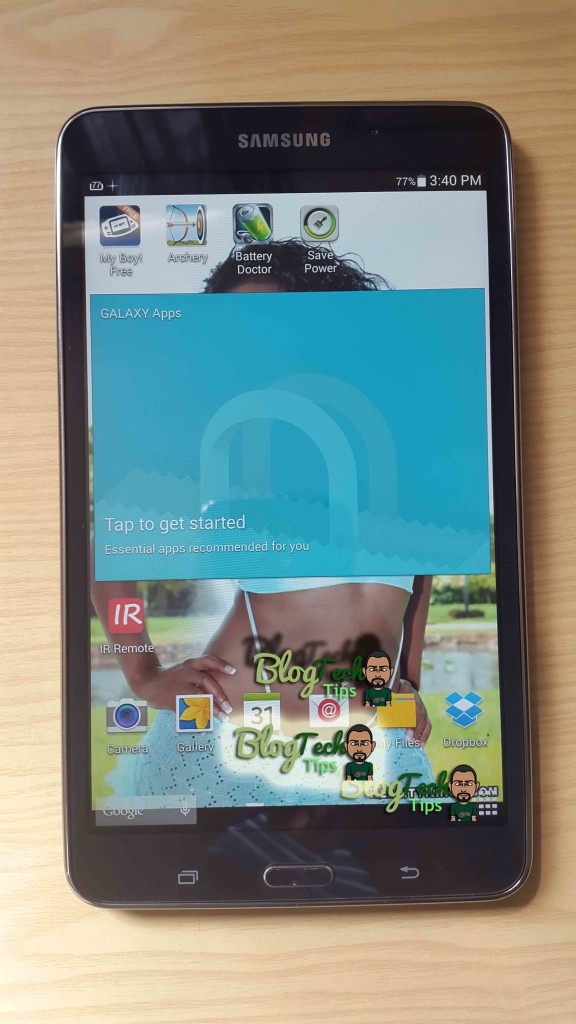 Whats the Difference between the Tab 4 and the Tab 3?
If you are up to date with Technology you will know that this device replaces the former Samsung Galaxy Tab 3 and the key differences if you were wondering are:
1.Overall the Tab 4 is faster than the Tab 3 in performance bench marks which is to be expected as it has two extra cores over the Tab 3.
2. There are also distinguishing design changes in the position of things such as the loud-speaker, The Tab 4 is also a bit thinner.
3. The back cover of the Tab 4 now has a leather like material which is one of the ways you can identify the Tab 4 easily.
4. The edges are also boxed like as the Tab 3 had more curved or rounded edges.
5. The Tab 4 display is also a bit sharper.
6. Battery life has improved.
But in a comprehensive look its safe to say that the Tab 4 is almost the same as the Tab 3 with only a few minor updates. So if you were wondering which to get you would be better off with the Tab 4, but if you have a Tab 3 and thinking of upgrading don't even bother.
The Review
It's also important to note that there is a 7 and a 8 inch version that share basically the same specs which can be applied to this Tablet in terms of performance and this review. What I like about it right away after seeing the Samsung Galaxy tab 4 7-inch is how nice and thin it feels in hand. You should have no issue holding it with a firm grip even in one hand. The buttons are plastic sadly no metal here but they are as solid as ever just like on other notable device from the Samsung line with Power button, volume up and down and a Sd card slot which while is not a button does offer a great feature for you to go for a low storage version at a great price and then get a nice SD card which are dirt cheap now for even a 32 GB version.
For charging there is a micro USB port, at the top you have your headphone jack as you may know already and the front features Samsung signature home button, back and a recent apps button.
The Cameras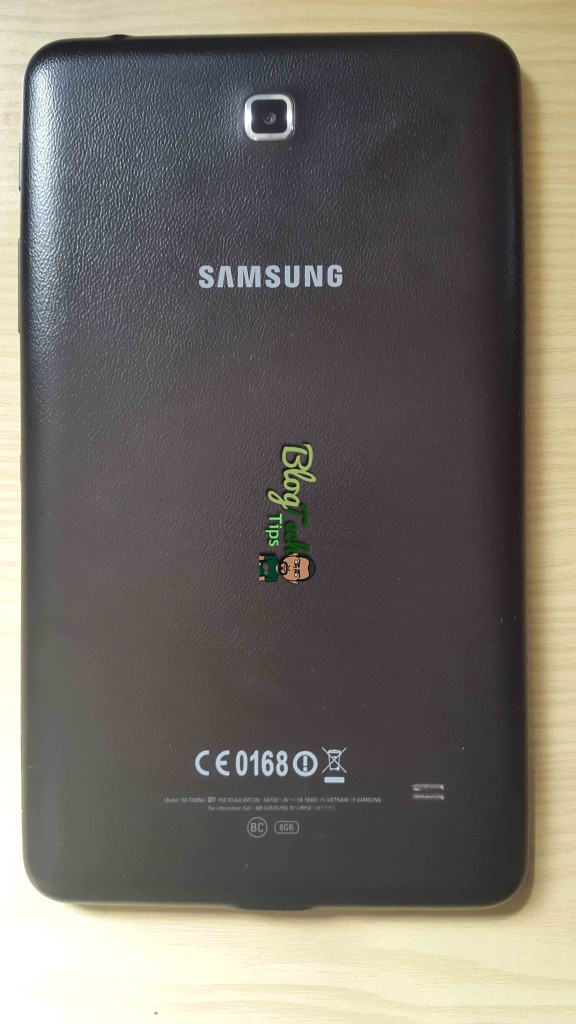 The front Camera is a 1.3 MP and the back is a 3 Mega pixel camera with no LED flash so you wont be taking pictures in the dark or low lighting conditions anytime soon. Picture Quality is OK for the price of the Tablet and overall it gets the Job done, so if you have a Point and shoot camera stick with that, but it can come in handy for the occasional quick pic on the go. Selfie any one?
In low light conditions pictures also tend to look grainy and washed out so always aim for the best lighting conditions when taking pics. There is also not a lot of options to really fine tune and dive down into getting your shots perfect which is disappointing.
The Speakers.
The Loud speaker is placed on the back of the Samsung Galaxy Tab 4 and not at the bottom as in previous versions and the new position does allow for a hassle free placement where the sound will not get muffled at all. The sound quality from the speakers are great and even at high volumes. Also remeber that this is a Tablet and the great quality of which I am speaking for the speakers is in relation to personal use in close proximity to the Tablet.
The Screen
The 7 inch screen or even on the other models such as the 8 inch the screen is 1280 x 800 in resolution means that text and picture quality will look great but if you are accustomed to a high-resolution at this size you may find the adjustment a little sub par but not bad. Best of all it does grow on you the more you use it which is good as why buy something you will not like. The colors are great and vibrant which is great for movies and even Games.
The processor Performance
Inside this Tablet you do have a 1.2 Ghz processor and this time around it's a Quad core which is a noticeable performance difference as I pointed out from the previous model. The 1.5 GB of RAM is OK but 2 GB would not have hurt especially for those who are Multitasking maniacs (here-here).
So the big question is what can I do with this thing? and the verdict is its great for Movies, Netflix, Amazon Video or any other video service, Web browsing, along with modern Games that are demanding were no problem at all, Games like Need for Speed Played without a hitch which is a graphically intensive Game. Well done Samsung considering the price I was very impressed at this feat.
Even multitasking features worked well with no lag, so you can watch a video while viewing pictures no problem and so on.
Battery Life.
To test battery life the tablet was put through a full days typical work load of downloading apps, viewing pictures and listening to music and even watching a typical length movie from a full charge gave about 10 hours of usage so make your judgements based on that which is not bad.
So overall you are getting what is a budget device at a very reasonable price that can really perform even for some modern graphically intense Games. Where it does fall a little short is in the screen resolution which you will only notice if you have not been staring at a high-resolution screen which is forgivable. So should you get this? well the final verdict is up to you but my recommendation is that it's a great buy and as for the best prices you can check out the listing below.