Many users have been waiting for the automatic windows 10 update notification to appear in the notification tray on windows for them to update to the latest version of the Microsoft operating system which will not show up in some cases but why burden yourself and wait when you can actually perform a manual windows 10 free download right now without waiting easily.
windows 10 download size
For the ISO file the  32 bit version (x86) will be roughly 3 Gb and the x64 bit version will be 4 GB, after installation the 32 bit version will use up 9 GB and for the 64 bit version it will use up 11 GB respectively.
Which users get windows 10 for free?
If you have are a windows 7 or Windows 8 user then you will get windows 10 for free as an upgrade but there is a catch as users have one year from Windows 10 official launch in July 29, 2015 to upgrade. If you do not do it within a year of this date then you are out of luck and will have to buy the full version. So if you are on one of the operating systems described you can update no problem.
What about Pirated Copies of Windows?
Those users who have a Pirate copy of winnows will be able to upgrade to windows 10 from Windows 7, 8 or 8.1 but this will in no means make there copy of windows legitimate as like in the past these versions of windows will display a watermark and eventually place users in reduced functionality mode after a while.
System Requirements for Windows 10:

To run Windows 10 you will need:
1. Latest version of Windows 7 or Windows 8.1
2. 1 Ghz processor or better
3. 1 GB of RAM for 32 bit Windows or 2 GB or greater for 64 bit windows.
4. 16 GB storage space for 32 bit windows or 20 Gb for 64 bit.
5. Direct x 9 or later Graphics card.
6. Display with minimum of 800×600 resolution or better.
If you meet these requirements or exceed them then you can upgrade with no issue.
How to perform a windows 10 free download and update with Media creation tool from Microsoft?
If you qualify to get windows 10 for free then all you need to do now is follow the instructions below to install it manually and for free unless you have got the automatic update notification:
1. Go to your browser and go to the following website: Download Windows 10
2. Scroll down to the bottom of the page and choose between the 32 bit or 64 bit version of the tool, most users will be using the 64 bit version and its usually the same as the current system that you are running, To check if you are a 32/64 bit OS you should choose go to system on your current OS and look at System type.
3. When it downloaded run the tool and when it asks: What do you want to do? from here you can choose to upgrade or in our case we want the ISO file so choose the second option to create installation media for another PC and hit next.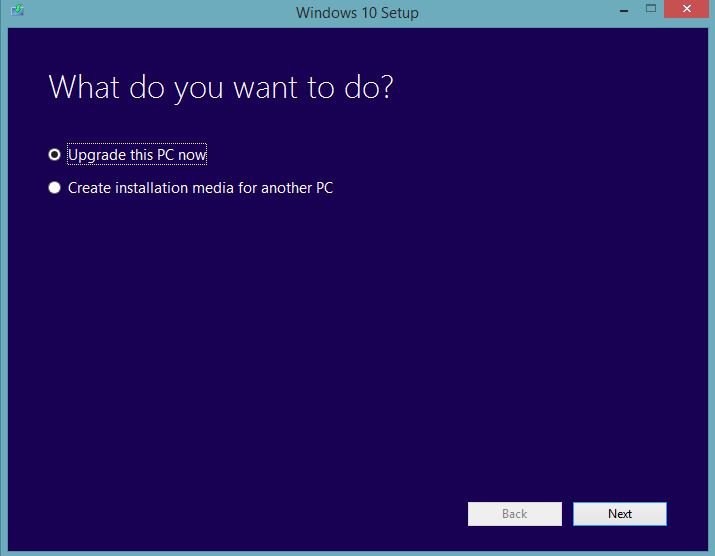 4. You will now have three option to fill out from drop down menus, for language select: English (United States) , for version you can choose:home to be sure go back to system and look at the version that you currently have installed and choose accordingly.  For architecture its most likely 64 bit but you can find all that in system on your PC. If you can't find the setting system simply type into search system or PC info and you will get the info you need.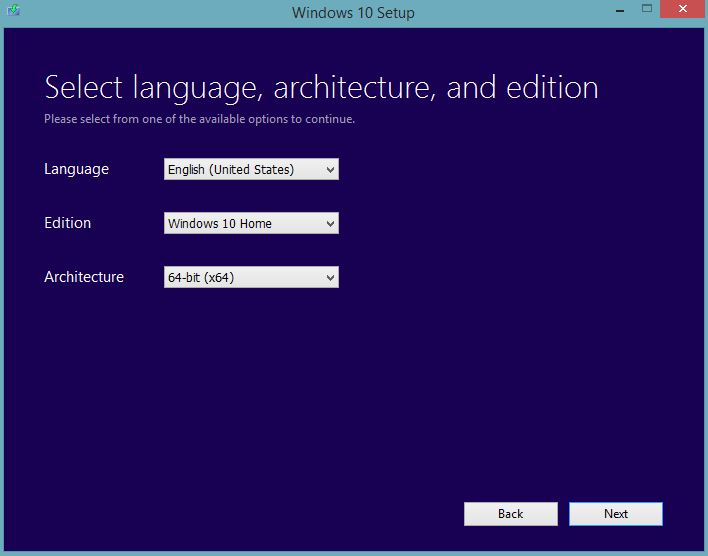 5. On the next screen simply select your media such as USB flash drive or ISO file, it either case you can go with what works for you but in our case we will go with ISO file.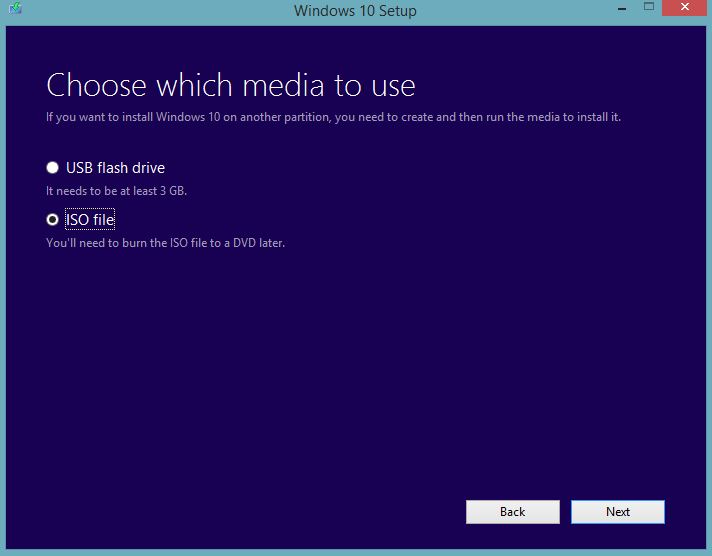 It will take varying times based on your Internet connection speed, how busy the servers at Microsoft are and your system speed so expect at least a few hours to even 30 minutes or so.
6. When its finished go ahead and follow the instructions and burn the file to a DVD if you like.
From here you have the Freedom to install Windows 10 as you see fit from the DVD, ISO file that's downloaded or so on which is done in the same way as any typical windows installation or upgrade.
How to recover your Product Key?
To retrieve your Product key on windows 10 in cases where you did an upgrade just in case you need it for a reinstall or such you can use the following tool, do note that it works for Windows 7 and 8 as well. It's also ideal for New Laptop owners who can't find their product key on the Laptop as Manufacturers no longer include a Sticker and the Key is store in the Bios or UEFI, as you may have realized that on some devices reinstalling windows the OS does not ask for key as it retrieves it from the BIOS. But in some cases you do need it so use this tool to retrieve the Windows product key: Download.
Thats it we are finished with our windows 10 free download tutorial with a few extra tips I am sure you found useful, thank so much for visting and do check out a few more articles that we have or share this article on social media with your friends, the share button is hovering to your left.
Continue Reading we have even more Tips for you: