Let me first start off this review by getting this off my chest that is the Razer Blackwidow Chroma is one beautiful and functional Gaming keyboard, there I said it. This keyboard is one of those accessories or peripherals that a serious gamer just got to have on the ground that it will make your Gaming PC or work station look awesome while remaining very functional.
Razer Blackwidow Chroma
The Razer Blackwidow Chroma has a matte finish which is great as unlike a polished finish it will be  less of a dust and fingerprint magnet that makes anything looks grimier than it really is. Beneath the keyboard itself is the rubber grommets that it rests on for keeping things steady on your desk but these are very small and you should know that over time these tend to peel off and with these small ones I see this happening easily I really wished that Razer had made them wider. I do like the flip-up feet for those who like to angle their keyboard up for a better typing or gaming experience.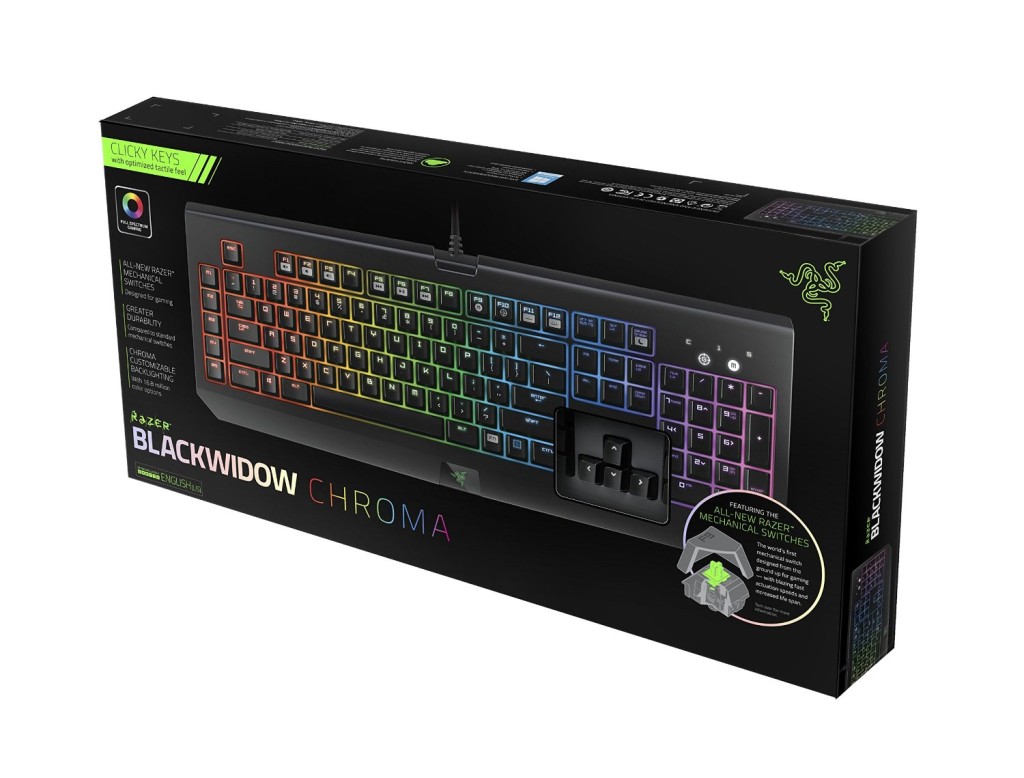 Features
The Razer BlackWidow Chroma Clicky Mechanical Gaming Keyboard has the following features:
1.Razer mechanical switches.
2.Great durability.
3.Chroma backlighting.
4.Fully programmable keys + 5 additional gaming keys with on-the-fly macro recording.
5.Individually backlit keys with improved lighting.
6.Easy access media keys for convenient volume control and media playback.
7.Mechanical key architecture with distinct tactile feel and faster response.
8. 10 key rollover for extreme anti-ghosting.
Inputs built-in
There is a USB hub build into the keyboard along with a headphone and microphone jack right beside it which is great for ease of connection versus always having to go to the system unit or case to plugs things in which is a big bother in most situation. I really must commend Razer for this thoughtful and ingenious implementation.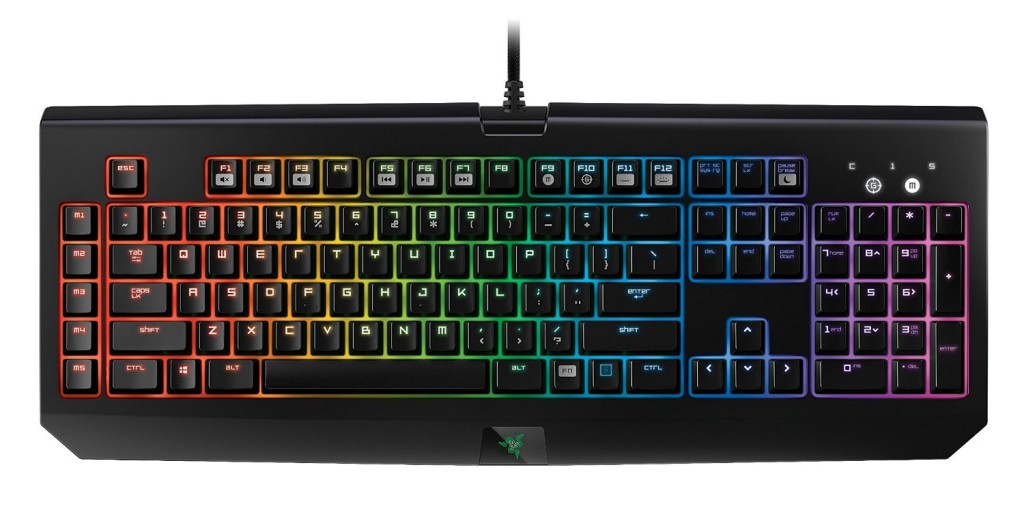 Available Versions
There are a variety of versions available with this Gaming Keyboard and while my review is based on the Chroma version which is the most feature rich and best of the lot in my opinion there are other versions which share very similar characteristics which includes the : Standard, Standard Stealth, Tournament, Tournament stealth, Ultimate, Ultimate Mac and Ultimate Stealth for you to choose from. So not only Windows users are covered there is even a version for those on Mac as well.
Performance,Lighting and software
The keyboard has RGB back lighting and can be made in any color you like, the Razer software controls all this and you can learn more below.The Razer logo on the front also lights up just like the keys which is a nice effect.
On each keystroke of the Razer Blackwidow Chroma you do get that clicky sound effect which depending on your needs can get a bit annoying in some situations but for normal use its no bother at all especially considering this is a clicky Mechanical Gaming Keyboard. The other versions offer other customisation so you can always check out the listing to find one that has the features you want.
The software that included allows for full customization of your keyboards lighting . All the functions are controlled by razors software called Razer synapse. The control mechanism is quite simple and works just like a regular software you can find on other brands of keyboards but dead simple. I really like the features such as reactive typing that allows each key to light up as you type with only the key that you press actually lighting up and eventually turning off, you can even customize the length of time they stay on after being pressed. If you like you can go with a static color of your choice or choose a custom color effect and even blend in a layer effect on a static color scheme and much more.
There are also even ripple effects, which activate when the keys are pressed like you would get with water but with the lights on the keyboard.This feature is my favorite and it looks very unique and captivating, what can I say I like pretty things and this one is well worth the price tag.
Conclusion
The Razer Blackwidow Chroma is a great keyboard that comes with a great set of features and customization which makes it a really great Gaming keyboard. It's really durable and is Gaming grade which guarantees it will last a very long time giving great performance with lots of eye candy that we all love. Plus convenient feature allows you to set your settings once and access them from the cloud from anywhere, you will never lose them which is dead convenient in my book.
Related Reviews:
Why you should buy this?
1. Great Build quality
2. Flexible and Customisable Lighting effect you have full control over.
3. Looks great with a Matted finish.
4. Easy access inputs at the side for convenience.
5. Software for the Keyboard is very easy to use and understand.
6. Custom keyboard settings backed up in the cloud and readily accessible where ever you go.
Why you may skip this:
1. Rubber Grommets on the keyboard bottom are small.
2. Clicky keys can become anoying but you have various versions of this Gaming keyboard to choose from.
Continue Reading we have even more Tips for you: