The Razer Leviathan will not only sounds great to your ears but we can also say its actually one bad ass elite gaming & music Sound Bar that will make a world of difference for your Sound needs for gaming, music and movies. Your ears deserve to be caressed by the sweet sounds that this thing produces trust me, do yourself and your ears a solid by getting this great product I guarantee you will not look at surround sound speakers or a sound bar  the same way again. Trust me you will notice the difference as your ears cannot be exposed to this level of sound quality and then revert back to the ordinary and flat sounding Audio of the past, no sir your are better than that my friend trust me.
The Razer Leviathan
I am accustomed to seeing Razer release innovative new products and when they release this beauty called the Razer Leviathan one instantly notice the difference right away in design and the first thing that stands out otherwise about this sound bar when its in hand is that its minimalistic and great at saving space on places such as your desk and it really looks awesome decked out in front of your monitor as if it actually belonged there all along and is a great addition to any Gaming Setup. In my opinion this is one your best speaker options for the money hands down that will work well on a Gaming PC, Playstation, Xbox or other Gaming or entertainment setup.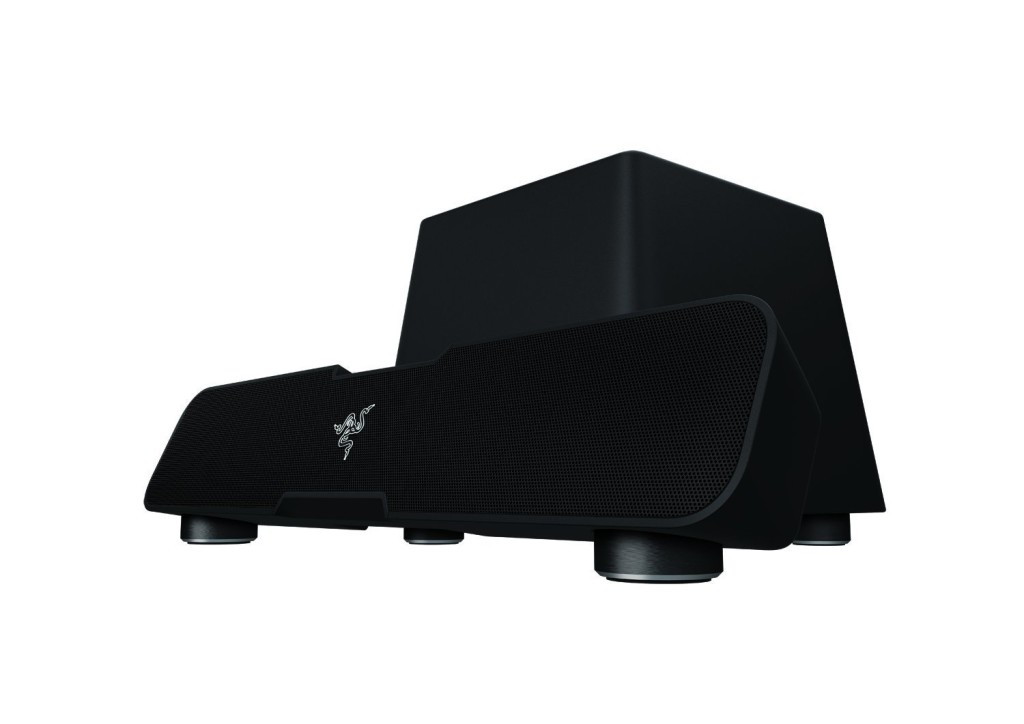 The Razer Leviathan Sound bar Controls and Display
The sound bar itself is quite light with two full range drivers on either side with a tweeter next to them and produces digital 5.1 sorround sound. The sound bar itself beside containing the main speakers also has the control unit which includes a light up power button and just above that the other control buttons which includes: source to switch between inputs, followed by a Bluetooth button, mute, mode and then volume up and down buttons. There is also a nice display LED to either side of the power button that gives out a nice readable display.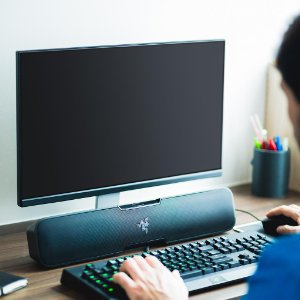 At the back is the ports for connecting the subwoofer, power for the entire system and the auxiliary ports for connectivity. The sound bar itself is mountable and can either be set on its base feet which are easy to manage in getting where you want to place it on a desk, TV stand or so on.
NFC and other cool Features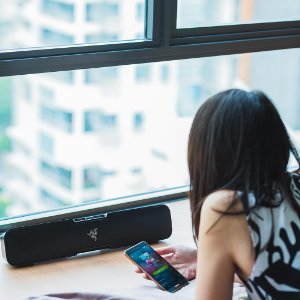 A feature I like the most is that the Razer Leviathan will turn off automatically to save energy if nothing is playing which is awesome. As for other connectivity features this cool device has NFC pairing which will allow you to connect to other NFC enabled devices very easily such as your smartphone. Get this all you have to do is tap your smartphone to the NFC section and you will get a prompt on your phone and that's it for connecting and playing music from your phone easily.
Related Reviews:
The Subwoofer
The Razer Leviathan has  a powerful 5.25 inch downward firing subwoofer that produces an incredible bass and is connected directly to the speakers for power. This gives the sound that this thing produces an incredible body and deepness that regular speakers just can't match or produce, in fact those regular sounding speakers sound really flat to me since being exposed to such incredible bass.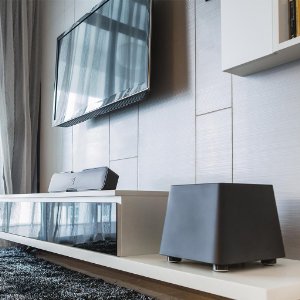 Sound Quality
It produces great sound and the only minor annoyance is the fact that it will power off after 20 minutes which if you have your PC on for long you may find to be a bit of a bother when after an extended break you come back to start something and no sound until you power it back up each time, but that's hardly a big gripe.
Other wise you can get lost in your favorite music as you can hear all the high and low notes along with various musical instruments coming from this sound bar with crystal clear clarity and you can rock out to your favorite jams. The Bass thumps loudly and great for music and movies that makes use of those sounds with loud explosions and so on.
Best of all this is great for gaming and sitting at your desk or from your entertainment setup in your room and enjoying your games I guarantee you will not miss a sound of a single action on-screen the way the designers of the games meant you to actually play it.
Why you should get this?
1. Creates great sound.
2. Looks very cool and easily mountable.
3. Takes up little space.
4. Great power saving feature.
5. Deep bass for great sound.
6. Works well for PC, PlayStation,XBox or other Gaming Console.
Reasons to skip this.
1.Works well for a small or medium room but not so much for a large room.
2. The Razer logo on the front does not light up.
I hope you enjoyed My review of this great product and be sure to check out our other reviews here on the website or share the joy of superior sound quality with your friends and remember sharing is caring.
Continue Reading we have even more Tips for you: