The Samsung Galaxy S7 is a great phone but it's not without its fair share of issues. One such issue is the Wi-Fi Disconnection problem or auto-disconnection issue that happens when you are connection to Wi-Fi. In today's article I will show you how to fix the Wi-Fi Disconnection problem on Samsung Galaxy S7 and S7 Edge.
Description of the Issue
As mentioned when you are on WiFi you will experience disconnection problems.This will result in you being automatically kicked off your Wi-Fi connection every 10 minutes or so.  When playing Games you may experience constant disconnection and re-connection.
Whats the Cause?
Most users will experience the issue after migrating from an older phone to the Galaxy S7. This includes transferring or loading old settings and files from the Galaxy S6 and other devices they were coming from using smart switch and so on.
Some how transferring settings, passwords and files from another devices which saves things like Wi-Fi settings and passwords is the cause. You new phone will get everything from the old device but your Wi-fi will give issues. Do note this can happen to other Samsung devices and this fix may also work in those cases.
How to fix Wi-Fi Disconnection problem on Samsung Galaxy S7 and S7 Edge?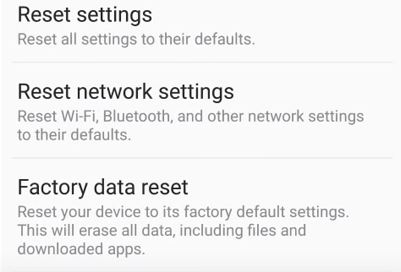 To fix the Wi-Fi Disconnection problem on Samsung Galaxy S7 and S7 Edge you will need to:
1. Go to settings.
2. Next find Backup and reset.
3. Now select the option: Reset Network Settings and select reset settings.
Note this will only get rid of network related settings and your data will not be touched. So don't fear,at worst all you will have to do is re-enter your Wi-Fi password and so on.
Why did this work?
The reason this works is because the option to reset network setting resets all network settings to there default.This includes: Wi-Fi, Mobile data and Bluetooth. So seeing that settings that were backed up from your previous device was causing issues and resulting in the Wi-Fi Disconnection problem on Samsung Galaxy S7.The network setting reset was able to get rid of the faulty settings and solve the issue.Do note that this may also work for you if you are having the issue and you did not transfer anything from a older device. This problem seems to happen for a number of reasons. Its not limited only to the above case.
Guys as usual please take the time to share this article and do check out more of our posts. If you like what you see then consider subscribing.You can always ask questions below or just share your experience to help others.