While we are all excited that the Galaxy S7 is out and that the Micro SD card is back it seems that its back with a new error that we have not seen before and that's the: SD Card For Transferring Photos and Media error that pops up and only gives you the option of Exploring and ejecting the SD card that you inserted.
The message is really annoying and you can clear it by swiping it away but the thing is that it will keep coming back every ten minutes or so and can be quite annoying, fear not as I have a simple fix for this problem.
SD Card For Transferring Photos and Media Error Samsung Galaxy S7
The error itself is coming from the Android System UI and can appear in the drop down system tray that you get from the swiping down from the top and on the lock screen. This may be caused as it seems by a defect Micro Sd card, the SD card not being seated properly or the phone port being defective in some way.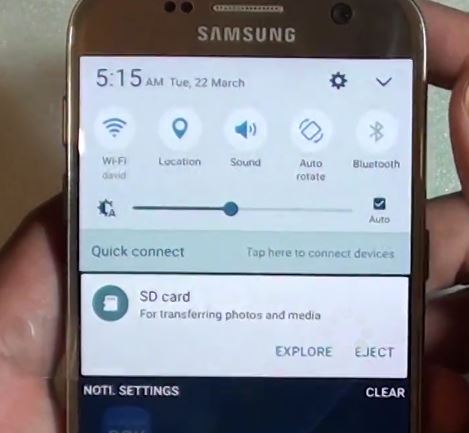 How to fix for this error
On the Notification lock screen
To get rid of the error on the notification lock screen simply press and hold on the notification as seen above and turn on the option that says: Hide on Lock screen. This of course will not affect the notification in the notification bar at the top after unlocking for that you will need to try the options below:
Option 1
1. Backup your files if you have any on your Micro SD card which can be done to your computer.
2. On your Samsung Galaxy S7 go to settings and find storage and select SD card.
3. The next thing to do is to perform a format, give the process time to complete and see if that fixes the issue if not try the next option.
Option 2
If the error persists then try the following:
1. Hit explore, then tap on my files then SD card
2. Create a folder, then add some pictures or video from your computer or make some using the on board camera. Sometimes placing files on the card causes the error to disappear for some reason.
Option 3
You should always use reliable brands of memory cards, if they are inferior or faulty that can cause issues. I suggest you use a brand like this one that I highly recommend or try another SD card if you have one as the fault may be a defective SD card. The Samsung branded one have also been known to work very well and are very reliable.
Also be sure to try a smaller capacity and see if the issue persist as sometimes it may be an issue of capacity on some devices. Be sure the SD card is also seated well so that it can be properly detected.
Option 4
You can also try formatting your Micro SD card using your computer or another phone, but be sure to back up your files first.
If all of the files fail then you may have a defective unit and you should consider taking it back to the store for another unit as an option.Also who knows maybe there will be a Samsung update in the future that allows US to disable this annoying notification.
Please take the time to share your findings with this issue as we can find even better solutions to fix this issue once and for all. You can do that by commenting below and do share this article with a friend.
Continue Reading we have even more Tips for you: